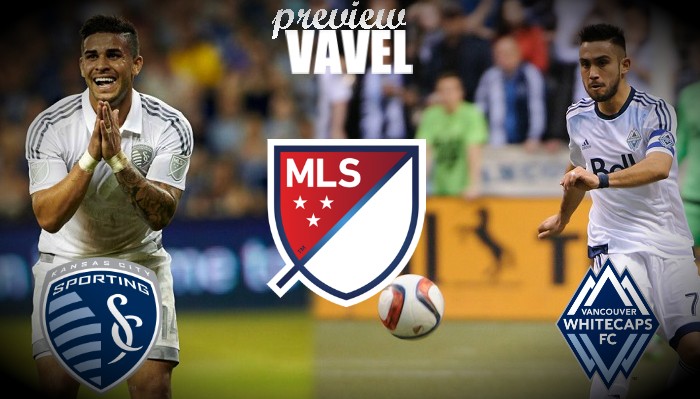 Sporting Kansas City looks to make it three wins in five Major League Soccer matches when they take on the Vancouver Whitecaps on Saturday, August 20, at Children's Mercy Park in Kansas City, Kansas. The game will kickoff at 7:00 PM PT and can be seen on TSN1 and MLS Live. This will be the 10th all-time meeting between the two sides, with Sporting Kansas City holding a (win-loss-draw) 5-1-3 all-time series lead.
How did both teams fare last weekend?
Sporting Kansas City traveled to Texas and escaped with a road point after tying FC Dallas 2-2 last Saturday. After FC Dallas substitute Tesho Akindele scored the game's opening goal, SKC leading scorer Dominic "Dom" Dwyer scored twice in five minutes to give SKC a 2-1 lead. But just three minutes after Dwyer's second goal, Dallas forward Maximiliano Urruti scored via a bicycle kick to tie the game. The game ended in a 2-2 draw, and with the result, SKC remained in fifth place in the Western Conference.
The Vancouver Whitecaps continued their miserable run of form after losing 2-1 to the visiting San Jose Earthquakes last Friday. The Earthquakes' Quincy Amarikwa headed his team into the lead in the 14th minute, and 'Quakes Designated Player (DP) Simon Dawkins doubled the 'Quakes lead at the hour mark. 'Caps midfielder Nicolas Mezquida scored a headed goal in the 94th minute, but his late goal couldn't prevent a third straight 'Caps loss. With the result, the 'Caps fell to eighth place in the Western Conference, two points behind the Portland Timbers for the sixth and final playoff spot.
Sporting Kansas City's game plan against the Vancouver Whitecaps will be to...
Attack down the left. Whitecaps manager Carl Robinson elected to start center back Tim Parker at right back in the 'Caps last two matches, but the lineup change hasn't fixed the 'Caps' defensive woes.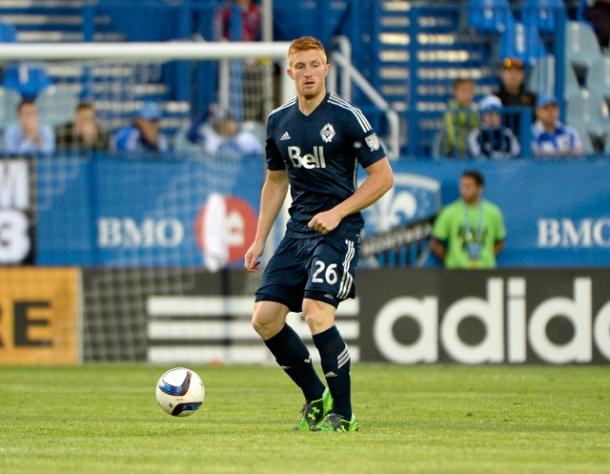 In the 'Caps 2-0 loss to the Colorado Rapids, Parker was caught out of position on the Rapid's first goal, and in last Friday's loss, Parker was beaten by Dawkins on the 'Quakes game-winning goal. If Robinson starts Parker at right back on Saturday, Sporting Kansas City manager Peter Vermes will likely instruct his players to attack Vancouver's right side early and often.
Sporting left back Jimmy Medranda and left winger Graham Zusi will try to force Parker to defend both players on his own. Medranda is a fast runner and can deliver accurate crosses into his opponent's 18-yard-box, while Zusi is a triple threat: he can play an accurate through ball, dribble through opposing team's defenses and hit a powerful shot from outside the box. If Medranda and Zusi can maintain possession and combine down the left side, SKC will create and convert numerous scoring chances on Saturday.
The Vancouver Whitecaps' game plan against Sporting Kansas City will be to...
Win the aerial duels. The 'Caps have scored only one goal over their last four MLS matches and have looked lost on offense ever since their 2-2 draw against Orlando City on July 16. 'Caps starting forward Masato Kudo has been deprived of service over the last couple of games, while DP Pedro Morales has looked a shell of his 2014, MLS Newcomer of the Year self.
Given the 'Caps can't seem to score in open play, the 'Caps have to score on set-pieces if they hope to win on Saturday. 'Caps center backs David Edgar and Kendall Waston can outjump SKC center backs Lawrence Olum and Ike Opara in the air, and 'Caps midfielders Christian Bolanos and Morales can serve accurate balls into their opposing team's box.
The 'Caps were able to score via a corner kick last Friday, but if they can't score off of a corner kick or free kick against SKC, the 'Caps may get shut out for the fourth time in their last five matches.
Projected formations
Sporting Kansas City projected starting lineup/formation (4-3-3)
Alec Kann; Saad Abdul-Salaam, Lawrence Olum, Ike Opara, Jimmy Medranda; Soni Mustivar, Benny Feilhaber, Roger Espinoza; Jacob Peterson, Dom Dwyer, Graham Zusi.
Notable Subs: DF Seth Sinovic, FWD Brad Davis, FWD Diego Rubio.
Vancouver Whitecaps projected starting lineup/formation (4-2-3-1)
David Ousted; Fraser Aird, David Edgar, Kendall Waston, Marcel de Jong; Matias Laba, Pedro Morales; Giles Barnes, Nicolas Mezquida, Christian Bolanos; Masato Kudo.
Notable Subs: DF Tim Parker, MF Alphonso Davis, FWD Blas Perez.
Matchup to watch
Sporting Kansas City forward Dominic Dwyer - Vancouver Whitecaps center back David Edgar
Sporting center forward Dwyer is the sixth-highest scorer in MLS this season with 12 goals, but it's his tireless work rate that makes him one of the best forwards in MLS. Dwyer often instructs his teammates to join him in pressuring the opposing team when the opposing team has possession, and he capitalized on Dallas center back Walker Zimmerman's mistake to score his team's second goal last weekend.
Vancouver Whitecaps center back Edgar is a hulking presence on the 'Caps back line but is not as mobile or as fast as Dwyer. Dwyer may be seven inches shorter than Edgar, but he is strong enough to outmuscle taller center backs like Edgar when he's holding the ball up. Dwyer is also one of the most opportunistic finishers in the league; give him a sniff at goal and he can make even the best defenses pay.
If Dwyer can force Edgar and the rest of the 'Caps back line into committing unforced errors, then SKC will win on Saturday. But if Edgar and center back partner Waston can knock Dwyer off the ball and starve him of service, the 'Caps will have a chance to leave Children's Mercy Park with a point.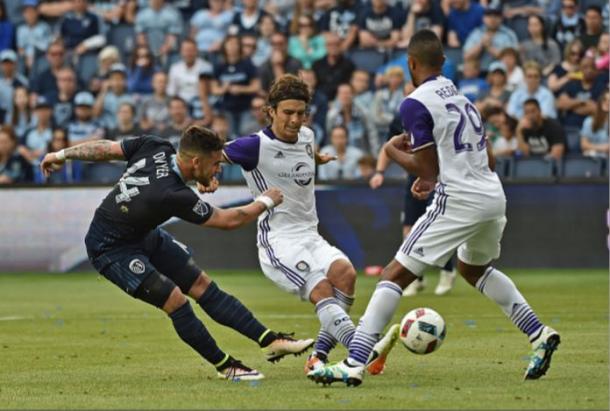 Projected scoreline
On paper, Sporting Kansas City should be able to blow out the visiting Whitecaps. SKC midfielders Soni Mustivar and Roger Espinoza are returning to the starting lineup after serving one-game suspensions, and the 'Caps haven't won on the road since late June. The 'Caps have also conceded 41 goals, tied for third-most in MLS this season, and will have their hands full defending Dwyer, one of the most lethal strikers in MLS.
This author believes that SKC will comfortably defeat the slumping 'Caps. All SKC has to do is attack down their left side and force the 'Caps right back--either Parker or Fraser Aird--to defend both Medranda and Zusi. Neither Aird or Parker can defend both players, and both Medranda and Zusi should have time and space to generate scoring opportunities on Saturday.
SKC's back line should be able to neutralize the 'Caps listless offense, and SKC's midfield trio of Mustivar, Feilhaber, and Espinoza is faster and more energetic than the 'Caps' midfield quintet. SKC forward Dwyer will score two goals on Saturday and the 'Caps back line will be helpless to stop Dwyer and the rest of SKC's offense from generating a bevy of scoring chances. This author does believe that the 'Caps will score a late goal, but it will not be enough to stop them from falling further down the standings. With the win, SKC will continue their upward climb up the Western Conference standings.
Projected final score: Sporting Kansas City 3 Vancouver Whitecaps 1