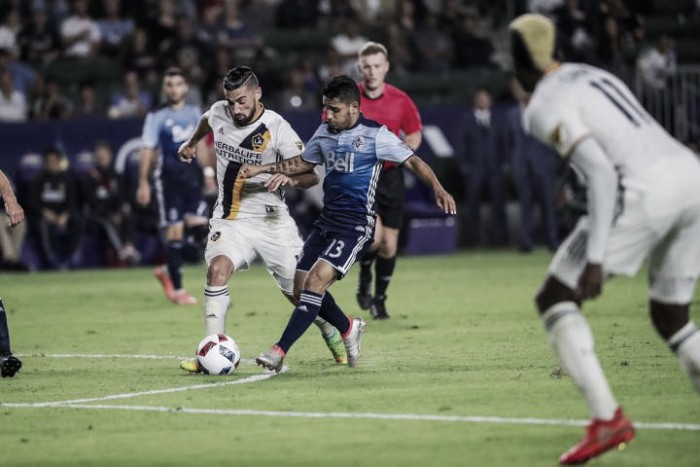 For the sixth time in their last six matches, the Los Angeles Galaxy come away without a win. This time, the Vancouver Whitecaps strolled into the StubHub Center and drew the Galaxy 0-0.
Galaxy suffer injuries
Bruce Arena will left feeling extremely frustrated after this match. Two of his best players in Steven Gerrard and Jelle Van Damme left the game in the first half. This forced Arena to burn through two of his substitutions before halftime.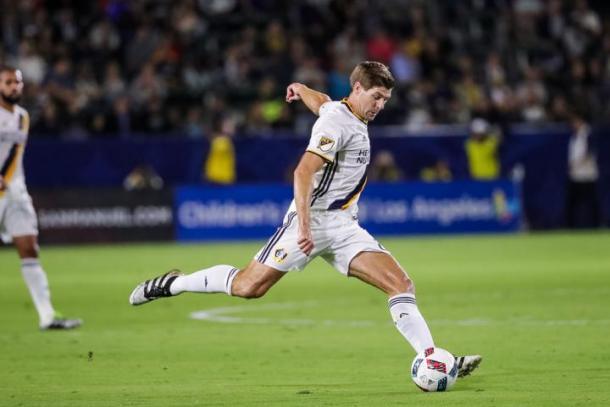 Steven Gerrard has an apparent hamstring injury while Jelle Van Damme went down with a left knee injury. Then, in the second half, Gyasi Zardes asked to be substituted off after he came on as a sub for Gerrard.
Caps can't capitalize
The opening 45 minutes of the match saw the Vancouver Whitecaps dominate on the road in a hostile environment. They created opportunity after opportunity, but could not find that vital goal.
Vancouver should have scored in the eighth minute of play. Giles Barnes sent a great cross towards the middle of the box to the head of Erik Hurtado. While Hurtado connected with the cross, the ensuing header bounced off the crossbar and away from the goal.
Hurtado continued to be a pest for the Whitecaps in the opening half of play. In the 24th minute, Pedro Morales sent a cross in from the right side of the pitch towards Hurtado. Hurtado was able to get his head on another cross, but this time, the attempt went wide of the right post.
In the 36th minute, Hurtado again tests the Los Angeles Galaxy goalkeeper. This time, his attempt is from a very tight angle along the right post. Brian Rowe was there for cover and caught the attempt with a bit of ease.
Los Angeles apply pressure but don't find winning goal
As the second half wore on, the Vancouver Whitecaps became tired and sat deeper in their half of the field because of it.
In the 63rd minute of play, Sebastian Lletget got a shot off. However, his attempt trickled into the arms of David Ousted. Two minutes later, Giovani dos Santos had one of the better chances in the second half. He had a looping header fall on top of the net.
The closest the Galaxy came to finding the back of the night occurred in the 73rd minute of action. Alan Gordon poked a ball towards the Vancouver net, but the ball missed the frame by just a couple of inches.
Coming up
Both sides get a week to rest and train before their forthcoming matches. The Los Angeles Galaxy will remain at home next weekend when they welcome in the Columbus Crew on Saturday night. Meanwhile, the Vancouver Whitecaps return to Canada to face off with the New York Red Bulls on Saturday afternoon.