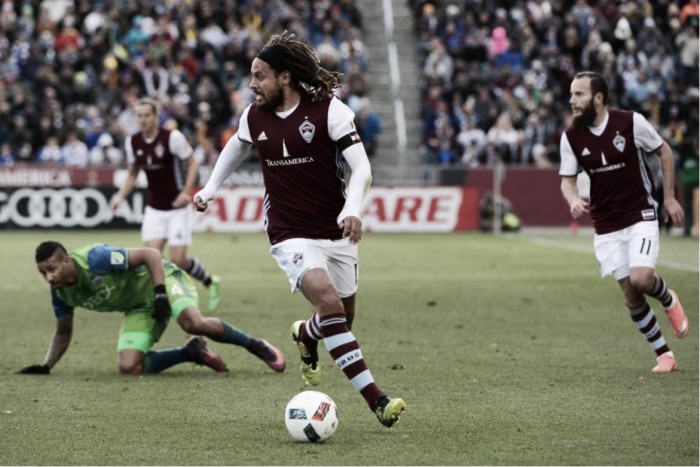 The Colorado Rapids were eliminated from playoff contention after losing 1-0 to the Seattle Sounders at Dick's Sporting Goods Park in Commerce City, Colorado on Sunday. Sounders forward Jordan Morris' 56th-minute goal was enough to propel the Sounders to their first MLS Cup appearance in franchise history.
The Rapids took a total of sixteen shots on Sunday but put none of them on target, setting the record for most shots taken without putting one on goal in an MLS game (regular season or playoffs). The Rapids controlled almost 65 percent of the possession and completed 229 more passes compared to the Sounders but couldn't break down the Sounders' disciplined back line.
Although the Rapids' back line played well, their offense was neutralized by the Sounders' suffocating defense. The Rapids should be proud after making it all the way to the Western Conference Championships, but they will be disappointed after struggling badly on offense on Sunday.
Player ratings
The Colorado Rapids
GK Zac MacMath, 6 -- The Rapids goalkeeper made only two saves and didn't have to do much against the Sounders. He could do little to stop Jordan Morris' point-blank shot in the 56th minute.
RB Eric Miller, 6.5 -- The 23-year-old got forward a lot and provided some offensive support for Rapids right winger Sebastien Le Toux. He made one key pass and one clearance.
CB Jared Watts, 6 -- Watts' header in the 56th minute fell to Sounders forward Nelson Valdez, who slipped the ball to Morris for the game's only goal. Overall, Watts played very well, finishing with four interceptions and four tackles.
CB Axel Sjoberg, 5.5 -- The 6'7" Sjoberg was caught "ball-watching" on Morris' goal, although he had to defend both Valdez and Morris on the play. While the big Swede should shoulder some of the blame for Morris' goal, he completed a lot of passes and finished with an interception and a tackle.
LB Marc Burch, 5.5 -- The former Sounder finished with four tackles, two interceptions, and a clearance on Sunday, but also earned a yellow card after committing a hard tackle on Sounders' right back Tyrone Mears in the 68th minute. The left back also played a key pass in the 94th minute and got forward a lot, but finished with no successful open play crosses.
DM Michael Azira, 6 -- The Uganda international made two interceptions, broke up a number of Sounders' attacks and finished with a clearance and a tackle. His conservative style of play didn't help the Rapids attack, though, and he was subbed off in the 74th minute.
DM Dillon Powers, 6 -- Powers worked with Azira to disrupt a number of Sounders' attacks. However, most of his passes were towards the Rapids' wingers or fullbacks, and he completed very few passes in the Rapids' offensive end. He did his job as a defensive midfielder but could've been more adventurous going forward.
RW Sebastien Le Toux, 4.5 -- Besides completing two key passes, Le Toux was invisible on Sunday. He misplaced several passes and didn't complete a single successful cross into the Sounders' 18-yard-box. He was subbed off in the 59th minute for Marlon Hairston but should've been subbed off at halftime.
CAM Jermaine Jones, 6.5 -- The Rapids man-of-the-match. The U.S. international could've opened the scoring in the sixth minute but sent a header just wide. He stabbed a loose ball just over Sounders GK Stefan Frei's goal in the 25th minute and then played a well-weighted ball to teammate Shkelzen Gashi that led to a scoring opportunity in the 32nd minute. Jones finished with four tackles and two key passes and was the Rapids' most dangerous player on Sunday.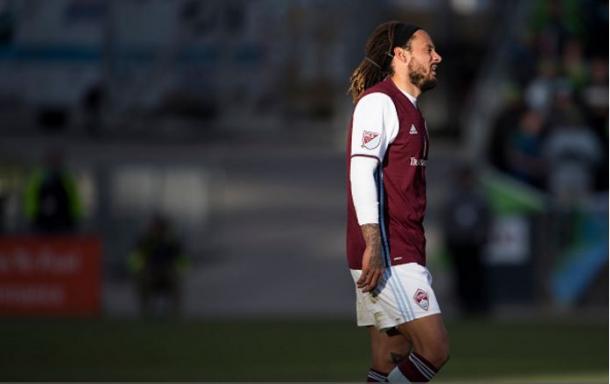 LW Shkelzen Gashi, 6 -- The Rapids Designated Player (DP) sent in a couple of dangerous corner kicks that almost led to Rapids' goals but sent two of his free kicks into the Sounders' wall. Like most of his teammates, Gashi couldn't complete a single successful open play cross and sent both of his shots either high or wide of goal. He was subbed off in the 85th minute.
CF Kevin Doyle, 5.5 -- Doyle was tasked with leading the Rapids' offense against the Sounders, but he failed to provide much of a spark. The Irishman completed only one key pass and sent both of his shots wide of frame. Doyle also couldn't find teammate Le Toux in front of an open net in the 23rd minute, and he had almost no offensive impact in the second half.
Substitutes
RW Marlon Hairston, 6 -- Hairston came on for Sebastien Le Toux in the 59th minute and made an instant impact. The 22-year-old made a nice sliding challenge in the 64th minute that helped him win back possession, but his ensuing cross was caught by goalkeeper Frei. The right winger finished with one key pass and misplaced only four of his passes during his time on the field.
LW Marco Pappa, 5.5 -- Pappa came on for Azira in the 74th minute but didn't make much of an impact. The Guatemalan finished with one shot off-target and didn't attempt any crosses or through-balls. It was a frustrating season for Pappa and he'll look to rebound in 2017.
FWD Dominique Badji, NR (no rating) -- Badji came on in the 85th minute for Gashi but didn't have enough time to make an impact.