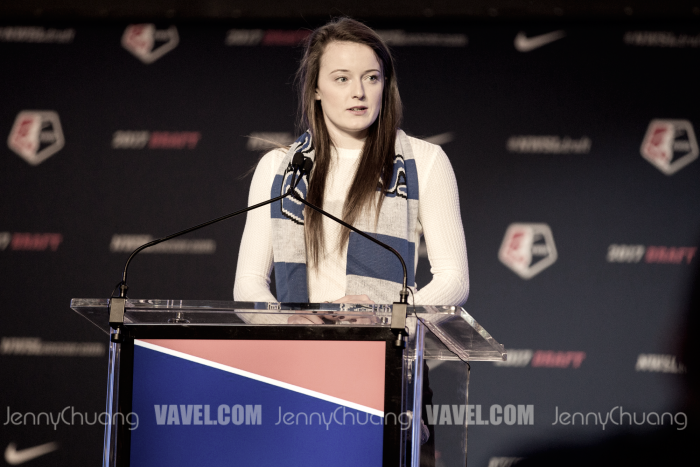 On January 12 the NWSL had their annual college draft at the NSCAA Convention in Los Angeles, California. The Boston Breakers and head coach Matt Beard are looking to rebuild the team after having a not-so-good 2016 season. Boston has made several signings, and selected excellent draft picks, that are sure to give the team success in 2017.
First round
Rose Lavelle
With the first overall pick, the Breakers selected University of Wisconsin midfielder Rose Lavelle. Lavelle has been the rock and engine of the Wisconsin midfield for four years. Additionally, she's been a standout on U.S. youth national teams and was recently called into January Camp with the full USWNT. She has a unique versatility to her game that the Breakers need; she can play any central midfield position. Boston had rough times getting through the midfield last season, but Lavelle is an excellent passer, which will definitely elevate their style of play.
Morgan Andrews
The Breakers selected Morgan Andrews of USC as the third overall pick. Coming off a College Cup championship run with the Trojans, Andrews was also a finalist for the MAC Hermann trophy. Boston picked up another talented midfielder with a wealth of U.S. youth national team experience including the U23s. Not only is she crafty, but she has the size and strength to go head to head with any player in her way. Boston needed a player that could go box to box, and Andrews is that player.
Ifeoma Onumonu
The eighth overall pick was forward Ifeoma Onumonu from Cal. Onumonu has great numbers from her time as a Golden Bear. She finished her college career with a total of 33 goals, 17 assists, and tallying 83 points. Overcoming a season-ending leg injury, Onumonu came back strong. She was named to the NSCAA All-Pacific First Team twice (2012, 2016) and also All-Pac-12 First Team twice (2012, 2016). Boston got yet another dynamic U23 WNT player that would help them put away more chances in the box.
Margaret Purce
As the first player ever drafted from Harvard, Margaret Purce went ninth as Boston's last pick in the first round. As a 2016 MAC Hermann semifinalist, Purce's time as a Crimson entailed third all-time in goals with 42, 17 assists, and 92 points. For the second time, she was Ivy League Player of the Year in 2016. Additionally she's been named to the Ivy League first team four times. To follow the trend, Purce has youth national team experience including the U23s that are currently in camp. Purce was a consistent player for Harvard and nothing would change for the Breakers.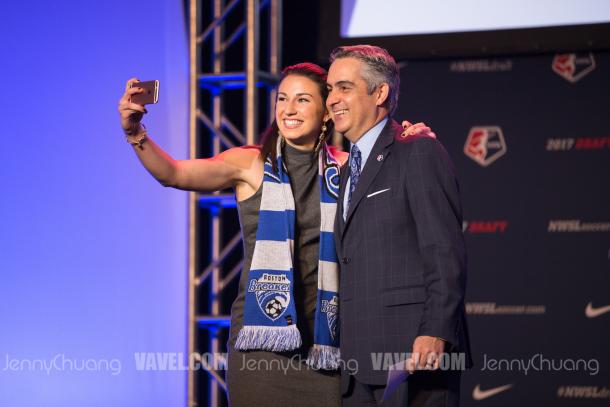 Fourth round
Sammy Jo Prudhomme
Going 31st overall in the fourth round was USC goalkeeper Sammy Jo Prudhomme. Like many of her USC teammates including Morgan Andrews, Prudhomme was a transfer student. She had impressive numbers at Oregon State where she tallied nearly 200 saves in just two years. Sitting out the 2014 season, she became a starter for the Trojans in 2015. Taking the Trojans to the 2016 College Cup final took many crucial saves against the nation's top teams. In 2016, she had a USC record of 15 saves, started all 25 games, and had a goals against average of 0.43. Boston could really use a goalkeeper of her caliber because the NWSL's attackers are getting progressively better and Prudhomme, PAC-12 Goalkeeper of the Year, can handle it.
Hayley Dowd
The 38th overall pick in the fourth round, and the last for Boston, was forward Hayley Dowd from Boston College. Dowd, co-captain for the Eagles, ended her college run with 33 goals and 12 assists. Additionally, four of her seven senior year goals were game-winners, which goes to show her knack for late game heroics. Boston could really use someone with Dowd's tenacity and perseverance on their front line.