The Seattle Sounders have announced the signing of Swedish midfielder Gustav Svensson. The 29-year-old most recently played at Guangzhou R&F of the Chinese Super League (CSL). Prior to playing in the Chinese Super League, he spent time with Swedish side IFK Goteborg, Turkish club Bursaspor and Ukrainian side Tarivya.
Sounders management speaks highly of Svensson
In a statement released by the team, general manager Garth Lagerwey had this to say about Svensson; "We're excited to add Gustav to our roster. He brings a wealth of experience, a track record of success and versatility to our team and we're eager to see how he impacts our squad in 2017."
Head coach Brian Schmetzer also talked about the addition of Svensson; "Gustav is a really good player who has played at a very high level, and a guy who we think can add some versatility to our midfield. He's very composed on the ball, as well as a good passer with great vision. I'm looking forward to getting him more and more integrated with the rest of the guys."
Why the move to MLS from the Chinese Super League?
Everyone, for the most part, knows how lucrative it is for players to ply their trade in China. Recently the Chinese Super League changed their rules regarding foreign players on teams' rosters. Last week, the Chinese Football Association (CFA) announced that they would only allow a team to field a maximum of three non-Chinese players per match. Previously, teams were allowed to field one non-Chinese player from the Asian confederation and three non-Asian players per game.
Even though Svensson has one year remaining on his contract, the new rule required him to be moved. The rule doesn't take effect until March 4th, the beginning of the 2017 CSL season, and there are other players that may find themselves in a similar situation as Svensson.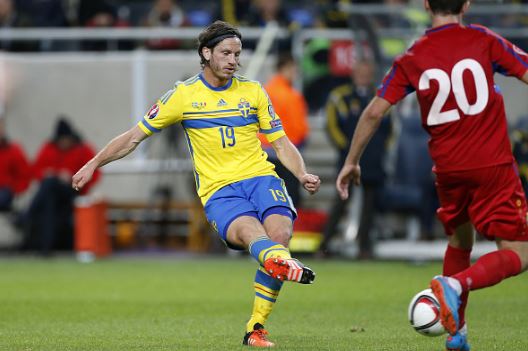 Svensson talks about the move
After signing with the Sounders, Svensson spoke about the move and why he chose Seattle.
"Everything happened very fast, but it turned out really well. When I came to Seattle I fell in love with the city and the club. I had some friends play here before, both in MLS and in Seattle, so I know a lot about it."
What does Svensson bring to Seattle?
Svensson has been playing professionally for ten years and also has six caps with the Swedish national team, most recently in 2016. Svensson will bring much-needed depth to the Sounders midfield after the team lost midfielders Erik Friberg and Andreas Ivanschitz. He will be a superb backup to Osvaldo Alonso and Cristian Roldan and will allow the team to rest key starters throughout the season.
Svensson already seems impressed with his new teammates as he had this to say; "Good lads. They invited me here with open arms. The trainings here are good quality with good tempo."
The Sounders are currently in Tucson, AZ preparing to take on the Portland Timbers in a Desert Diamond friendly on February 4th before having a scrimmage against the San Jose Earthquakes on February 7th.
quotes courtesy of soundersfc.com and mlssoccer.com