Mexico has released their first roster of the year as they face last summer's European darlings, Iceland in Las Vegas next Wednesday.
Giovani to lead the attack
Since the match lands on a none Fifa international day, Mexico was unable to call any of their European players. There is one player who is playing his soccer outside of Mexico on the roster, and that's Giovani Dos Santos, who's currently in preseason training with the LA Galaxy as they gear up for the start of their MLS season. After not being called up for more than a year, Dos Santos made his return to Mexico during the international friendlies in October, where he scored a goal and captained Mexico in both games. The following month he was in the starting eleven that helped Mexico collect their first win in Columbus, Ohio with a 2-1 win over the United States. It will be interesting to see in what form Dos Santos arrives at the Mexico camp considering the MLS season ended on November, 6th of last year. Which means the last time he suited up for a game will be over three months once kickoff happens next week.
"El Patron" keeps on going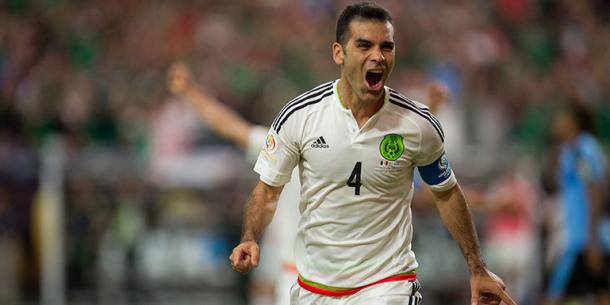 Leading Mexico will be captain and grizzly vet, Rafael Marquez, who will be 38 in mid-February. At 37 he continues to prove his worth and quality as last year he scored Mexico's game winners in their two biggest wins. First came his 85th-minute winner against Uruguay in the opening match of the Copa America Centenario, and in October, an 89th-minute header to give Mexico the win against the United States. It will be interesting to see where he lines up for Mexico and if he continues to beat father time.
ROSTER
GOALKEEPERS:
Hugo Gonzalez (Monterrey)
Jesus Corona (Cruz Azul)
Alfredo Talavera (Toluca)

DEFENDERS:
Hugo Ayala (Tigres)
Jorge Torres-Nilo (Tigres)
Rafael Marquez (Atlas)
Nestor Araujo (Santos)
Oswaldo Alanis (Chivas)
Luis Reyes (Atlas)
Raul Lopez (Pachuca)

MIDFIELDERS:
Jesus Molina (Monterrey)
Jesus Duenas (Tigres)
Edson Alvarez (America)
Orbelin Pineda (Chivas)
Erick Gutierrez (Pachuca)
Luis Montes (Leon)

FORWARDS:
Jurgen Damm (Tigres)
Giovani Dos Santos (LA Galaxy)
Angel Zaldivar (Chivas)
Alan Pulido (Chivas)
Hirving Lozano (Pachuca)
Elias Hernandez (Leon)
Jesus Gallardo (Pumas)