 The first year of Juan Carlos Osorio as Mexico's national team coach was something that Mexican fans and pundits alike were not used to from their national team coach. In a 12 month span, he called up 65 different players and gave 14 players their first national team call-up. Besides the number of players he picked, he also used a plethora of formations.
In his first year in charge, Osorio did not repeat a starting XI or repeat the same formation. Instead, he would adjust his starting lineup in both player and formation based on how he saw best to attack and defend the opposition's weaknesses and strengths.
Even though Osorio had mostly good results throughout the year with only one defeat to his name, it was believed that if Osorio was unable to pick up the necessary points in Mexico's opening fixtures in the Hex, he would be let go. Not only did Osorio pick his best possible roster entering the double fixture in November, he left with four points out of a possible six from two away matches to kick off the Hex.
Backed against the wall, Osorio came through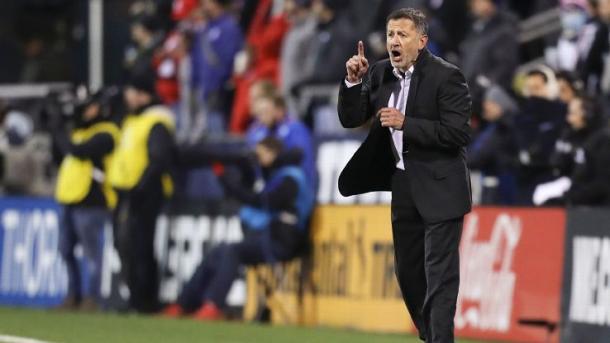 Whatever you want to fault Osorio on, that he lacks charisma, his lack of playing at a high level to relate to his players, calling up too many players, rotating them too much, changing formations, or disliking him because he's a foreigner coaching the Mexican national team. There are two things that he definitely is, he's intelligent and prepared.
A prime example is the match against the United States in November, not only was his starting XI exceptional on paper, he set them up and prepared them to succeed. Within seconds Osorio noticed the formation the US decided to play with, a 3-5-2, a formation they had never used before, and relayed a message to Carlos Vela and the team instantly knew how they were going to attack the three center back defense of the Untied States. No defensive midfielder for Mexico made Michael Bradley and Jermaine Jones have to defend higher up the field, which left gaps between them and the centerbacks, and Mexico would overload the left side of the field when attacking to force Omar Gonzalez out of position and in 1-2 situations.
Some will blame Jürgen Klinsmann for the US looking so poorly in that match for using a formation that the US had never used, but a big reason for Klinsmann and the USA looked so poor for the first 25 minutes was Osorio out coaching and out preparing him from the start. Osorio made Klinsmann look so poor by what he was able to do.
What lies ahead
Which in part leads to Osorio's first roster since those Hex fixtures. With the ability to only call up Liga MX players and Giovani Dos Santos of MLS, he went with a roster mostly of players he's worked with and with little surprises. He did reward some new players with a chance to impress, but with only one friendly match, there will be little room for error for those on the fringe.
Osorio knows that while Mexico are playing in three competitions this year, the Gold Cup is the least important and one that will be played with a secondary roster. With only one month before a showdown against Costa Rica, the only team two take two wins from their opening two Hex qualifying matches, and Mexico's first home game in this stage of qualifying, Osorio knows the importance taking three points from that match and finding his best Liga MX players that can help with the result.
On the larger scale of things, it's important that Osorio and Mexico get two wins from their two matches in March since their next qualifying matches won't be until June. That's where things start to build up for El Tri as they will have two qualifying matches against Honduras and the US, and then have to travel across the world to Russia to take place in the Confederations Cup. Which means they will at the least, play five games in 16 days while traveling across the globe.
The importance of the Confederations Cup to Mexico can't be underestimated, the last time Mexico played on a global stage was their 7-0 drubbing at the hands of Chile in the Copa America Centenario. Regardless of what Mexico does locally in the region, in the eyes of the world, their last time out at a big stage was a complete catastrophe. Add to that the fact that Mexico are no longer facing the likes of El Salvador and Canada in qualifying, there is very little room for error for Osorio to try new things like his first year.
The pressure will only increase for Osorio as his time with the national team goes on, but the early indication from his first call-up is he sees what's ahead of him and is preparing his team, and himself as best as possible for the challenges ahead.