 John Herdman has named the 22-players that will compete for Canada at the upcoming 2017 Algarve Cup, held in southern Portugal from March 1-8. Canada will be looking to defend their title after defeating Brazil 2-1 in the final in 2016.
Canada veteran and all-time leading scorer Christine Sinclair brings experience as the oldest player on the roster. At 33, she is more than twice the age of the youngest player on the squad, 15-year-old Jordyn Huitema. Huitema, a striker with a Vancouver Whitecaps FC youth side, is one of seven teenagers who will make the trip to Portugal.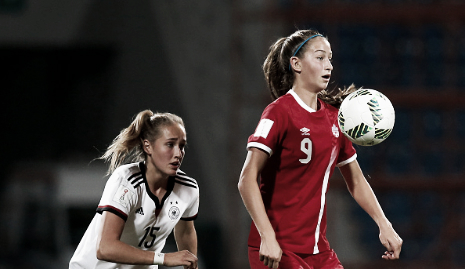 Via a press release from Canada Soccer, John Herdman said: "This tournament will be our first opportunity to play consecutive competitive fixtures since the 2016 Rio Olympics and a chance to get our whole squad back together. The focus will be on winning the tournament, by firstly shaking off some rust and then pushing to recreate the tactical cohesion and off-field chemistry we saw in Rio. We have six new additions to our squad, players who showed well on our assessment camp and who will add depth to key positions and challenge the Olympic core players for places."
The infusion of youth is situation normal for Herdman but it bookends the beginning of a new cycle, one that officially commenced with the retirements of long-time servants of Canadian soccer Rhian Wilkinson, Marie-Eve Nault, and Melissa Tancredi in January.
Several players that were selected during the 2017 NWSL College Draft also made the cut. Lindsay Agnew, an attacker who was taken 19th overall by the Washington Spirit, makes her first tournament roster. Another Ohio State Buckeye, Nichelle Prince, was selected by the Houston Dash with the 28th overall pick. Prince was on the Canada side that won a bronze medal in the 2016 Rio Olympics. An alternate in those games, goalkeeper Kailen Sheridan was drafted by Sky Blue FC with the 23rd pick.
Canada faces Denmark on March 1, Russia on March 3, and finishes the group against host nation Portugal on March 6. The final match will be played on March 8.
Canada Soccer Women's National Team Algarve Cup Roster (in alphabetical order):
Lindsay Agnew, age 21, from Kingston, ON - Washington Spirit (NWSL)
Janine Beckie, age 22, from Highlands Ranch, CO - Houston Dash (NWSL)
Kadeisha Buchanan, age 21, from Brampton, ON - FCF Olympique Lyonnais
Gabrielle Carle, age 18, from Lévis, QC - CS Lévis-Est & Québec Soccer REX
Allysha Chapman, age 28, from Courtice, ON - Boston Breakers (NWSL)
Sabrina D'Angelo, age 23, from Welland, ON - North Carolina Courage (NWSL)
Jessie Fleming, age 18, from London, ON - UCLA (NCAA)
Jordyn Huitema, age 15, from Chilliwack, BC - Vancouver Whitecaps FC Girls Elite BC Soccer REX
Stephanie Labbé, age 30, from Edmonton, AB - Washington Spirit (NWSL)
Alex Lamontagne, age 20, from Whitby, ON - Durham United FC (League1 Ontario)
Ashley Lawrence, age 21, from Caledon, ON - Paris St-Germain FC
Marie Levasseur, age 19, from Stoneham, QC - University of Memphis (NCAA)
Nichelle Prince, age 21, from Ajax, ON - Houston Dash (NWSL)
Deanne Rose, age 17, from Alliston, ON - Scarborough GS United
Rebecca Quinn, age 21, from Toronto, ON - Duke University (NCAA)
Sophie Schmidt, age 28, from Abbotsford, BC - FFC Frankfurt (Bundesliga)
Desiree Scott, age 29, from Winnipeg, MB - FC Kansas City (NWSL)
Kailen Sheridan, age 21, from Whitby, ON - Sky Blue FC (NWSL)
Christine Sinclair, age 33, from Burnaby, BC - Portland Thorns FC (NWSL)
Sarah Stratigakis, age 17, from Woodbridge, ON - Aurora United FC (League1 Ontario)
Hannah Taylor, age 17, from Edmonds, WA - Eastside FC
Shelina Zadorsky, age 23, from London, ON - Washington Spirit (NWSL)