According to a press release this afternoon, Real Salt Lake has fired fourth-year head coach Jeff Cassar after starting the Major League Soccer 2017 season with a draw and two losses. Cassar had been with the Utah-based club since 2007 as an assistant coach under former RSL boss Jason Kreis, who departed the organization after the club's second MLS Cup appearance in 2013. With Kreis's departure to expansion side New York City FC, Cassar was promoted from within on the premise of continuing the unique culture of a club that preached "The Team is the Star."
"We want to thank Jeff for his many contributions to the success of Real Salt Lake over the past decade, including our championship run in 2009," said club owner Dell Loy Hansen. "Jeff has always handled himself with class and dignity and represented the organization and community extremely well. We wish Jeff and his family much success in their future endeavors."
Cassar's stint marked by ups and downs
During his stop-and-go tenure in Sandy, Cassar amassed a record of 38 wins, 37 losses, and 30 draws, with two playoff appearances (2014 and 2016), as well as starting the 2014 season unbeaten through 12 games (6 wins, 6 draws), tying a league record. However, Cassar's team experienced a precipitous decline over the final months of 2016, concluding the season with without a victory in its final 7 games before bowing out to the Los Angeles Galaxy in the wildcard round of the 2016 Audi MLS Cup Playoffs.
"At the conclusion of last season, we felt that while we were disappointed in the end result, Jeff had done enough to earn another shot to lead the team in the 2017 campaign," said RSL general manager Craig Waibel. "We have a high sense of urgency for progress this season, and have made many off-season changes towards that endeavor. So, while these decisions are always difficult, we, as an organization, felt that it was necessary to make the change in our head coaching position now."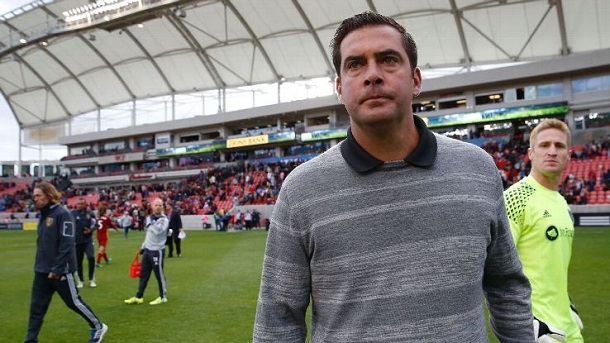 Moving forward
RSL will be moving forward quickly. Director of Goalkeeping Daryl Shore has been tapped to step into a new role as interim head coach, while the club's front office commences its coaching search.
"The process for hiring a new head coach to lead the club has already begun," said Waibel. "We will work quickly and diligently to ensure that we find the right leader that shares our values, passion, commitment and vision."
Among those RSL may contact regarding the vacant head coach position are current Real Monarchs head coach and former New York Red Bulls coach, Mike Petke; former United States Men's National Team and Swansea boss, Bob Bradley; former Seattle Sounders head coach, Sigi Schmid; and Toronto FC assistant coach (and former RSL assistant coach), Robin Fraser.