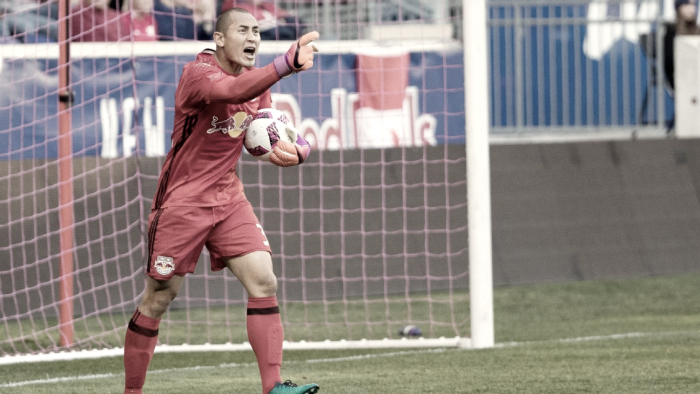 In a 20-match series where the home team has lost only once, the New York Red Bulls held serve against visiting Real Salt Lake as the two squads battled to a scoreless draw Saturday afternoon in Harrison, New Jersey. Both goalkeepers logged clean sheets as the teams split the points.
Missed opportunities
Although neither team found its way onto the score sheet in Saturday's match, both teams were left to rue missed chances. All three of RSL's best opportunities came from Red Bulls giveaways in the RSL attacking third. The best chance of the day for the Claret-and-Cobalt came in the 8th minute, when a sloppy pass by New York goalkeeper Luis Robles led to a 3-on-none opportunity for RSL's attacking trio of Sebastian Saucedo, Yura Movsisyan, and Brooks Lennon.
Saucedo elected to shoot from a sharp angle rather than square the ball to Lennon, who had reached the center of the 6-yard box before Saucedo's blast beat Robles but rang off the near post. Movsisyan's attempt to net the rebound was cut out by 18-year-old midfielder Tyler Adams, and RSL midfielder Luke Mulholland's follow-up was deflected wide by Red Bulls defender Aaron Long.
RSL threatened again in the 44th minute. Nigerian midfielder Sunny cut out a lazy pass from New York defender Damien Perrinelle, playing the ball directly to Movsisyan. But the ensuing 2-on-3 chance dissolved when Movsisyan, unable to decide whether to go for goal or attempt a through ball for attacking midfielder Luis Silva resulted in a 25-yard blast over Robles' crossbar.
The visitors' last quality chance came only moments into the second half, when another sloppy Red Bulls pass played Movsisyan in alone on Robles. But Robles quickly diagnosed the situation, cut down Movsisyan's shooting angle, and saved the Armenian's attempted chip.
While RSL's quality chances were created from the home team's turnovers, the Red Bulls' best scoring opportunities came from sustained possession, showing their quality in the run of play and on the counter. However, for how successful last-ditch defending and good goalkeeping from the Utah-based side, New York could easily have managed a few goals before the final whistle.
New York's best chances came in the final 15 minutes of the match as the Red Bulls imposed sustained pressure on RSL backup goalkeeper Matt VanOekel's net, though VanOekel proved to be up to the task. In the 80th minute, VanOekel provided his team with a critical save on Bradley Wright-Phillips' pirouetting shot inside the box, then followed it up moments later by doing just enough to upset Wright-Phillips' 1-on-1 opportunity to permit defender Aaron Maund to recover and deny a goal to Major League Soccer's record holder for goals in a single season.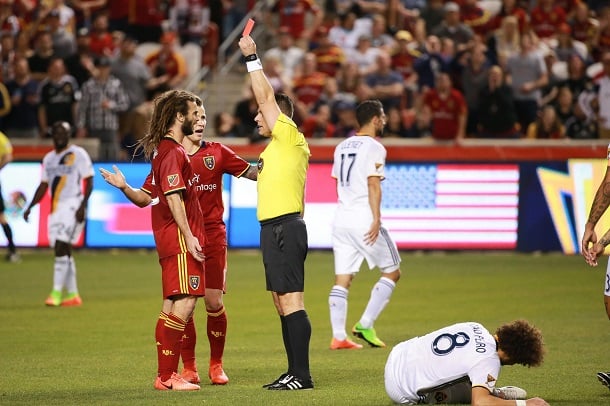 Real Salt Lake once again fields second-choice lineup
RSL are not doubt content to be heading home with a point in tow, given that Real Salt Lake was led into battle by interim head coach Daryl Shore after the dismissal of Jeff Cassar and that the injury-plagued team once again found itself relying on bench depth.
Fully one-third of RSL's standard lineup was forced off the 18-man roster by injury (Justen Glad (knee), Joao Plata (hip), Jordan Allen (quadriceps), Chad Barrett (knee), David Horst (knee), and Tony Beltran (back)), while red card suspension claimed captain Kyle Beckerman and international duty resulted in the absence of designated player Albert Rusnak (Slovakia) and all-time MLS shutouts leader Nick Rimando (United States).
Players missing from RSL's lineup against the Red Bulls accounted for 1,482 minutes of 2017 season experience and were replaced by relative unknowns making their first MLS appearances, like VanOekel, who spent last season in the NASL, and Jose Hernandez, a recent signee from the RSL academy. Other players who had yet to see time this season due, like Maund and midfielder Omar Holness, made their first appearances of 2017. By all accounts, the makeshift lineup acquitted itself well, generating chances on the attack, while bending in defense without breaking.
Up next
Real Salt Lake journey to Minneapolis next Saturday to take on Minnesota United. RSL hope the trip will give the team the jump start it needs to start scoring goals, as the expansion side's leaky defense has conceded 5 or more goals in 3 of its 4 games this season and 18 goals total.
The New York Red Bulls also hit the road next week to visit the Houston Dynamo, who currently occupy third place in the Western Conference.