"Intense, a little aggressive but very explosive and tactical" is what Jess Fishlock would describe her style of play. If anyone has seen the midfielder in action, particularly during her career in the National Women's Soccer League, they would agree with that assessment. The Welsh international has scored vital goals time and time again because of how she sees the game. Her mentality is to always play it smart, pick and choose moments to attack and defend but first and foremost, defend.
"I firmly believe in defending, and defending well is the reason why you will win things and that is what I base myself off of. I focus on defending first and it allows me to come from a deeper position and see the whole pitch. For me, that's why center backs and holding midfielders are now the most important players on the pitch in the modern game because they can see everything and being able to see everything in that way, is what makes great players great."
Jess Fishlock is a name now synonymous with Seattle Reign. She has been at the heart of the team from the minute they stepped onto the turf at Starfire Sports in Tukwila, Washington and through their move to their current home, Memorial Stadium in Seattle. When you think of the Reign and what they are about, Fishlock is always at the forefront and she spoke to me about the Reign, her journey and what the future currently holds for her and the Reign as they step up their preparation for pre-season.
Wales and Europe give Fishlock the ability to adapt quickly
Before joining Seattle in 2013, Fishlock played in England for Cardiff City LFC and Bristol Academy WFC, with intervals at AZ Alkmaar in Holland. The two countries have very different styles of play and the emphasis on particular aspects of the game formed the player that the midfielder is today. During her career in England, the play was more physical and focused on a long-ball style. Fishlock described the games as sometimes being like a yo-yo due to the back-and-forth nature of the games but it helped her become aggressive in her game as she needed to be to keep up with the intensity of those around her. Holland was a completely different story.
"It made me understand the game from a tactical and technical standpoint, basically everything that the game of football involves."
Many factors go into forming the player that they become later on in life and for Fishlock, it all began in Wales.
"Growing up in Wales which is a small country, everything that I did was through hard work, grit, and passion" and that is at the core of how she plays her game today.
Those lessons would help Fishlock when she came to the NWSL in 2013 to play for the Seattle Reign. Her very first game in the league was against the Chicago Red Stars away in Chicago and she was "blown away by the speed, the physicality" that came with the league and that first game. Fishlock had to take her earlier lessons from England and the Netherlands to combine her ability to keep up physically as well as playing smart to adapt to the league.
"It took a few months and I had to play up a level but everything fell into place once that happened."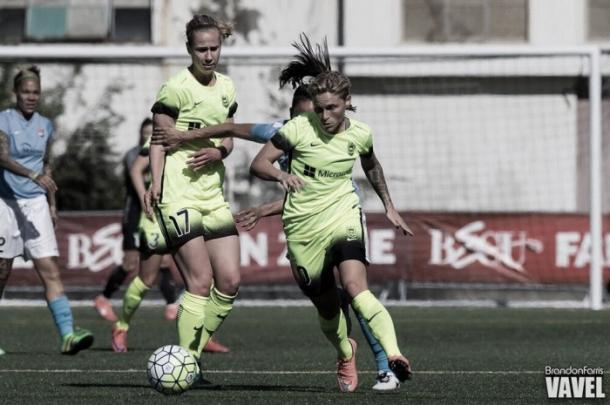 Evolving alongside the Reign each year
For Fishlock, 2013 was a steep learning curve personally and for the Reign as a whole. "Box-to-box, between the two 18-yard areas, we played very well and haven't been able to replicate that style as much since then."
She went on, describing how the team couldn't score goals and were not very good in either penalty area. That season saw the Reign go on a run of eleven games without a win which Fishlock remembers the effects of still.
"We had to build a mentality, a strong mentality, an attitude of perseverance and to keep believing in the style of play that we wanted to play. We also had to keep believing in Laura Harvey."
The Reign had to push through the hard times, according to Fishlock, take it day by day and ignore the media. "It was tough but it worked out in the end because the next two seasons changed the face of football in the NWSL. It made teams have to think more on how to counter us so they could win against us."
By the time 2016 rolled around, the Reign were the team to beat in the NWSL and the rest of the league were determined to do just that. Fishlock also felt that the previous success in the league for two consecutive years played a role in the disappointing season the Reign had last year.
"Every successful team always hits a point of complacency, lose a bit of their mentality and they forget what made them successful like Chelsea FC under Jose Mourinho last season. We became a victim of own success and as a team, we were disappointed that we allowed that to happen. We forgot who we were and stopped being the Reign."
All of that was not helped with a number of injuries to key players for long periods of time for Seattle.
"We ended up dropping Kim (Little) back because of injury which destabilized our rhythm of the team and it took awhile for us to regain that rhythm." That set the Reign back almost immediately and in "one of the most competitive and strongest leagues in the world", you cannot do that and still win.
Fishlock emphasised that you could not afford to falter at any point in the season or it would put you on the back foot for the rest of the season.
"Other leagues aren't like that, you can have a miserable stretch in the season and bounce back from it but the NWSL isn't like that. Last season was a failure for us but it taught us to not drop to that level again and we gained an understanding that we needed to re-learn the values of who the Reign are."
This year brings different challenges to Seattle. The loss of key players such as Little, Kendall Fletcher, Manon Melis, Hope Solo and Keelin Winters will be a difficult task for Seattle to solve but Fishlock feels confident due to the depth they now have.
"Our midfield will be a question without a doubt but this could be a good thing as teams won't know what to expect from the Reign now. Teams figured out our midfield last year and how to stop us. With all of our injuries and inconsistencies out wide, teams knew that to beat us, they could close down our midfield and force us to play wide which would limit what we could do. Our new look will make the rest of the league have to adapt again. The most exciting thing for me is that teams have no idea what to expect and the team still has plenty of quality throughout the team and good depth around players like Rumi (Utsugi), Naho (Kawasumi) and Pinoe (Megan Rapinoe)."
With what they have right now in pre-season, Fishlock believes that the Reign can replicate another 2014 or 2015 season this year.
2016 Melbourne adventure gave new appreciation to what players can do in difficult circumstances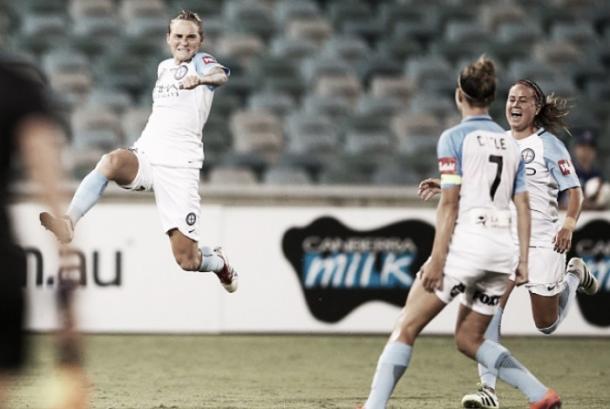 "That was pretty impossible, really difficult for me" was her response to the experience of being a player/coach at Melbourne City FC this past season in the Westfield W-League as she led them to a second consecutive championship. The current champions had a mirror season or a "carbon copy of the Reign which was honestly quite scary" for Fishlock. The difference was that City made the changes to make the playoffs and win it.
"It wasn't a case of us not being as good as people expected but everyone else really, really, really wanted to beat us. The desire to beat us was so high that when we got complacent, it didn't match up [with their desire on the pitch] so we struggled for about five games in the season after a good start."
The main issue for Fishlock was changing the mentality of the players as a teammate and as a coach.
"It's extremely difficult to get through to the players that our form wasn't due to football, it's the mentality, the attitude and it doesn't matter how good a coach you are, that mentality comes from inside the player so all you can do is try and get them there but at the end of the day it's down to the player. I wasn't always nice to them as I tried to get things across to them, I had to be straight to the point at times to get a reaction but at the same time had to train with them, play games with them and be that [strict] person too. It was one of the most difficult three months of my whole life probably. There were times when I was close to going home, just giving up but full credit to the team as they were a great group and took accountability of themselves when it mattered."
In that period, Fishlock also leaned on her Reign head coach, Laura Harvey.
"I would reach out to Harvey during the season to get advice with anything and everything and she helped me make some very difficult decisions."
Harvey's training style means that she is always hard on her players but Fishlock doesn't mind that as she feels that it makes them better players. Small things like that are what she took on board when she had to navigate Melbourne during the season and all the way to the final.
Through all of that, the season ended up being one of the more rewarding moments in her life, alongside the 2014 and 2015 Seattle seasons and playing for her country.
"When you get a group to change their mentality and go away in the semi-final and final, win and not concede, was very special. We went through a lot as a group; our manager was in and out because he was the assistant manager for the men's side and then he left to become their head coach."
Fishlock makes it a point to say that the club understood it was far from ideal for the team and tried to help where they could.
"The players persevered, taking in blunt information from me and could've given up (and no one would blame them if they did) but they didn't, they took it on their shoulders to move forward. PK (Patrick Kisnorbo, the assistant manager) was huge in helping us as well. The accolades will go to the team and me as the manager but I will never forget the group of players because of what we managed to accomplish."
Wales, the Champions League, and United
As she nears her 100th cap for her country, Fishlock looked back at her journey from her very first cap until now.
"It's been the longest journey ever" was the answer with an accompanying laugh. "So many highs and lows and even through the frustration that comes with the lack of funding, I still love my country and love playing with my teammates because of that love of country. The other players work full-time jobs and then come and play for the national team so for us, we always play with the passion of our country in our hearts."
Jayne Ludlow is now in charge of the national team and Fishlock feels comfortable with Ludlow at the helm.
"She pushes the players and it's been great for the nation. As a former player, she has the passion for the country and the knowledge of how to make the players better. She will have a huge part in getting the team to a major tournament in the near future, in my opinion."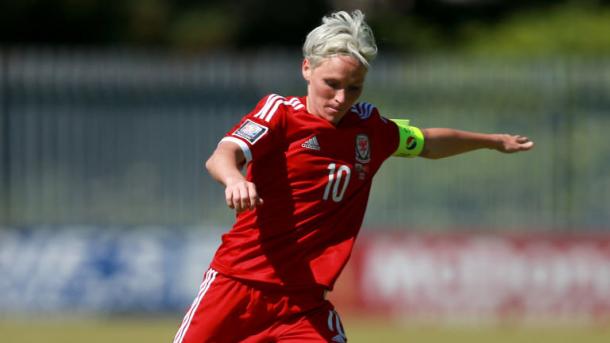 When she is not preparing for the season the Reign, Jess has stayed up-to-date with the UEFA Women's Champions League and her favourite team, Manchester United. Fishlock loves watching the Champions League although she does feel that it still doesn't have a lot of depth in it as the drop off from the top teams to the rest is quite steep. Because of this, the bigger teams can get an easy route to the final and not have to worry about facing each other all at once. This year's quarter-finals is a little different as four of the best teams in Europe are currently playing each other for a semi-final berth.
"Those matches make the competition fun though even though it's a shame that they are playing each other so early. If I had to pick a winner, I'd say the winner of Olympique Lyonnais and VfL Wolfsburg will go on and win it as they are the best two teams in Europe."
Fishlock also commented on how she does not think that Lyon has the tie all wrapped up just yet as you can never write off the German mentality. On the other side of the draw lies Manchester City who, according to the midfielder, have a good draw.
"They are doing well as newcomers to the competition, putting on professional performances against Fortuna Hjørring and if they move on, it'll come down to the luck of the draw for them to make it to the final."
Fishlock also thought that it would be interesting to see a Manchester City - FC Barcelona semi-final as she felt that the Spaniards were the dark horses in the competition and were newcomers to the competition like Manchester City, making them a potentially great opponent for the English side.
As for her beloved United and their chances of reaching the Champions League?
"They are still trying to figure out what works for them, and even with the players they have, they probably won't see the best of their players until next year. Mourinho has done well to get them to where they are after having to inherit a team that was a mixture of Moyes and Van Gaal's teams so next year is what I'm looking forward to as a fan."
We ended the interview with a few last words on the Reign and how their pre-season is going so far.
"The most impressive thing [about the training so far] is the quality of the draft from a tactical perspective and understanding the game so that means that the quality in the team is a lot closer than what we had in previous seasons. Carson (Pickett) and (Lindsey) Elston are fantastic players who are coming back and will add to our overall depth. Right now, our team resembles 2015 more than last year and is a lot better than last year."
That will be fantastic news for any Reign fan reading this and if all goes according to plan, Fishlock and the Reign could be the team to beat once again in the NWSL.