 With only four teams remaining, everything was on the line for everyone this weekend. Perth Glory and Sydney FC faced off first, in a thrilling match with lots of goals. Canberra United and last year's champions Melbourne City had their turn the next day, and they took it all the way to overtime in order to find a winner.
Perth downs Sydney 5-1 for the ship
In a match that looked like it might stay tied throughout the first half, Perth Glory was able to break through. Hosting the semi-final on their own turf at NIB Stadium, they were able to put on a show for their fans. The first half seemed pretty even on both sides, but Sydney FC's Kyah Simon was able to put herself and her team on the board first in the 23rd minute. However, the lead didn't last long as Alyssa Mautz was fouled inside the box by Sydney defender Georgia Yeoman-Dale, who received a yellow card and conceded a penalty for Perth. Vanessa DiBernardo converted from the spot - a right footed shot that found the top left corner of the goal. Suddenly the game was equalized and it would be that way as both teams entered the locker room for halftime.
The second half began and it seemed to be both sides were trying to get the upper hand. Unfortunately for Sydney, Alanna Kennedy would be responsible for an own goal, giving Perth the lead. The intensity picked up as the match went on and frustration showed, as both Teresa Polias and Servet Uzunlar of Sydney FC picked up yellow cards. Perth broke through again with another goal from DiBernardo to double the lead in the 77th minute. It seemed this was what opened the floodgates for Perth, because two minutes later Rosie Sutton added her name to the scoreboard, putting the home team up 4-1. Sydney couldn't answer any of these goals, and the final blow was added in stoppage time by Shawn Billam to truly ensure victory for Perth.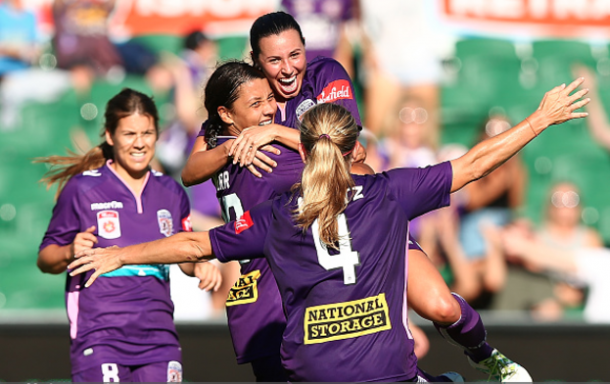 Melbourne City comes out victorious in overtime
The second semi-final of the weekend was filled with action as Melbourne City and Canberra United faced off for the Grand Final. Canberra came out strong in the attack, as they had multiple shots and chances within the first 15 minutes alone. Melbourne City's Lauren Barnes earned a yellow card for a bad foul, but that was the only caution showed throughout the full 90. Melbourne was able to create a number of good chances themselves, and looked more threatening as the game continued.
The full 90 came and went without a goal, and the teams entered overtime in hopes for a winner. Intensity increased as both teams were desperate to break the deadlock, but no one was able to put away their opportunities. Just two minutes into the second overtime, Melbourne was finally able to break through. Jess Fishlock was able to hit it home off a corner, putting Melbourne City on board. Despite their best attempts, Canberra was unable to equalize in the time that remained.
Perth Glory hosts Melbourne City next weekend for the 2016-17 Westfield W-League Grand Final. For those in the states, kick off is at 3:30 AM Eastern Time on Sunday, February 12. There will be a on ESPN3.