 On Wednesday, the Canadian Soccer Association (CSA) released their Women's national team roster for their two-game series against Costa Rica taking place on June 8 in Winnipeg and June 11 in Toronto. This will be the first time that these two teams have faced off since the CONCACAF Olympic Qualifying Tournament that was held in February 2016.
Many of the players that played in the Rio 2016 Olympic Games have been called in for the upcoming two games. Desiree Scott, a Winnipeg native, will get to play in front of her hometown while Toronto natives Rebecca Quinn, Kailen Sheridan, Lindsay Agnew, Allysha Chapman, Ashley Lawrence, Kadeisha Buchanan, Shelina Zadorsky, Jessie Fleming, Nichelle Prince, Deanne Rose, and Adriana Leon will have the same honor.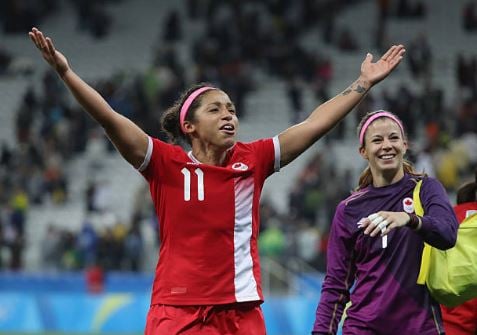 The last time Canada played in Winnipeg was in 2014 when they drew 1-1 against the United States. Toronto last hosted the national team in 2016 as part of a "Road to Rio" series that saw them fall 2-0 to Brazil.
"It's great to be back in Canada and the players are really looking forward to this series against Costa Rica," said head coach John Herdman in a press release issued by the CSA. "They have two world class players in Raquel Rodriguez (Sky Blue FC) and Shirley Cruz (Paris Saint Germain) and as a team, they've been improving over the years. It's important that our team are continually exposed to CONCACAF opponents, who offer a very different challenge to what we've just experienced in Europe with Germany and Sweden. With the critical upcoming 2018 CONCACAF Women's Championship, which is the FIFA Women's World Cup 2019 qualification tournament, we will draw on this experience in our planning and preparation."
Prior to the match in Toronto, the CSA will honor both Josée Bélanger and Kaylyn Kyle, who announced their retirement from international play earlier this month.
GK Stephanie Labbé, Washington Spirit (NWSL)
GK Sabrina D'Angelo, North Carolina Courage (NWSL)
GK Kailen Sheridan, Sky Blue FC (NWSL)
FB Lindsay Agnew, Washington Spirit (NWSL)
FB Allysha Chapman, Boston Breakers (NWSL)
FB Ashley Lawrence, Paris St-Germain FC (Division 1 Féminine)
CB Shannon Woeller, FF USV Jena (Bundesliga)
CB Kadeisha Buchanan, FCF Olympique Lyonnais (Division 1 Féminine)
CB Shelina Zadorsky, Washington Spirit (NWSL)
M Jessie Fleming, UCLA (NCAA)
M Rebecca Quinn, Duke University (NCAA)
M Sophie Schmidt, FFC Frankfurt (Bundesliga)
M Desiree Scott, FC Kansas City (NWSL)
F Nichelle Prince, Houston Dash (NWSL)
F Deanne Rose, Scarborough GS United
F Adriana Leon, Boston Breakers (NWSL)
F Jordyn Huitema, Vancouver Whitecaps FC Girls Elite BC Soccer REX
F Janine Beckie, Houston Dash (NWSL)
F Christine Sinclair, Portland Thorns FC (NWSL)