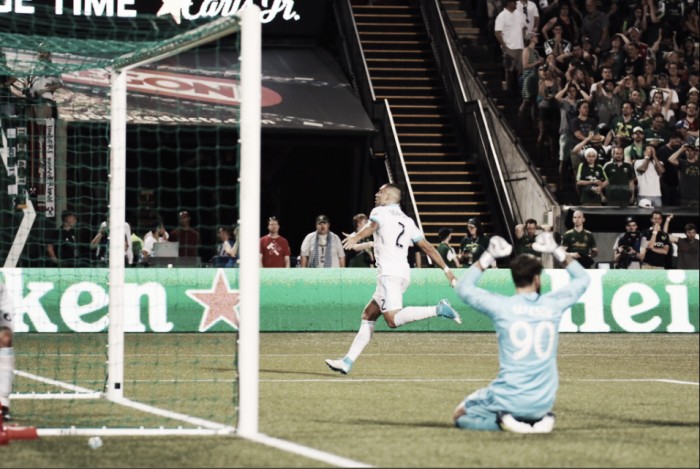 Part two of the Cascadia novel was written with a little twist. In anticipation that the road team Seattle Sounders would handle their Pacific Northwest counterparts Portland Timbers, the Sounders had to fight from behind while down a man to earn a road point.
Exciting First Half
Seattle came close to striking first when a header from target man Will Bruin went sailing over the crossbar in the fourth minute. Just a seven minutes later, Timbers forward Fanendo Adi was in on goal. A low shot to the five-hole of keeper Stefan Frei's legs was saved and out for a corner kick.
in the 27th minute, Joevin Jones broke the deadlock and put the away side in the lead. His initial shot was saved by Timbers goalkeeper Jake Gleeson. However, the rebound fell back to the feet of Jones, who calmly slotted the ball into the back of the net.
The Timbers had two chances to level the match. The first chance came when midfielder Diego Valeri curled in a free kick from just outside the penalty area on goal, but Frei made the save.
The second chance happened just two minutes later, in the 36th, when Dairon Asprilla headed a cross on goal but it ricocheted off of the crossbar and out.
Timbers Break Through
In the moments leading up to halftime, Portland did find some luck. Defender Brad Evans took down Darlington Nagbe inside of the penalty area. After having a talk with the near-side assistant referee, official Ricardo Salazar issued Evans a straight red card.
Adi put home the penalty kick, giving him 50 career MLS goals.
Then, just two minutes later, Asprilla finally got his chance when he headed home a corner kick right before the halftime whistle.
Throughout the second half, not much action was produced by either team. Portland played horribly, and if it had not been for that kind of play, people would've forgotten that Seattle was down a man for the entire second half.
It only took once chance for USMNT great Clint Dempsey, who came on as a substitute in the second half, to make his impact on the game.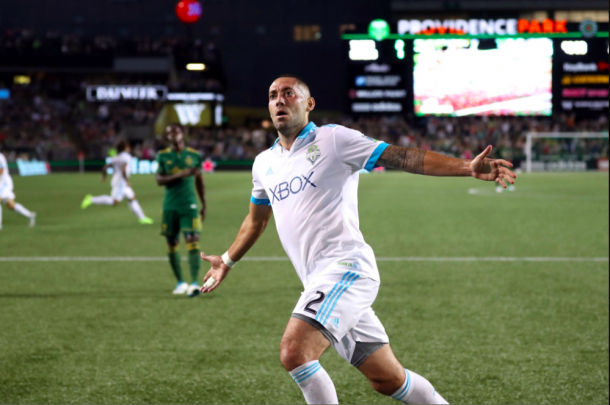 As the final whistle approached, Seattle was fighting for an equalizer. That moment came when Roman Torres served in a ball and Dempsey was able to get his head on it and put it away past Gleeson. That goal helped seal a road point for the Sounders.
For the Timbers, it's a missed opportunity, and a lost after losing two points at home. On the other hand, after dropping three points at home against Orlando City SC.
Head coach Brian Schmetzer said after the game on Seattle's performance: "This was a win and we feel really good."