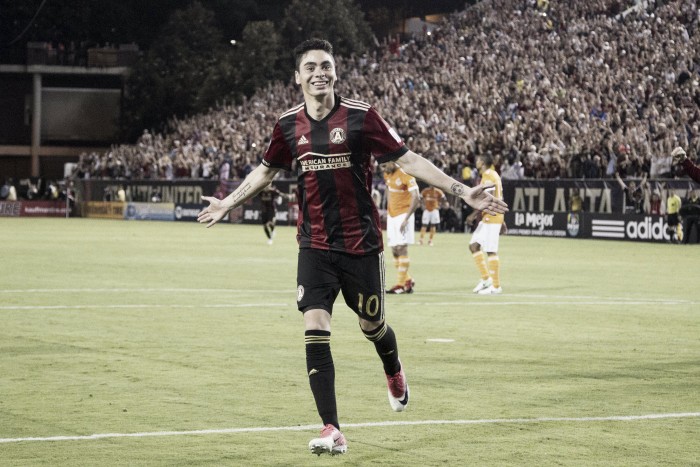 With the 22nd season of Major League Soccer in full effect, two new clubs have joined the league as expansion franchises: Atlanta United FC and Minnesota United FC. The former has not only taken the entire state and Eastern Conference by storm, but also the entire country. Only four months since their maiden voyage in the top division of American soccer, fueled by an ambitious project with talented players, youth and of course an experienced manager, has brought forth the dream of what the Gate City can prove with its first top flight American soccer team in 36 years.
The main engine of that success is an influence of South American twang being demonstrated with players such as Argentine trio Leandro González Pírez, Yamil Asad and Hector Villalba, Chilean Carlos Carmona, Venezuelan and top club goalscorer Josef Martinez and experienced Argentine manager Gerardo "Tata" Martino. However, there's been one name that has been lights out for Atlanta so far this season with his performances that he has been hard to ignore not only in Deep South state but also those watching around the world and his name is Miguel Almirón.
At only 23 years old, he's already becoming one of the best players in Major League Soccer
An Instant And Impactful First Impression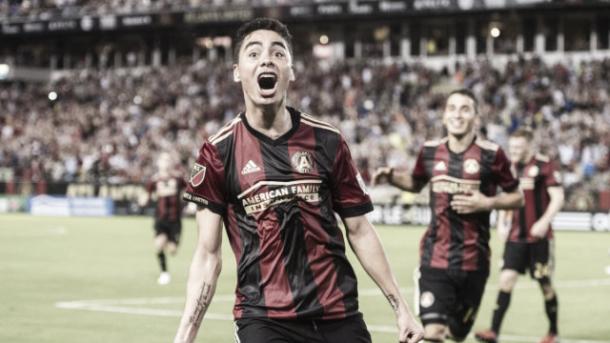 When the Paraguayan joined the club a few months ago, it made with the mix of excitement as well as skepticism. The excitement was bringing in a young, quick, talented and creative center attacking midfielder for nearly seven and a half million dollars, who was destined to make an instant impact once he set foot onto the pitch of Bobby Dodd Stadium and eventually the new Mercedes-Benz Stadium later in the season.
The skepticism on the other hand was taking a 23-year-old to a league that hasn't been considered or popular by those outside the bubble, meaning that those who followed Almiron during his previous clubs at Lanus in Argentina and at Cerro Porteño in his native Paraguay felt that he deserved more and deserved to be playing in one of the top leagues in Europe and in the world.
Still, those who became critics became lovers fans following his sensational performances for Atlanta which can only be thanked by the love given by his compatriots and those in Atlanta.
"I'm very happy here in Atlanta," Almiron told VAVEL USA via phone. "I believe that we have a great group of players that are fundamental for you to feel comfortable at the club. Above that, those that work here are very friendly, so everything that been great where I'm taking every opportunity I can to the max."
A Familiar yet Experienced Coach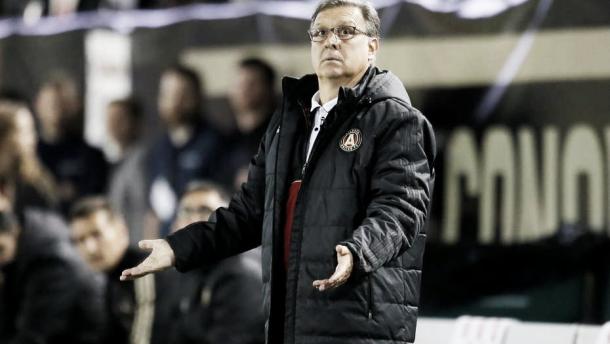 Gerardo Martino shouldn't be a name that is unknown to a lot of soccer fans around the world. Indeed, a former manager of FC Barcelona, the Paraguayan and Argentine national team as well as of various clubs around South America didn't bring too much surprise when he was presented as Atlanta United's first ever coach and he played a role in bringing the young midfielder stateside.
"Tata is a winning coach and that's important for us because it gives us the responsibility to win," Almiron said. "He influenced a lot for me to join this club because I am going to learn a lot from him and I think myself and my teammates will and have learned a lot from him, but above all, he's a wonderful person to be around."
Hope and Change on an entire nation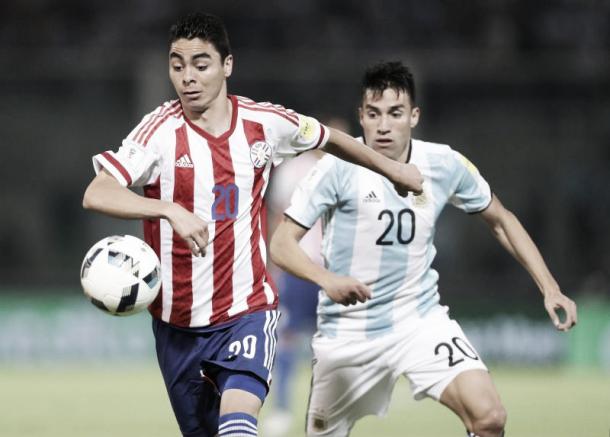 After the failure to qualify for the 2014 FIFA World Cup in Brazil, a rebuilding process came into place in which youthful players came in mixed with the old guards and veterans that have been a part of the national team for more than a decade. With the race as tight as ever in South America to qualify for the World Cup in Russia, Almiron has insisted that his performances for his club will only help motivate him when he puts on La Albirroja jersey in various crucial games.
"I think there are a lot of important players on the national team, not just myself," said Almiron. "We're undergoing a rebuilding process where a lot of young players are coming in which is good for the future of this national team."
With four matches left in the qualifiers, Almiron has stated that he will give it all for his club and country, hoping significant performances will fall into place and coincide with one another.
"l try my best to firstly, give it my all for my club so that I can get called up to the national team and give it my all there," said Almiron. "Hopefully, things will end up well, while it is complicated, we never lose faith. I think if we win the matches that remain and fight until the end, we'll be in contention for the playoff spot."
Never Forgetting His Roots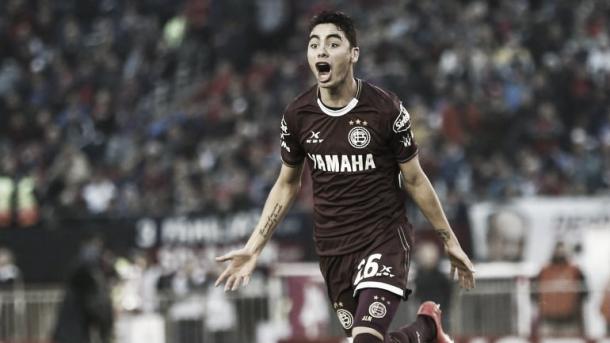 As being known as a player who never loses his smile on and off the pitch, the humble backgrounds that "Miggy" has gone through has never disappeared. He's admitted that he continues to follow the results of his two former clubs despite being a continent and thousands of miles away.
"They both gave me everything," said the Paraguayan. "Cerro especially, which is the club that I'm a fan of, the club where I started and where I left, as a champion thankfully. Lanus as well, because I joined a wonderful group of players, a well-organized club and I felt a lot of happiness by the fans."
Whether drinking maté with his fellow South Americans or listening to the same music, Almiron has become someone who never forgot his roots from his homeland and especially those living here in this the United States who have been following him since his debut.
"The Paraguayans who live in this country are enjoying the moment that the club is having and that's very important for me as a Paraguayan to represent my country in the best form possible," said Almiron. "I try to do things well and those back home, they're taking MLS very seriously and that's very good because it's proving year and year out that it's a very competitive league."
Almiron is already following in the footsteps of the compatriots who came to the States to prove themselves in the first division of American soccer. Players such as Julio Cesar Romero and Roberto Cabañas who played for the New York Cosmos in the old NASL in the 1980s and Nelson Haedo Valdez, who recently played for the Seattle Sounders and became a champion of MLS Cup last year. The 23-year-old is already feeling the big differences in MLS and having played in Paraguay and Argentina, was keen to notice it all.
"I think the difference between all the three leagues I've played is the dynamic of play," said Almiron. "I believe in Argentina, the play of soccer there is more dynamic and I think all the games we play are in packed stadiums which are something that impressed me a lot and little by little, the sport here is getting better."
Success Paying Off
Achievements were quick for the diminutive midfielder. In his first three months, he's already racked up Player of the Week and Goal of the Week awards and with his eight goals and assists for the expansion club, gave him the distinct honor of being named to the 2017 MLS All-Star team joining fellow teammates Greg Garza and Michael Parkhurst as well as being able to share the pitch with various USMNT players and international stars such as Sebastian Giovinco, Kaka, David Villa and Bastian Schweinsteiger among other players.
"It's an honor to share the pitch with those players," said Almiron. "Players who are well known around the world, who won so much and that's very important and will help me."
"To play against Real Madrid in something once in a lifetime and despite it being just a friendly, I think it's going to looked about in a different approach."
Despite all the plaudits being made by various fans and pundits as a contender for Rookie of the Year and MVP, Almiron doesn't buy into the overconfidence and hype that has been made regarding those honors.
"As a player, that's always nice to hear but, I don't pay attention to that a lot," said Almiron. "I try to keep my feet on the ground and thankfully for the hard work I'm putting in and the hard work the team is having because without the team, I wouldn't be where I am right now."
The Future
It will be inevitable that Almiron will not be in Major League Soccer for much longer, especially if he continues to have performances like the ones he's having so far with Atlanta. That being said, the midfielder admitted that his dream was to always play for one of the biggest leagues in the world and to be in the Old Continent, but that he would like to take everything one step at a time and achieve things first with Atlanta.
"I'm at the place where I need to be," said Almiron. "If I had to go to Europe, it would have been years ago but now I'm here in the United States. I'm going to try and enjoy the best of this team, to give a lot to the club."
"It's my dream to play in Europe regardless, but I'll work hard for when my moment comes and to enjoy and give it my all."
VAVEL USA would like to thank Miguel and Atlanta United for taking the time off his busy schedule for this exclusive interview.