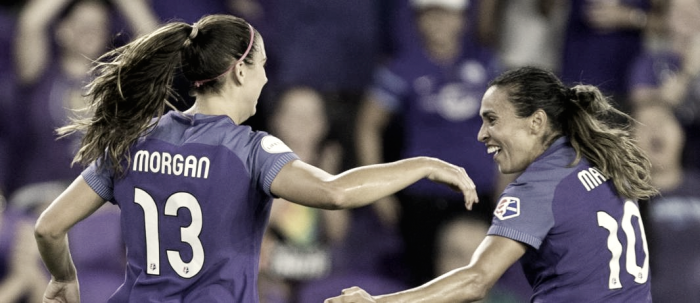 A star studded Orlando Pride team ran right over a hurting Sky Blue FC. It was a big night for the Orlando pride with Maddy Evans playing her last game, and Ashlyn Harris playing her first in months. Coming into the match the two teams were tied for 5th place, with Orlando on top on goal differentials. However, with the complete opposite performances tonight you would not have not these teams were tied.
Orlando struck in the fourth minute, but it would not be the last time. Alex Morgan opened up scoring when she went near post with a left footed shot. The young Sky Blue keeper, Kailen Sheridan, could not make the save and the Pride got on the board. For the remaining 41 minutes of stoppage time, it looked like Sky Blue might be able to collect themselves and produce a goal.
Each team had chances before they headed into the locker room for halftime, but it was the Pride who were able to add to their lead. Camila skillfully got past the New Jersey defense and drove a low ball into the box. Dani Weatherholt was there to put the ball past Sheridan in the 43rd minute. Weatherholt's goal was the first of her career, giving the Pride a 2-0 lead going into the half.
The Pride came out into the second half ready to tack on more goals. The second half scoring began just two minutes into the half. Morgan completed her brace off an assist from Marta. Shortly after, Marta got herself a goal, in addition to her two assists. In the 53rd minute, Marta scored her first of the night, after heading in a deflection by Sheridan. Just five minutes later Marta too earned herself a brace, off of a beautiful through ball from Morgan. The duo assisted each other on one goal of both their braces.
The scoring ended in the 58th minute, but in the 62nd minute, Evans was subbed on for her last game as a professional soccer player. The defensive midfielder announced on Thursday, that she was retiring.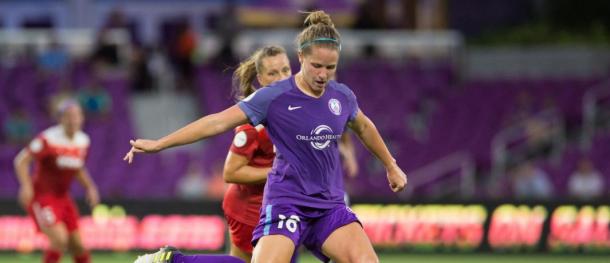 With the Pride's victory tonight, they could be on their way to the playoffs. As it stands currently, they hold the fourth and final playoff spot above the Seattle Reign. However, the Reign are yet to play this weekend and if they win their match against the North Carolina Courage they will reclaim the fourth playoff spot.
While the past few matches for Sky Blue have not been good, this is not the end of their season. They are dealing with six injured players, coming into tonight's match, including regular starters Sam Kerr, Kelley O'Hara, and Sheridan. Kerr and Sheridan both played a full 90 through their injuries. Also injured for Sky Blue are Leah Galton, Erin Simon, and Mandy Freeman. If they can find a way to get back to good health, they have the chance to come from behind and take a playoff spot.