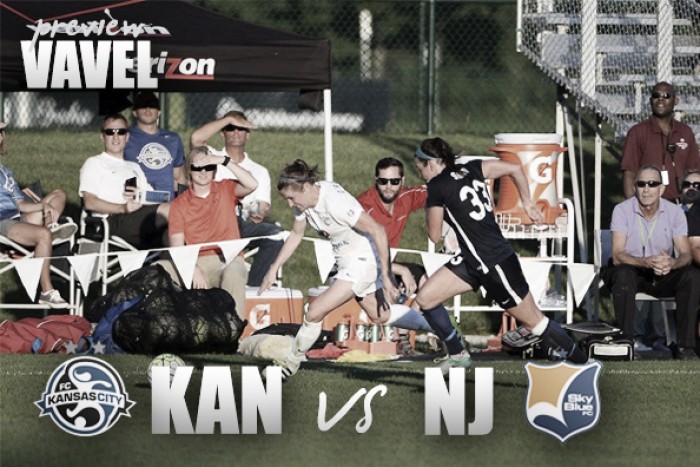 FC Kansas City is at home in Week 19 trying to crush the playoff dreams of Sky Blue FC. Sky Blue currently sit in 5th place, just three points behind the fourth and final playoff spot holders, the Orlando Pride. While it is looking unlikely FCKC will make the playoffs, it is not impossible. Sky Blue is coming off an important home win, while the Blues are coming off a tough home loss. Sky Blue and Kansas City have met two times this year, both times Sky Blue came away with three points. The game is set for Sunday, September 3rd at Children's Mercy Victory Field. Viewers can watch the game on the go90 app as well as the website, and on the NWSL app and website.
Sky Blue staying alive
After falling in three matches in a row, the playoff hopes for the New Jersey team looked to by slipping from their grip. Week 17 was a crucial one for Sky Blue and they were able to pull out a comeback win over the Seattle Reign. Then in week 18, the young defense was able to secure their third shutout of the year for the 1-0 win against the Boston Breakers. Now the stakes are even higher for this week's match against FCKC. While Sky Blue is only three points behind the Pride who hold the final playoff spot, it does not look like the Pride are slowing down anytime soon. Sky Blue will have to win to avoid falling out of the playoff race.
All Kerr all the time
Sky Blue's, Sam Kerr, has 16 goals on the season after scoring the only goal last week. With that goal, she tied Kim Little's single season goals. This week Kerr will go for 17 to break the record. Kerr is all alone in the golden boot race, five goals ahead of the next healthy player in the race. Megan Rapinoe is only four goals behind Kerr but is dealing with a left meniscus injury. Kerr has five goals in the past two games.
Sky Blue brings in new defender
Sky Blue signed New Jersey native, Cassidy Benintente, on Wednesday. Benintente, 23, attended Rutgers University, alongside Sky Blue players Erica Skroski and Madison Tiernan. Benintente has been with the team since preseason, so she is well assimilated with the group. She can play many positions but was signed as a defender.
Barnhart and FCKC
Nicole Barnhart, FCKC goalkeeper, is set to make her 100th regular season appearance. Barnhart will become the first goalkeeper to accomplish that and just the fifth player overall in NWSL to have 100 appearances. Barnhart and the Blues defenders will have to stop the offense of Sky Blue and get three points in order to keep their playoffs hopes alive. They could be eliminated from the playoff race pending scenarios from Orlando and the Chicago Red Stars.