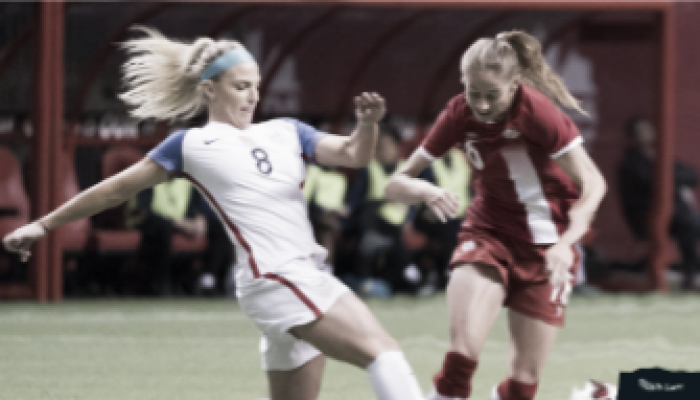 That's all for me tonight, It's was fun, and I hope you enjoyed this exciting and physical match here on VAVEL, The recap of the match with analysis will be posted shortly I'm Addison Hadley signing off and good night!
END OF THE MATCH: USA-3 Canada-1
90' Three minutes of stoppage time
88' Rapinoe almost scores but it hits the post and its push out of play
86' Chapman slides the ball away from Williams, corner Rapinoe to take.
85' Call goes against Morgan,
82' SUBSTITUTION USA: Lynn Williams comes in for Press.
GOALLLL UNITED STATES! Lloyd gets on the end of the ball from Press and slots in in! USA leads 3-1
80'Canada clears
80'USA earns a corner
80' YELLOW to Riveire for a foul on Rapinoe
79' Beckie takes it and it goes in the box, Naeher makes the general save and its cleared out,
78' Canada earns a corner
77' Canada clears the ball
76' Rapinoe's shot is deflected out for a corner
74' SUBSTITUTION USA: Andi Sullivan comes on for Ertz and Carli Lloyd comes on for Mewis
71' SUBSTITION Canada: Making their debut are Ariel Young on for Scott and Jayde Yuk Fun Riviere for Leon
69' Beckie is down with what looks like an ankle injury
66' SUBSITUTION USA: Casey Short comes on for Smith
65' Ball gets up to Rapinoe, who tries again to get a shot on goal. Labbe bobbles but gets in.
64' Rapinoe tries a shot on goal, its gathered by Labbe
63' Headed out by Sauerbrunn, Rapinoe clears
62' Canada gets a free kick. Beckie stands over it.
59' SUBSTITUTIONS (Canada) Lindsey Agnew comes in for Kelly, Sinclair comes out for Jordyn Huitema
GOOOOAAALLLLLL UNITED STATES!!! Morgan slides home a ball from Press. USA leads 2-1
56'O'Hara gets forward, Kelly clears it
54' Fleming fouls Mewis, free kick for United States
53' Ball is headed out but finds it way up to the Canadian box before its cleared and out for a throw.
53'Ball gets up field for USA, cleared by Quinn and out for a corner
51' Goal, Canada Beckie gets the ball from a cross and slots it into the back of the net
51' Ball is cleared up field
50' Nothing happens from the corner, cleared for a goal kick
49' Press gets forward but the ball is cleared by the Canadian defense Corner
48' Beckie takes it but nothing is created
48' Leon tries a ball, but Naeher clears it out for a corner
47' Both teams off to a good second half
Start of the second half: Canada to kick off, no subs yet
Teams are slowly making their way back onto the pitch.
Halftime: USA goes into the locker room up 1-0
45+4' Rapinoe swings it in, and its cleared.
45+4' USA Corner, Rapinoe to take.
45+3' Free Kick, Dahlkemper delivers, Horan heads it wide
3 minutes of stoppage time is added on at the end of the first half
42' 2 players collide, Ertz stays down but gets up after a moment
42' O'Hara is flagged offside
39' Scott drives a ball forward, but it rolls wide of goal
38' Canada has had some good shots on goal in the last few minutes
34' Rapinoe goes down but gets up
32' Sinclair is up and walking gingerly
32' Sinclair tries a ball and goes down after taking a shot
32' Mewis is back on the pitch
31' SUBSTITUTION: Nichelle Prince comes on for Rose
30' Mewis is up and walking
29' Mewis is down,
27' Leon gets the ball from the corner and starts a counter attack
26' Corner blocked out, another corner.
26' Corner USA
24' Chapman clears a cross from Morgan
24' So far this match has been very physical.
22' Labbe is back up
20' Labbe is down after a collision with Rapinoe
18' Smith is fouled by Leon, free kick USA
17' Beckie is back on the pitch
17' Beckie is up and on the sideline after receving treatment
16' Beckie is down after clashing heads with Mewis
13' Press sends in a ball, gathered by Labbe
11' GOOOOOOOALLLLL Ertz scores off the corner with a header
11' Rapinoe swings it in, but its cleared another corner
11' Morgan tries a shot, cleared by Labbe, corner USA
10' 10 minutes in with both teams having good chances
7' Rapinoe tries a low hit but it is reflected out of danger
7' O'Hara is fouled. US free kick.
4' Zadorsky clears a ball
3' Canada gets the ball, and Fleming is fouled by Sauerbrunn
2' Morgan gets called for the foul.
1'Canada gets a throw in
1' United States control the ball, and we're underway.
8:14 CT: National Anthems are being played.
8:12 CT: Teams are about to walk out.
The only two people to start every match are captain Becky Sauerbrunn and Samantha Mewis.
Goalkeeper Alyssa Naeher earns her 23rd cap tonight.
7:50 CT: We're still about 20 minutes away or so from kickoff, but this match is going to be intense. What a good way to end the year for the USWNT.
7:46 CT: I'm kinda disappointed that we won't be seeing Ubogagu, Franch or Huerta at all. I know that Canada is a good team, but how are they suppose to get good at playing at the international level if they don't play against the best teams.
Not dressing out for the match today for the United States are Chioma Ubogagu, Adrianna Franch, Jane Campbell and Sofia Huerta.
Canadian XI(4-3-3): Labbe; Chapman, Zadorsky, Quinn, Kelly; Scott, Beckie, Fleming; Leon, Sinclair(c), Rose
United States starting XI(4-3-3): Naeher; O'Hara, Sauerbrunn(c), Dahlkemper, Smith; Ertz, Horan, Mewis; Press, Morgan, Rapinoe
7:27pm CT: Good Evening Ladies and Gentlemen! We're still about 30 minutes away from kickoff and we just got the starting XI.
Canada:1, United States:2
Prediction: Both teams will come out strong, but the United States will get on the board first in the second half and pull off the win.
The USWNT will be led by Jill Ellis while CanWNT will be led by John Herdman.
Lineup Prediction for CanWNT: Sheridan; Chapman, Zadorsky, Quinn, Agnew; Scott, Kelly, Fleming; Sinclair, Leon, Beckie
Lineup prediction for USWNT: Harris; Short, Sauerbrunn, Sonnett, Smith; Ertz, Lloyd, Mewis; Morgan, Press, Rapinoe
The match will take place at Avaya Stadium in San Jose, California at 8:00 pm central (6:00 PT) The game will be broadcasted via FoxSports 1 in the US and TSN1 in Canada.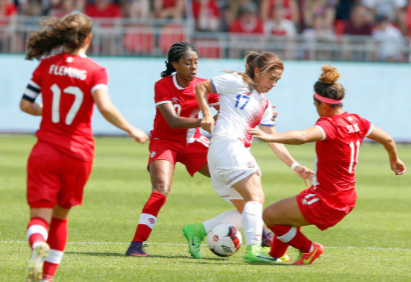 What to look for (Canada) Look for Canada's offense from the start. They'll be looking to get on the board first. Sunday might see a few more Canadians get the debut, including two 16-year-olds.
What to look for (United States): Look for the defense to change. Jill Ellis might but Sofia Huerta in place for Abby Dahlkemper. Or put Emily Sonnett who has not seen minutes in over a year for the National Team. She might also put Ashlyn Harris in goal.
Just a few days ago the USWNT took on CanWNT at BC Place in Vancouver in what was an exciting match that ended 1-1. Goals from USA's Alex Morgan and Canada's Adriana Leon. Good evening and welcome to VAVEL USA's live coverage of the match between the Canadian Women's National Team and the United States Women's National Team at Avaya Stadium in San Jose, California I'm Addison Hadley and I will be your host for what will be a physical and exciting match to end the year for the USWNT.