 Three midfielders and two forwards were nominated as the best U.S. Female Players in the country this year by the U.S. Soccer Federation. Midfielders Julie Ertz, Lindsey Horan and Samantha Mewis, join forwards Alex Morgan and Megan Rapinoe on the short list of nominees for the award.
Morgan and Ertz each ended their 2017 national team campaigns strong with seven and six goals respectively, while Horan and Rapinoe were the team leaders for assists. For Samantha Mewis, 2017 was a banner year. She became a focal point and leader for the United States midfield and was named to the NWSL Best XI. The four other players were nominated to the NWSL Second XI.
Votes will be collected by current national team coaches and staff, as well as, players who capped in 2017. Along with the team, members of the U.S. Soccer Board of Directors, U.S. Soccer's Athlete Council, NWSL coaches, select college head coaches and media members are all able to vote on the player who best exemplifies the best of the best. Voting for the candidates close on Tuesday, December 12 at 11:59p.m.ET and winners will be announced throughout December.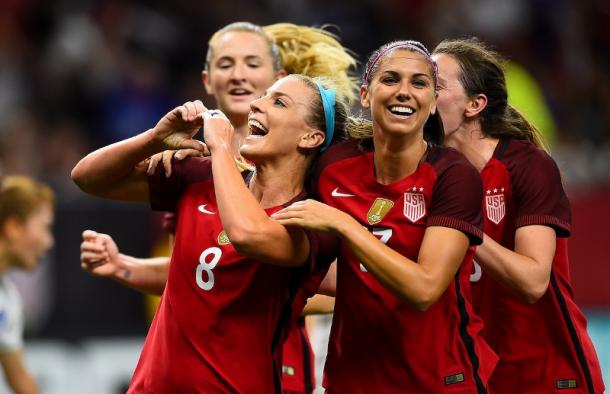 Morgan is the only nominee who has won the award before, earning it in 2012. Ertz and Horan have picked up the Young Female Player of the Year award, Ertz won in 2012 and Horan won in 2013.
The U.S. Soccer Female Player of the Year award has been given since 1985 with the inaugural winner being Sharon Remer (nee McMurtry). Other past winners have included Abby Wambach, who won it six times, Mia Hamm, who won it five times, and Michelle Akers who it three times.