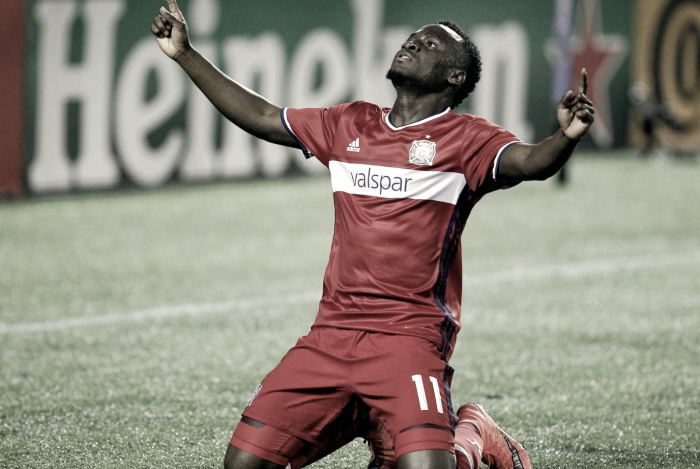 We've seen some big moves during this winter offseason. Ezequiel Barco has been announced by Atlanta United, Sporting Kansas City has sold the likes of Benny Feilhaber for allocation money, and Orlando City SC may have found themselves a Kaka replacement with the Sacha Kljestan trade.
Now, a team you wouldn't expect has pulled the trigger. On draft day, the Philadelphia Union have acquired Chicago Fire winger David Accam for a sum of $1.2 million in allocation money (300k in GAM and 900k in TAM). The big move will add more firepower to the Union's attack heading into the 2018 season.
Stats and More
There's no debate about it, Accam is a fantastic player. With 21 goal contributions in 34 regular season games, it's clear that he's capable of producing. Sure, he might've not been able to achieve that without the likes of Bastian Schweinsteiger and Nemanja Nikolic, but he's still capable of being able to be a productive player without pieces around him.
He's shown this in 2015 and in 2016 while the Fire was in the basement for the majority of this time. Accam's pace, dribbling, and physicality gives him the ability to take anyone (or even multiple people) on. It's great that he has this, but what makes all of these traits better is that he has a nose for the net and finding his teammates. Accam has a .63 xG + xA, which is just about what Diego Valeri, Ola Kamara, Bradley Wright-Phillips, and other big names have had in 2017.
Accam has also put the ball on target 72% of the time he takes a shot. Allowing him to have the ball on his feet with space is a sight no MLS defender will want to see, and with a supporting cast consisting of CJ Sapong and Haris Medunjanin can make his tenure at the Union very special. With the departure of Chris Pontius, Accam will be given the task of vacating this role, and he should do just fine under Jim Curtin.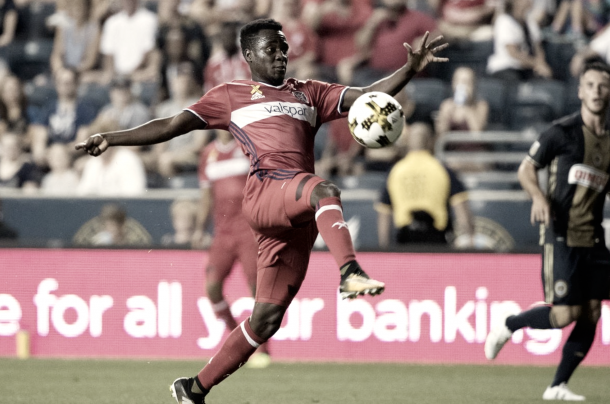 The Chicago Fire may have lost their starlet, but $1.2 million is a good return for the 27-year-old Ghanaian. That amount of cash should be enough to find a replacement for him and improve the XI with the leftover allocation money. When the Fire would line up, Accam would usually be one of the furthest men forward, almost as if he were to be linking up with Nikolic.
With everything taken into consideration, the Union and Fire both got a good deal on their respective ends. Philly will be looking to build their team with the proven MLS winger and enter the playoffs which they haven't since 2016. Core pieces like Andre Blake, C.J Sapong, Jack Elliott, Keegan Rosenberry, and Haris Medunjanin should be able to compliment the new acquisition and potentially make a bang in the upcoming season.
On the other side of things, the Fire will look to build off their incredible 2017 season and compete for the cup. What they plan on doing with the money remains a question, but it's unlikely that the money isn't well spent, regardless of the fee.