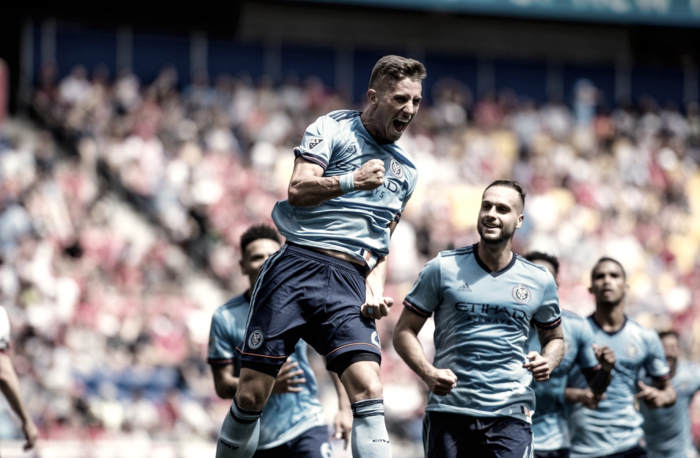 On Friday, New York City FC announced that Ben Sweat would be extending his stay at the club. The 26-year-old defender was signed as a trialist by the club prior the 2017 MLS season which proved to be a good decision. Sweat is currently in preseason with the club in his home state of Florida, the place where he earned his first contract.
Career Path
As a Floridian, Ben Sweat naturally chose to stay in his home state for college ball and ended up at the University of South Florida and set an all-time record for appearances for the school. In Ben's 78 appearances he managed three goals and was named to the 1st-team American Athletic Conference in his senior season.
While with South Florida, Sweat was earning first team experience by training abroad as well as playing for Player Development League teams. In 2012, Sweat played for the VSI Tampa Bay FC before playing for Reading United AC the following season, both of which competed in the PDL.
During those same years, Sweat was training with Djurgårdens IF Fotboll, a club in Sweden's top flight. Ben trained with the club in both 2012 and 2013 as well as eventually training with SK Sigma Olomouc, a club from the Czech Republic in 2013.
The following year, in 2014, Sweat was selected 14th overall in the MLS SuperDraft by the Columbus Crew. The club sent Sweat out on loan to Dayton Dutch Lions, a club who at the time was competing in the USL.
Sweat ended up with 0 career minutes to his belt before returning home and signing with the Tampa Bay Rowdies prior to the 2015 NASL season. Ben went on to play for the club until 2016.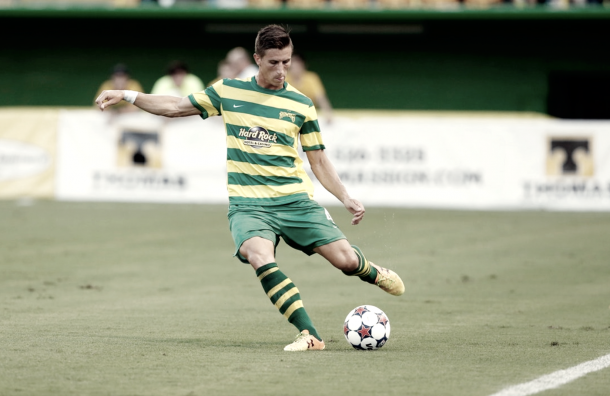 While the club was doing preseason activities in Florida for the upcoming 2017 season, Ben Sweat was invited to join as a trialist. His performance during these sessions were impressive enough for the club to give him another chance in MLS.
After not playing in any of the clubs seven matches, Sweat may have been worried he was heading down a similar path that he had gone just years earlier with the Crew. Then, Sweat played all 90 minutes against the club who drafted him and picked up his first career assists in a 3-2 win in Columbus.
Injuries to certain players allowed for Sweat to continue to get minutes after impressive performances. Ben's first Hudson River Derby saw him score and assist in a 2-0 win over the New York Red Bulls. As Sweat continued to get minutes, he continued to impress and show his versatility.
Sweat finished the season with 26 appearances, starting in 25 of those games, 1 goal, and an impressive 6 assists from defense. With over 2000 minutes played in the regular season, Sweat played all 180 playoff minutes further proving his versatility as he went 90 minutes in the second leg as a center back replacing the suspended Alexander Callens.
Quotes
Ben Sweat started things off by saying "I wouldn't want to be anywhere else in this league. New York took me in as a trialist last year and put a lot of trust and faith in me and I'm glad I could produce enough for them to keep me around for another couple of years." He went on to say "I'm super excited to be part of this club and to be back in the Bronx playing at Yankee Stadium in 2018."
NYCFC manager Patrick Vieira had nothing but good things to say about the Floridian leading off with "Ben showed last year that he can bring a lot to the football club. I think he was one of the important players of last year. When someone does well, they deserve to be rewarded and that was the case with Ben." The former Arsenal midfielder furthered that with "We're really glad he accepted because it's great to have him at the football club, not only as a player, but as a person as well."
The praise didn't stop there as the club's Sporting Director, Claudio Reyna said "He came in on trial last year and impressed the coaches who were quickly confident that he would be able to contribute to the team and he proved it." The compliments continued as Reyna said "We all believe Ben has another level and he has the right mentality needed to improve and get better in many aspects. We're really looking forward to having him with us for the next few years."
Quotes via NYCFC.com