 The Boston Breakers have officially folded, paring the National Women's Soccer League down to nine teams once again. In order to evenly distribute the players amongst the remaining teams, the NWSL held a dispersal draft on Tuesday. The North Carolina Courage received the very last pick in the randomly assigned draft order, giving them the ninth and tenth selections in the draft.
A consistent defender with attacking flair
With the ninth pick in the draft, the final selection of the first round, the North Carolina Courage selected defender Julie King. King played in Boston all five seasons of her NWSL career and even played with the Breakers in the semi-professional Women's Premier Soccer League Elite in 2012; the year before the NWSL was founded. Through the endless hard times for the Breakers, King remained a stalwart professional, always loving the team and giving her all on the pitch. She played in 95 NWSL games for the Breakers, scoring six goals across five seasons. While the Breakers rarely fielded outstanding defensive squads, King was a bright spot who worked tirelessly for the team that she loved.
With this selection, the Courage are hoping to replace Taylor Smith, the rising United States Women's National Team defender who was traded, along with forward Ashley Hatch, to the Washington Spirit for the rights to forward Crystal Dunn. King is an experienced defender that might give up some speed to Smith, but what she lacks in pure athletics she more than makes up for in positioning and veteran know-how. She should be a strong addition who will challenge for a starting spot on the back line for the team.
A tough Canadian to bolster the defense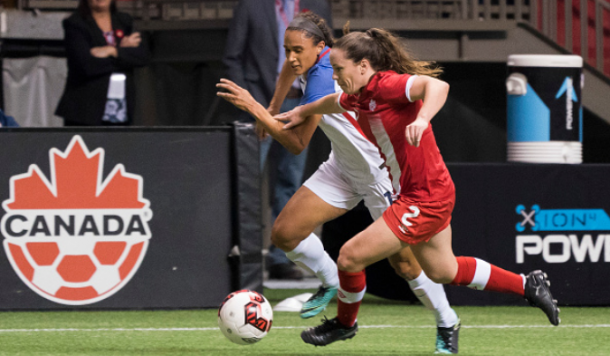 The Courage had a notable team, grabbing allocated Canadian defender Allysha Chapman with their second-round pick, tenth-overall. Selecting the two Breakers defenders in succession showed head coach Paul Riley's desire to add veteran talent to the suddenly-thin defensive lineup. Chapman and King are polar opposites with regards to their playing history. While King has spent her entire professional career with the Breakers, Chapman has played with no less than six different professional teams across three different countries.The 2017 season was her first with the Breakers after playing 14 games with the Houston Dash in 2015 and 2016. She has a reputation for tough defending, something that goes well with the physicality of the Courage team.
Chapman also has extensive experience with the Canadian Women's National Team, making 47 appearances since 2008. Unlike King, Chapman doesn't boast offensive stats, scoring one goal in her national team appearances and zero goals in her NWSL playing time. She is, nonetheless, a valuable veteran who brings a special toughness and experience to the team. She might not find herself starting, but she could play herself into a prominent role with the team going forward.