 France and Germany played in a consolation type match Wednesday afternoon. Neither team will be hoisting the 2018 SheBelieves Cup. A goal in the first half and two in the second half put away Germany in their last SheBelieves Cup matches. Eugenie Le Sommer had a great match with a goal and two assists. Amandine Henry and Valerie Gauvin had a goal each. Gaetane Thiney added two assists to her international resume. Sarah Bouhaddi recorded a clean sheet as France shutout Germany. France will finish either third or second in the tournament depending on the USA vs. England outcome.
A quick strike gives France an early lead
Great start by France with some early pressure paid dividends. In the 10th minute Henry shot a rocket from outside of the box beating German goalkeeper Almuth Schult. Germany failed to clear the ball in their back half and Le Sommer was able to find a wide open Henry for the finish.
Alexandra Popp had the best and most chances of the half for Germany. Popp was unable to finish the few chances she had. The Germans could not find any rhythm to get going offensively. France was quick to close down any German attack as the match continued.
In the 43rd minute France defender Aissatou Tounkara went down with a leg injury. Tounkara was kicked in the back of the leg by a failed shot attempt by Germany's Dzsenifer Marozsan. She had to be stretchered off the field and taken to a local hospital. Laura Georges replaced Tounkara just before the halftime whistle. France would control the last part of the half with a couple chances but unable to extend their 1-0 lead.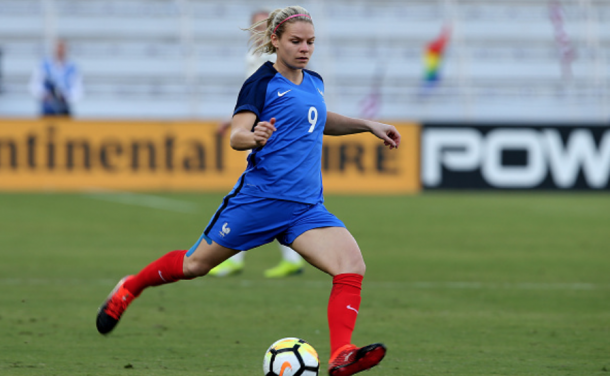 Le Sommer and France control second half
France striker, Le Sommer added a goal and an assist in the second half. The French brought the ball to the near corner where Thiney floated a ball for a wide open Le Sommer. Le Sommer headed the ball past Schult to give France the 2-0 lead in the 55th minute. This was Le Sommer's first career goal against Germany. Le Sommer would add her assist in the 68th minute. Germany had brought a defender up to force the issue against the strong French defense. France was able to counter the attack to springing a streaking Le Sommer down the near side. Valerie Gauvin would join Le Sommer on the rush. Gauvin was able to roof the pass from Le Sommer, past Schult, giving the French the 3-0 lead. The goal by Gauvin was her second international goal of her career.
Again, Germany struggling to get anything going in the second half. Germany had difficulty getting anything past the French defense. While French goalkeeper, Sarah Bouhaddi was rarely tested throughout the match. A strong defense helped give Bouhaddi another clean sheet to her international career.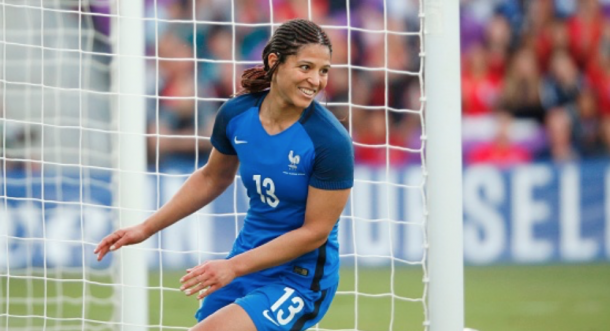 Maeva Clemaron earned her first cap with the French National team when she replace Henry.