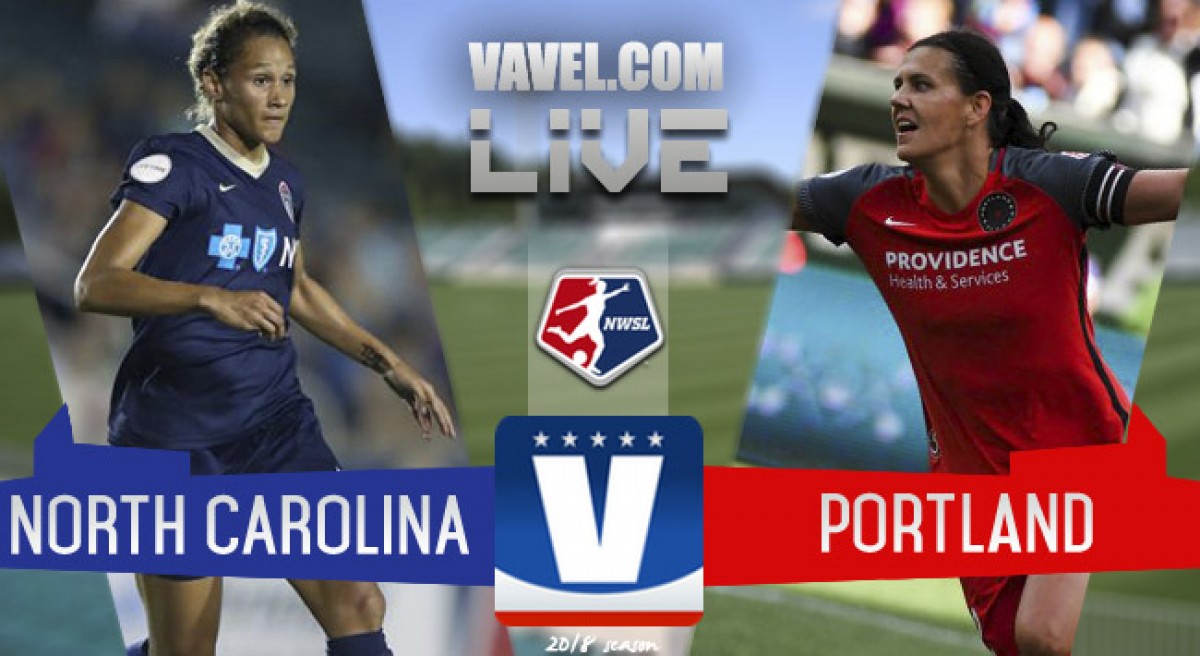 That's all! I'm Emily Sanzone and thanks for joining me today in this live of the North Carolina Courage and Portland Thorns!
FINAL: North Carolina Courage 1-0 Portland Thorns
90' - Substitution: Debinha heads out as Meredith Speck comes in.
90' - Three minutes of stoppage time.
87' - Some trouble in the box for Portland. Eventually goes out for a corner.
84' - Dunn has a shot but goes over the goal.
84' - Klingenberg blocks Dunn's cross for a Courage corner kick.
82' - Meghan Klingenberg bends one into the box for Christine Sinclair and Midge Purce but D'Angelo scoops it up.
81' - North Carolina corner coming up.
79' - Purce gets a chance but D'Angelo makes a save.
78' - Substitution: Kristen Hamilton in for Denise O'Sullivan. Elizabeth Ball in for Mallory Weber.
74' - Foul on Portland, Carolina kick.
70' - COURAGE GOAL! Debinha hits one from outside of the box that goes pass Franch.
67' - Substitution: Darian Jenkins comes in for Jessica McDonald.
64' - Crystal Dunn gets a shot off but is deflected over the goal for a North Carolina corner. The corner eventually goes out for a goal kick.
61' - Substitution: Tyler Lussi comes in for Ifeoma Onemonu.
58' - Midge Purce knocks down Zerboni. Free kick coming for North Carolina.
57' - Couple of chances for Portland but nothing is converted.
55' - Chance for the Courage but Portland clears the danger.
53' - Horan crosses one in but no one is there for Portland. O'Sullivan counters for North Carolina but Mathias' shot on goal goes wide.
50' - Jaelene Hinkle is shown a yellow card.
50' - Purce sends one into the box but D'Angelo is there to pick it up.
48' - Weber takes a shot on goal but it goes wide for a North Carolina goal kick.
48' - O'Sullivan takes a shot at a volley but Franch is able to handle it.
48' - Boureille heads the ball out for a Carolina corner to start the half.
HALFTIME: North Carolina Courage 0-0 Portland Thorns
46' - Another corner for the Courage and Portland is able to clear.
45' - Foul on Portland, free kick for North Carolina.
44' - Debinha sends one in but Franch is there to make the save.
43' - Sonnett blocks Crystal Dunn's cross. Another Carolina corner.
42' - Erceg gets a chance on goal but it goes over for a goal kick.
41' - Mathias crosses and Debinha just misses. Another corner for Carolina coming up.
38' - A mess in the box for the Portland defense. McDonald gets a head on it but Franch hits it out for another corner kick that was then saved by Franch again.
37' - Ball goes out for a North Carolina corner.
35' - Another yellow is shown to Lindsay Horan after a tough tackle on McCall Zerboni.
33' - Yellow card is shown to Emily Sonnett after a late challenge on Debinha.
31' - Erceg kicks the ball out and Klingenberg will take Portland's first corner of the match. North Carolina clears it.
30' - Williams fires a shot but goes just wide of the goal.
29' - Sinclair has a low shot. D'Angelo bobbles it but eventually picks it up.
23' - Boureille gets a shot off from outside the box but it goes over.
19' - Lynn Williams gets a head on Dahlkemper's corner but it goes wide for a Portland goal kick.
18' - Second corner coming up
18' - Sonnett makes a huge stop for Portland giving North Carolina the first corner of the match
16' - Debinha sends a cross into the box but Portland clears it out for a throw in
13' - Jessica McDonald gets a shot off but it goes over.
12' - Another chance for Weber but the North Carolina defense clears the danger.
10' - Lindsay Horan sends a through ball for Mallory Weber but D'Angelo is there to clear the ball.
7' - Foul against the Thorns. Abby Dahlkemper takes a quick one for North Carolina.
2' - Jessica McDonald crosses the ball into the box and Lynn Williams just misses. Goal kick for the Thorns.
1' - Foul from North Carolina. Emily Sonnett takes the kick for Portland
1' - Game time!
Kickoff is underway!! Let's get the 2018 NWSL season started!
North Carolina Courage vs Portland Thorns Game Coverage
Correction: We are about 20 minutes away from kick-off. We'll be back for the start of the game!
Portland Thorns Starting XI: Franch, Reynolds, Sonnett, Hubly, Klingenberg, Purce, Boureille, Horan, Weber, Sinclair, Onumonu
North Carolina Courage Staring XI: D'Angelo, Hinkle, Erceg, Dahlkemper, Mathias, Dunn, Zerboni, O'Sullivan, Williams, Debinha, McDonald
Hi everyone! Welcome to VAVEL USA's live of North Carolina and Portland. My name is Emily and we're are less than 10 minutes away from kickoff!
That's all for pregame analysis! Make sure to tune in on March 24th at 3:30 pm EST for live updates on the North Carolina Courage and Portland Thorns match up. The game will also be streamed on nwslsoccer.com, go90 and it is the LifeTime Game of the Week.
Both teams are more than capable of making it back to where they were last season. Although this is just the first game, both teams have a lot to prove. North Carolina is heading into this match doing their best to ignore their last match-up and focus on this one. Portland is trying to show they are still a powerhouse team.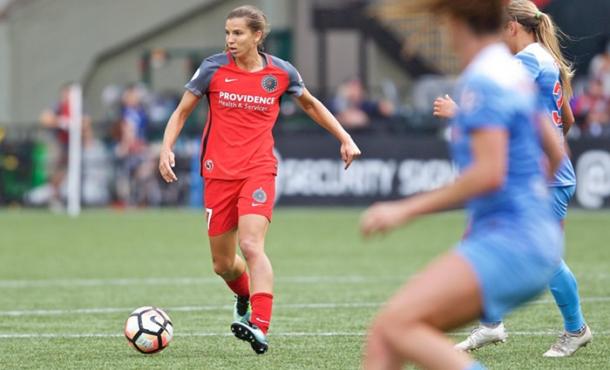 OUT: Tobin Heath (right minor ankle surgery), Emily Menges (right lower leg stress reaction)
INTERNATIONAL DUTY: Ellie Carpenter (AUS), Hayley Raso (AUS)
Portland Injury Report:
OUT: Makenzy Doniak (left knee ACL tear – SEI); Liz Eddy (right hamstring strain); Samantha Mewis (right knee strain); Yuri Kawamura (right knee ACL repair – D45); Julie King (left ankle repair)
QUESTIONABLE: Abby Erceg (left hip strain)
North Carolina Injury Report:
Portland Thorns Preview: Although there were other teams that had a much more busy off-season the Thorns are seeing a much bigger change in their roster than the Courage are. Portland lost a total of seven players from last season's championship run but with the loss of these players they were able to pick up some pretty impressive talent. The Thorns saw the addition of international players Caitlin Foord, Ellie Carpenter and Andressinha as well as Angela Salem, Midge Purce and Ifeoma Onumonu from the Boston Breakers Dispersal Draft. Portland didn't have as great of a preseason tournament as the Courage did. They tied both the U-23 US Women's National team and the Houston Dash then were defeated by the Chicago Red Stars. The Thorns are more of the underdogs heading into this match and with many key players missing, they have a lot to prove.
North Carolina Preview: The Courage probably had the quietest off-season of any teams in the NWSL. The biggest event for the Courage this off-season was the signing of US international Crystal Dunn. Dunn recently played for the Washington Spirit before heading over seas to play with Chelsea Ladies FC. Reports told that Dunn wanted to come home to the NWSL but only if she could play for North Carolina, hence the departure of Taylor Smith and Ashley Hatch. The Courage had a perfect preseason as they defeated the four teams that they played and not allowing a single goal. Heading into this match North Carolina looks to be more favored to win. They have an incredibly impressive roster and better yet, they are playing in front of their home crowd.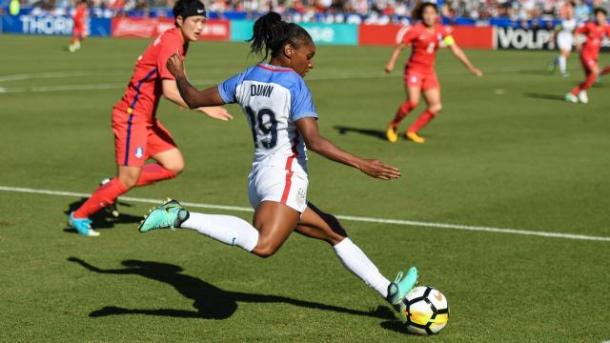 Both teams are heading into this match with having just finishing an impressive season. The Courage were the 2017 NWSL Shield winners but then fell to the Thorns in the championship game. For both teams this game is important. For North Carolina they have to claim redemption after a sloppy loss in the championship but for Portland they have to show that they rightfully won that game. It will be a great test for both teams to see where they are at the start of the season.
The Portland Thorns are travelling to Cary, North Carolina to take on the reigning NWSL Shield winners in an NWSL Championship rematch. The two teams have played one another three times before with Portland coming out at top two of those three times, including last years championship. This match will be the first of three matches during the regular season.
North Carolina Courage vs Portland Thorns pre-game Commentary
Welcome everyone to VAVEL USA's live coverage of the first match of the 2018 National Women's Soccer League season between the North Carolina Courage and Portland Thorns FC. My name is Emily Sanzone and I'll be your host today. Follow along with VAVEL USA as we provide pre-game analysis, roster news and live game updates.