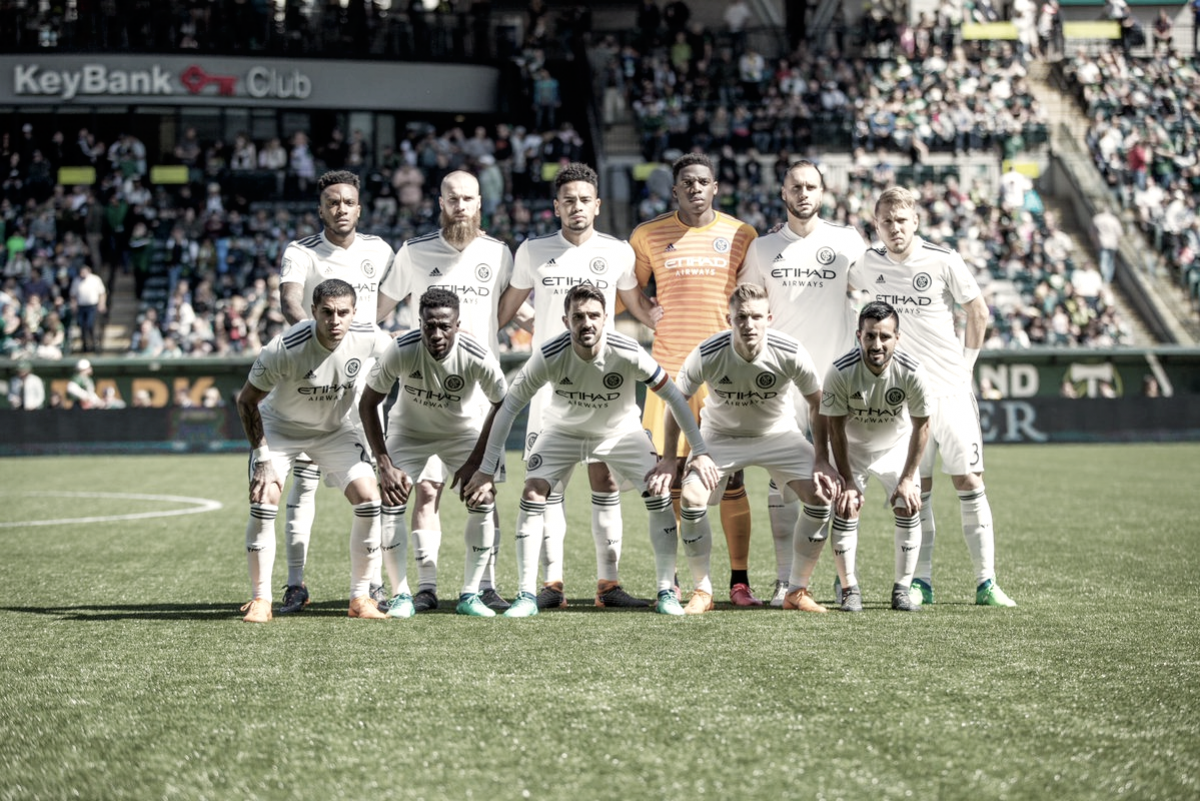 On Sunday, New York City FC suffered their first defeat of the 2018 MLS season to the Portland Timbers at Providence Park. Not for the first time this season, NYCFC struggled to create chances away from home. Yangel Herrera's absence from the starting lineup was also sorely missed.
Sean Johnson (4/10) - The American goalkeeper has set the bar high for himself since his debut last season and he did not live up to those expectations on Sunday. Failing to communicate with his defender on the first goal and parrying a shot into Fanendo Adi's path gave NYCFC a mountain too tall to climb.
Ronald Matarrita (5/10) - After a handful of injuries, Ben Sweat took over at the left back for position for NYCFC in 2017 and didn't make it easy for the Costa Rican to return to the XI. On Sunday, he was given his third start since returning in September of last season and he'll probably have encouraged Vieira to give Ben Sweat another start next weekend.
Alexander Callens (5/10) - The defender in question for the first goal that lacked communication was Callens. The Peruvian watched 5'7" Sebastian Blanco's header loop over his head into the goal. He made one of NYCFC's few defensive stops prior to the goal but overall didn't do much else. Not his best game.
Maxime Chanot (5/10) - Another defender that could have helped prevent a goal is the 28-year-old. Despite Johnson's failure to parry the original attempt on the second goal away from danger, Chanot has to take some blame. Throughout the entirety of the Portland's buildup, Chanot never looked over his shoulder allowing Adi to sneak in and double the hosts lead.
Anton Tinnerholm (5/10) - Consistent rating for the entirety of the backline as questions will also be asked of the Swedish fullback. Perhaps slightly out of position, Tinnerholm allowed 5'7" Sebastian Blanco to get on the end of a cross and put Portland in front. However, Anton also attacked well down the wing and knew Wallace would be there to cover for him when he couldn't get back in time. Unfortunately, that happened a lot and Wallace had to waste far more energy defending than he would have wanted to.
Alex Ring (7/10) - Even in a losing effort it's tough to find a lot wrong with Ring. Alongside Callens, Ring led the way with three tackles, and also displayed impressive distribution. The standout for NYCFC despite Portland's clear gameplan to limit his production.
Ebenezer Ofori (5/10) - Looking at his pass map, it's easy to see where he lacks. The midfielder had a 94% pass success rate but almost none of his passes went to the right side of the field. The Ghanian didn't take enough risks and that's where Yangel Herrera was missed. Ofori looks more suited for the Alex Ring role, not the Herrera role.
Maxi Moralez (5/10) - Another one who has set the bar high, particularly this season, but failed to reach expectations. NYCFC's #10 had one in every five passes intercepted and failed to create anything for NYCFC. With Berget and Wallace on the wings as opposed to Medina and Tajouri-Shradi, almost all of the creativity was going to fall on Moralez and he failed to do so.
Jo Inge Berget (5/10) - He's hot and cold, and tonight he wasn't too hot. However, it's tough to put the blame on him. Vieira insists he's a winger but his body tells you otherwise. He began to look frustrated when NYCFC weren't displaying their full attacking ability and we shouldn't blame him. He's not a wide man who will go searching for balls, and that's what the team needed.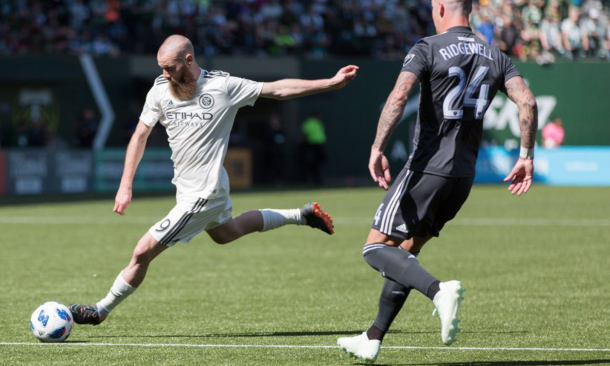 David Villa (6/10) - The captain returned to the starting lineup was the most noticeable in the final third. However, that's not saying much for an NYCFC side who had three shots. He probably earned his side a penalty late in the game which statistics show more than likely would have ended with a consolation goal but it wasn't given and the striker didn't get the chance.
Rodney Wallace (5.5/10) - 17 games since Wallace's last goal, but his work rate has to be acknowledged. NYCFC aren't allowed to play their attacking style if their fullbacks can't attack, and Wallace allows them to do that. However, missing from two yards out despite being offside has summed his last half a year up pretty well.
Substitutions
Jesus Medina (6/10) - The Paraguayan Designated Player was probably better suited for this game over Berget but Vieira saw Ismael Tajouri-Shradi go down last week vs Atlanta United and decided to give Medina a break after visibly losing some sharpness in training.
Tommy McNamara (5/10) - Didn't do much right, didn't do much wrong. McNamara wasn't given enough time to do much but did make two unsuccessful passes.
Yangel Herrera (6/10) - A pretty energetic 11 minutes from the substitute as you'd expect. Despite playing such little time, Herrera had two successful tackles (one less than Ofori). Herrera is what was needed between Ring and Moralez, not Ofori.