Utah Royals FC hosts Sky Blue FC for the teams second meeting of June. On June 2nd Utah was in New Jersey where they walked away with three points from a 2-1 victory. Sky Blue will try to go to the Royals' home and walk away with three points. Both teams are coming off midweek draws, Sky Blue's against Portland Thorns FC and the Royals against Seattle Reign FC. Christen Press made her Utah debut, but could not find the back of the net which resulted in a scoreless draw. Sky Blue had to come from behind once again to secure a 1-1 draw. Last time these teams met both scored in the opening minutes, but a Sky Blue own goal late would cost them the game. Verizon has announced that their streaming service, go90, will be terminated at the end of July. Utah's match against Sky Blue an all other matches before July 31st will still be streamed on go90. This match will kickoff at 10 pm ET at Rio Tinto Stadium in Sandy, Utah.
Small victories
Sky Blue now claims the longest winless streak in NWSL history, now up to 12 games. Turning the season around seems hopeless, but they could be close to a win. It seems that way every week, as most of their losses come from a one-goal margin. However, taking a point from the Thorns at Providence Park is a small victory. Another positive for Sky Blue is that they lead the league in passing accuracy in the final third of the field, even though the finishes are not always there. Sarah Killion and Raquel Rodriguez lead the team with pass accuracy in the final third with 72.09% and 80.36% respectively.
Making moves in Utah
In a trade this week with the North Carolina Courage the Royals received Makenzy Doniak in exchange for Heather O'Reilly's rights. Doniak will not see action this season, as she tore her ACL on the first day of 2018 pre-season. As many know the Royals recently acquired forward, Christen Press, and defender Samantha Johnson. Press went the full 90 in her first match as a Royal on Wednesday, while Johnson did not see any minutes. Press will look to open her scoring against a vulnerable Sky Blue defense on Saturday, on Wednesday she tallied seven shots and four shots on goal.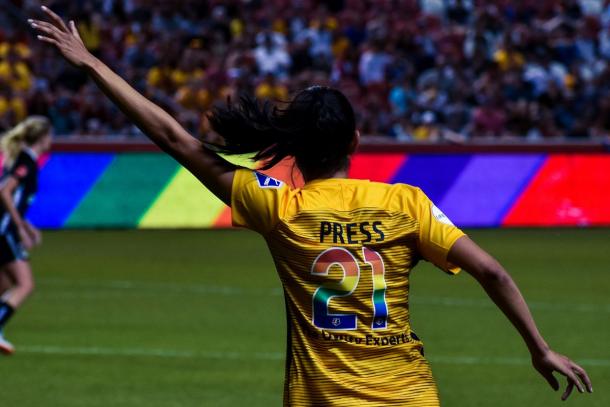 The Royals are sitting just one point behind the Chicago Red Stars in sixth place with 18 points. However, the third and fourth place team's have just 20 points, so it will not take much for the Royals to jump into a playoff spot with a little under half the season to go. With the new addition of Press, she can score goals and put them past other teams.