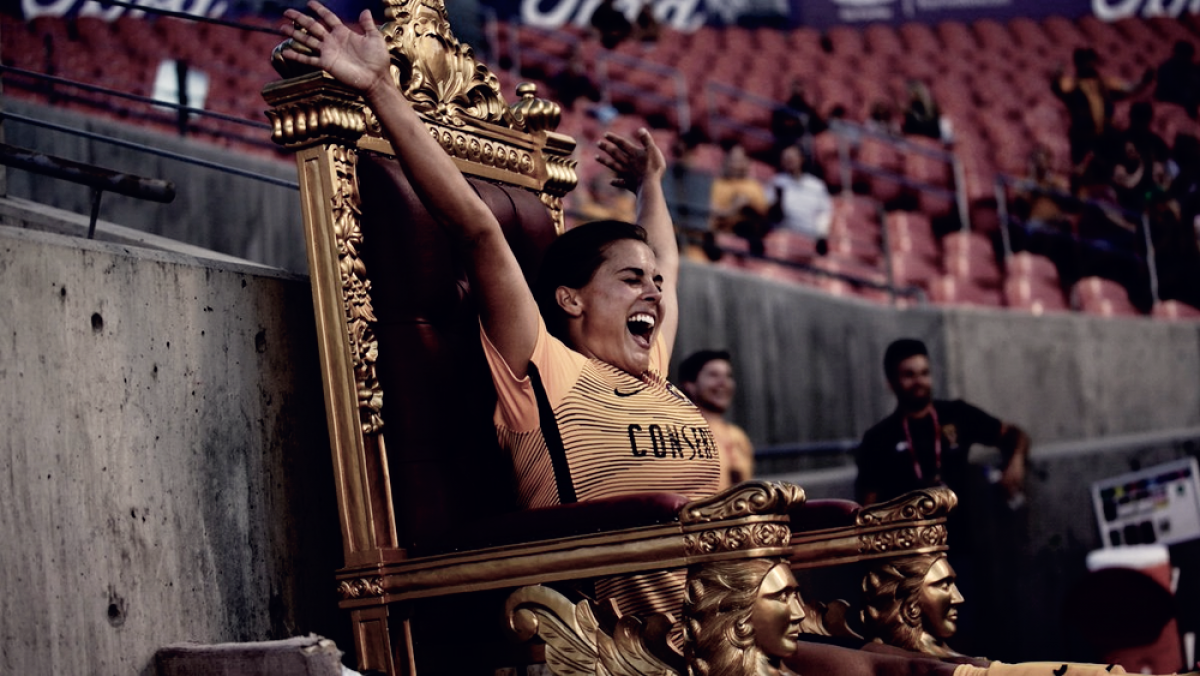 The Utah Royals beat Sky Blue FC off of Christen Press's first goal as a member of the Royals, and Katie Stengel's first brace in NWSL. The first goal came very early on in the seventh minute as Press was able to pounce on a loose ball in the box that managed to miss everyone in between and find her on the left wing as she was able to beat Kailen Sheridan to open up the scoring for Utah. Katie stengel then scored the first of her two goals on the night in minute 25 as she was on the end of a beautiful defense-splitting through-ball by Christen Press which Stengel was able to finish off with a little chip over Kailen Sheridan to double Utah's lead. This could have very easily have been Stengel's second of the night as she had hit the post 11 minutes earlier. Utah and Stengel then struck soon after to make it 3-0 in the 29th minute. Off of a freekick sent into the box by Katrina Gorry, Stengel was left relatively unmarked by the Sky Blue defense and was able to rise highest and head it home. Stengel then finished it off with one of the best celebrations in league history.
Sky Blue would eventually strike back in the 62nd minute as Carli Lloyd was able to put home her third of the season. She was able to pounce on a rebound outside of the box and then curled the shot around Abby Smith and into the side-netting. This was the result of good buld-up play in transition off of a turnover by Janine Beckie and Shea Groom. On a night that was pretty ugly from the Sky Blue, this was a good piece of play that was a result of good work done by multiple players in different aspects of the game.
Despite the late goal, Utah thoroughly dominated this game from start to finish, they had a majority of the possession, many more shots than Sky Blue, almost 200 more total passes, and were able to control the tempo and pace of play whenever they wanted to. When Utah wanted to attack and push forward, they put their foot on the throttle and pushed on, when they wanted to slow it down, they were able to hold onto the ball and force Sky Blue to play how Utah wanted them to play.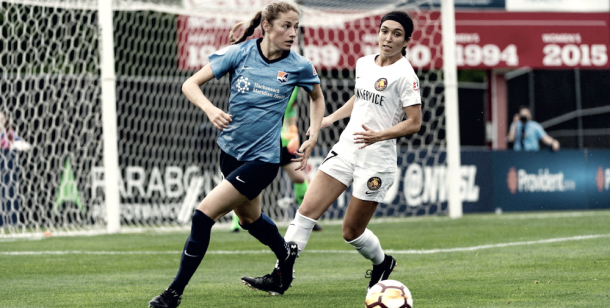 This was an extremely impressive display from Utah. Throughout the course of this game Sky Blue could never settle into any sort of rhythm and weren't able to execute their gameplan. They pretty much burried within the first 15 minutes of the game. They went down a goal early on and very nearly went down a second less than ten minutes later. They couldn't get anything going offensively, with most of the first half played in Sky Blue's half or with possession of the ball with Utah, and they were hemmed in defensively with Utah plain and simply being the better team over the course of the 90 minutes. While the goal was taken well by Carli Lloyd and the play leading up to it was well executed, that just simply is not going to be enough against any team, let alone one as good as Utah and on the road as well, to be able to get any kind of result from.
Utah Royals next game will be Friday July 6, at 11:00 PM EST at the Portland Thorns. Sky Blue's next game will be Saturday July 7, at 7:00 PM EST at home to the Chicago Red Stars in Sam Kerr's first game back at Yurcak Field after being traded at the draft in January. Both matches can be streamed on go90.com, and the go90 app.