Sky Blue FC hosts the Chicago Red Stars for their second meeting of the 2018 season. The two team's previously met on April 21st in Chicago where Sky Blue split the points with the Red Stars and picked up their first point of the year. Chicago scored in the first minute but then Savannah McCaskill scored her first professional goal in the 78th minute to secure a point on the road. Both squads are coming off losses, Sky Blue a 3-1 loss against the Utah Royals, Chicago a 4-1 loss against the North Carolina Courage. This is the first time Sam Kerr and Nikki Stanton will return to New Jersey after being traded to Chicago. Kerr had many magic moments at Yurcak which led to her MVP 17 goal season last year. Saturday is Kids Club Night, the third night of Sky Blue's themed nights, game tickets can be purchased here. Kickoff is set for 7 pm after being changed from 3:30 pm. The match will be played at Yurcak Field in Piscataway, New Jersey.
Injuries adding to struggles
Sky Blue's struggles continue, winless through 13 games. This weekend they will have to fill many spots as key players like Raquel Rodriguez and Rebekah Stott are both out this weekend. Rodriguez has been struggling with back spasms this season preventing her from seeing the field as much as she would like. Stott is out with a back strain, she has not played in over a month since their June 2nd loss to the Utah Royals. Katie Johnson has missed the past two games and is questionable this weekend with right knee tendinitis. Johnson has tallied two goals and two assists in eleven games played this season. Attackers like Shea Groom, Janine Beckie, Carli Lloyd and McCaskill will have to step up to fill the possible hole of the very dynamic Johnson. Those four have only tallied seven goals and two assists this season, which is easy to see with 8 out Sky Blue's 10 losses come at a one-goal margin.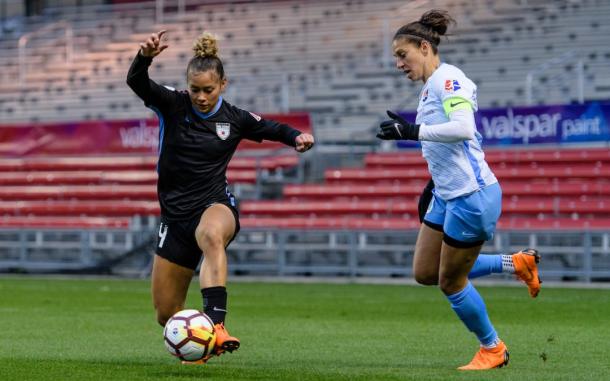 Kerr coming back to where she scored so many goals
Chicago is coming off one of their worst results of the year, second only to their other 3 goal margin loss when they were beaten 5-2 by the Orlando Pride. On July 4th the North Carolina Courage beat the Red Stars by a score of 4-1 with a late converted penalty kick to save the Red Stars from being shut out.
Kerr and Yuki Nagasato are leading the Red Stars in scoring with five goals and four goals respectively. Kerr is returning back to Yurcak where she produced some many game-winning goals and backflip celebrations to go along with it. Stanton is also returning to the club where she spent four seasons, proving to be a vital piece of their midfield. Jen Hoy will also be reunited with her former team, she spent five seasons in Chicago before being traded to Sky Blue. Kerr, Stanton, and Hoy were all apart of the same trade that moved around six players between three teams.