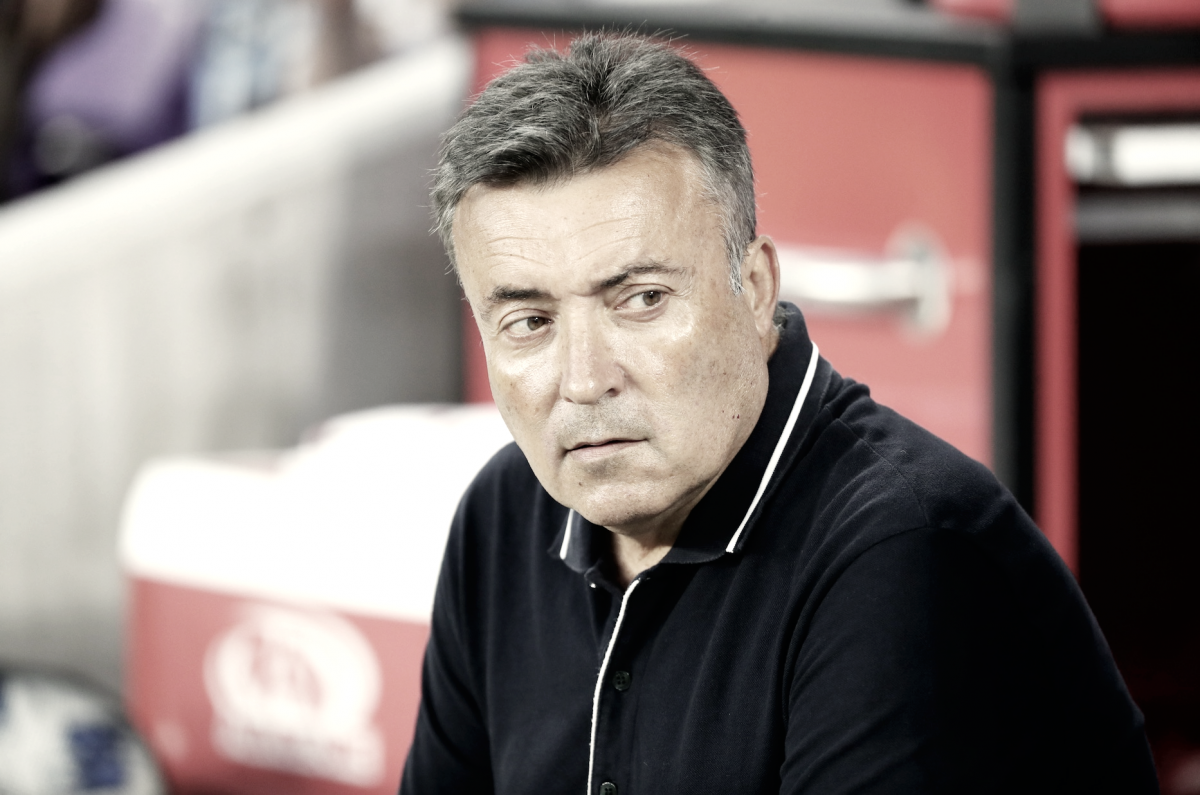 On Thursday, New York City FC traveled down south to take on Orlando City SC at Orlando City Stadium. The visitors took home all three points thanks to goals from Maxi Moralez and Anton Tinnerholm, but new manager Domènec Torrent wasn't satisfied. Since joining up with the team, Torrent has picked up five wins in a loss in his first six games, and his team has looked good doing it. NYCFC has now gone four games in a row without conceding a goal.
Despite the run of good form, Domènec Torrent said ''I'm not happy tonight. We were able to win but I'm not happy with our performance because I can't play that way. If you want to win the MLS, even when they play with 10 players, we play bad, really bad." Pep Guardiola's former Assistant Manager went on to say "I say in the second half I don't like to defend deep. I repeat a few times. But I don't know what happened. Maybe it's because we won 2-0 in the first half, I don't know, but we have to improve, improve a lot. Believe me. We have no time for the next game. But next week we have to practice a lot defend high because it's the best way for me, in my opinion, to defend, especially when you are able to win 2-0."
Torrent proved to have good memory when he mentioned his sole loss in MLS saying: "I'm happy when we're able to keep the ball, we play well, we have the control. I remember this game, it's a little bit similar to Chicago [Fire]. In Chicago, we lose the control in 15 minutes but here we lose the control the whole second half." Torrent continued to speak on his displeasure as well as showing his ambition by saying "It's not the best way to play MLS. If you try to win MLS. If not, it's okay, maybe you can end the season in seventh position, sixth position, maybe it's not bad. But for me, I will try to play much better."
Despite all of this, Torrent did hand out compliments when asked about Maxi Moralez, saying "Maxi was amazing the last few games. Even Jesus [Medina] and many players. Eben [Ofori] was a fantastic player tonight. Maxi is good. I'm very happy for them. This is soccer. In soccer you need to play much better. If not, in one day change the luck and you lose the game."
On Thursday, Anton Tinneholm became the first defender in club history to score four goals in a season. He scored in NYCFC's most recent match as well, as his goal sealed the points for his side against the Columbus Crew. When asked about it, Tinnerholm said: "Different corners, but I came from the right and got a good ball this time from Maxi [Moralez] and pretend to shoot, and then I got the ball on my left foot and put it in the left hand corner. So, felt good and was important for us that we got the goal late in the first half. The other one against Columbus was also late in the second half, was also important. Yeah, it was similar goals, but different corners."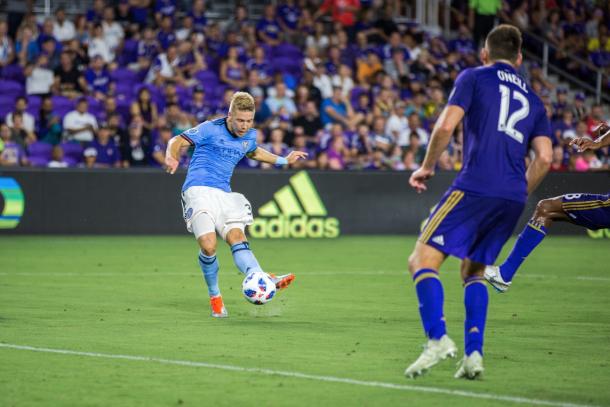 NYCFC's shot stopper, Sean Johnson, came up with plenty of big saves throughout the match and spoke on the win after the final whistle. "I thought it was a really big win for us. I think in the moment where teams around us are also winning games I think it's important that we came down here and looked to get three points, especially having a little bit of a tough time on the road this year. But I thought it was an overall great performance." NYCFC's #1 went on to say Obviously some things we have to work on but it's good to be able to evaluate games being on the winning side."
Up next, NYCFC travel to take on the Seattle Sounders where they hope to make it five consecutive wins. Sean Johnson previewed the quick turn around saying: "Seattle is another good team, another tough place to play. We're looking forward to the challenge, quick turnaround for us. We'll recover, fly out tomorrow and start preparing for Seattle probably on the flight watching video and get ready for them." The 29-year-old went on to say "But they're coming off a good result midweek, a 1-0 win, so we've got to really look to refocus and get back to it in Seattle and look to get out there and get another three points."