The United States Women's National Team are rumored to have November friendlies scheduled against Portugal and Scotland, according to Steven Goff of the Washington Post. No official announcement has been made by any of the teams but it seems as though the USWNT will head to Europe in the next few weeks to play the two teams as they begin their 2019 FIFA Women's Wold Cup preparations.
Portugal and the US set to meet for the first time ever
The USWNT and Portugal have never played each other before but it seems as though Jill Ellis wants to test her charges with playing abroad against a team that will be similar to some of the teams that the USWNT may face at the World Cup in France next year.
Portugal failed to qualify for the World Cup but do have some players to keep an eye on. Captain Cláudia Neto of VfL Wolfsburg and Dolores Silva​ of Atlético Madrid will look to test themselves against a team of the caliber of the USWNT. This should be a straight forward win for the USWNT but Portugal may throw a few surprises as a team that the USWNT has never faced before.
Scotland and the USWNT have not played each other since 2013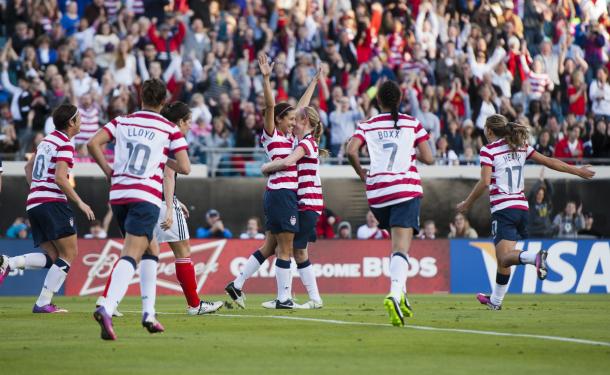 The last time the USWNT played Scotland was in 2013 where the USWNT hosted Scotland in a two-game series that saw the home side come out on top on both occasions. Then, the USWNT was entering a 'down year' as they had no top competitions to prepare for while Scotland were preparing to finish off qualifying for the UEFA Women's Euro 2013.
This time around, both teams will be preparing for the World Cup next year. Scotland have qualified for the World Cup for the first time ever in their history after also making history in 2013 by booking their spot at Euro 2013. A match against one of the World Cup pre-tournament favorites will be something that head coach Shelley Kerr​ will look forward to as she can test her players against one of the best teams in the world. Among Scotland's ranks will be Rachel Corsie and Kim Little who will be very familiar with a lot of the USWNT players. Corsie plays for Utah Royals FC in the National Women's Soccer League while Little spent two seasons with Seattle Reign FC.