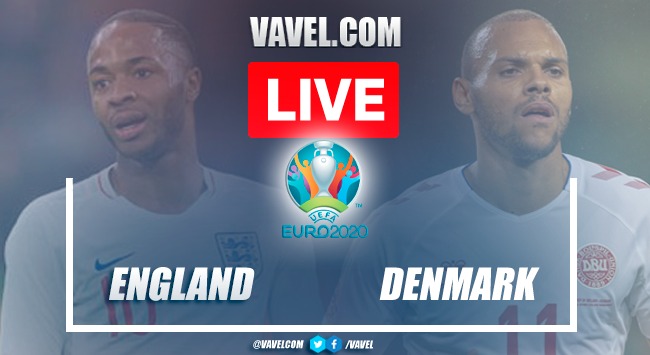 Goals and highlights |
121'
118'
114'
112'
109'
105'
105+4'
104'
102'
100'
97'
94'
92'
90'
90+6'
90+4'
90+2'
88'
86'
82'
79'
72'
68'
66'
63'
58'
54'
52'
45'
45'
39'
37'
29'
24'
20'
15'
12'
7'
5'
4'
0'
Run!
All set
Denmark: LineUp |
England: LineUp |
Great duel
Numbers
Make the home advantage count!
Seeking to stay in the tournament
They want to make history!
Dressing room ready!
All set!
Tune in here England-Denmark Live Score
How to watch England v Denmark Live Stream on TV and Online?
Tough page in history
Statements DT Denmark
England coach's statement
Denmark: Last LineUp
England: Last LineUp
Denmark seeks another final
Bad luck
They don't make it through!
Few goals for England and Denmark National Teams
Head to head England vs Denmark
Tough test!
They had a tough time
They arrived on foot!
England vs Denmark Semi-final!
Welcome to VAVEL.com's coverage of the 2020 Euro match: England vs Denmark Live Updates!