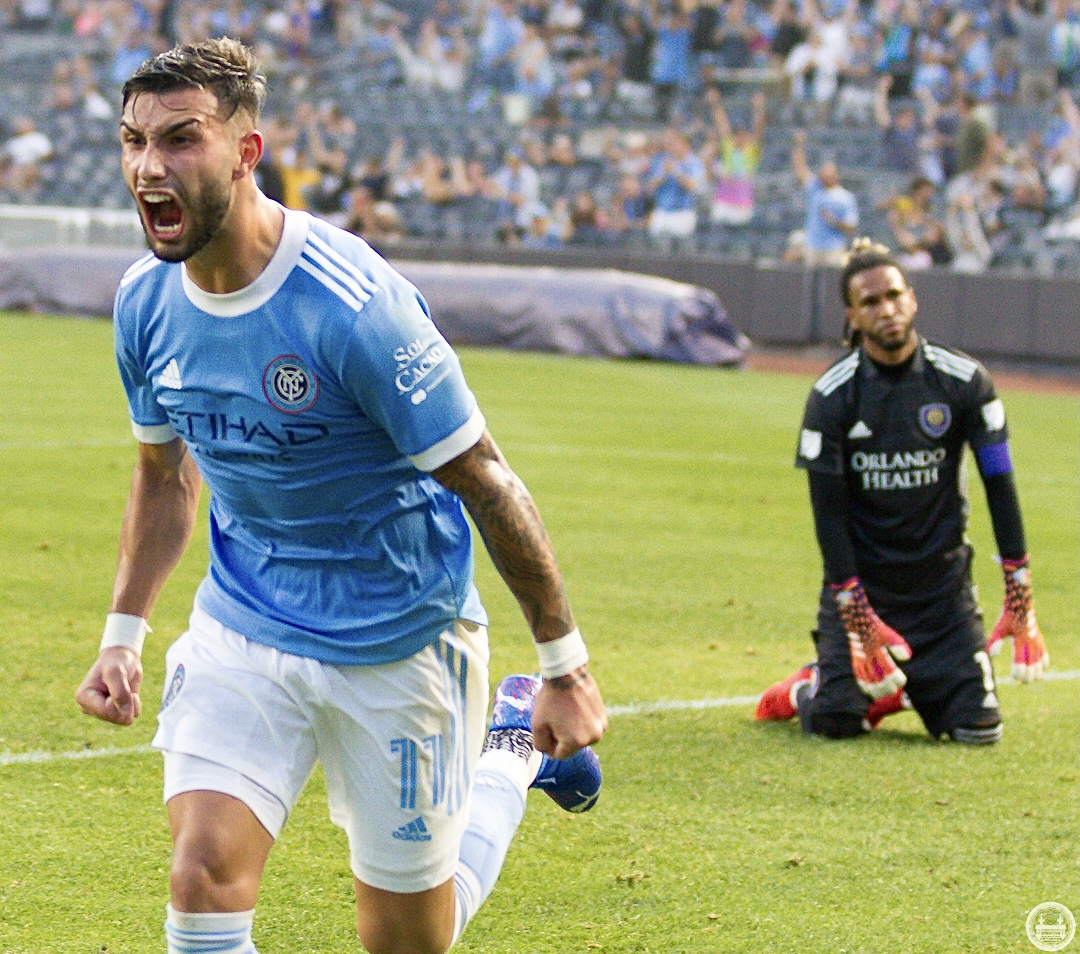 NYCFC have tied a franchise record for goals scored in a match as they dismantled Orlando City 5-0 at Yankee Stadium.
The Boys In Blue won their second consecutive match thanks to goals from Jesus Medina, Ismael Tajouri-Shradi, Maxi Moralez, Malte Amundsen and Valentin Castellanos.
Story of the match
NYCFC had the first good chance of the match in the 14th minute as Moralez headed wide from a Keaton Parks cross. Three minutes later, Tajouri-Shradi should have opened the scoring, but he also went wide, bothered enough by Lions defender Emmanuel Mas.
The chances were coming fast and Moralez had a look from just outside of the area and he sent a back-post ball that hit the top of the goal frame and in the 20th minute, the visitors had their best chance so far when Silvester van der Water fired a shot right at Luis Barraza.
Orlando City goalkeeper Pedro Galleese made a spectacular point-blank save on Tajouri-Shradi and he did the same a minute later against Castellanos. On 40 minutes, he was soon beaten.
A routine ball was sent forward for Castellanos, who grabbed Carlos, pushed him backward about five yards, and wrapped his arm around him. As a result, Carlos was off balance when he tried to clear and swung and missed the ball, hitting Castellanos instead.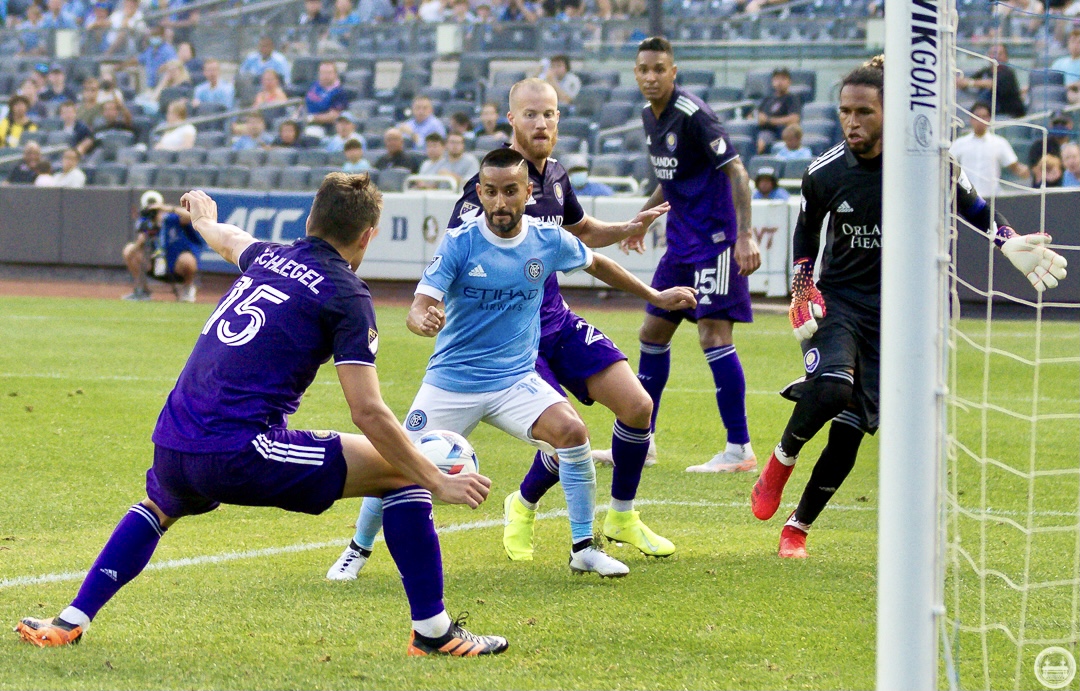 Medina picked up the loose ball and smashed a shot just under the crossbar to open the scoring. Carlos was booked on a play that easily could have been blown dead and ended in a yellow to Castellanos, but instead the hosts led 1-0.
The Lions should have leveled two minutes into the half when Benji Michel got down the right and crossed in to Andres Perea just two yards in front of goal, but the shot was hit right at Barraza for an easy save.
Tajouri-Shradi doubled the lead in the 53rd minute, isolating against Rodrigo Schlegel on the edge of the box. Mas was inside and couldn't get over to help and Oriol Rosell slipped trying to close down, allowing the attacking player to smash a shot past Gallese to make it 2-0.
With NYCFC on the attack, Moralez tried to chip Gallese in the 55th minute from long range but the Peruvian scrambled back to make the save. He made another big stop in the 63rd minute to deny Castellanos. A minute later, Moralez was left completely unmarked at the back post but hit his volley attempt wide.
In the 65th minute, Moralez added a third and after a near-own goal by Maxime Chanot, Amundsen made it 4-0 on a give-and-go and Castellanos closed the scoring, firing past Gallese on a rebound to punctuate the Boys In Blue's second 5-0 victory of the season.
Man of the match: Maxi Moralez
When you play as well as NYCFC did, it's hard to pick out one player, but we'll go with the Peruvian, who was emblematic of his side's standout day in front of goal, picking up a goal and assist in addition to playing a crucial role in the game's final goal.