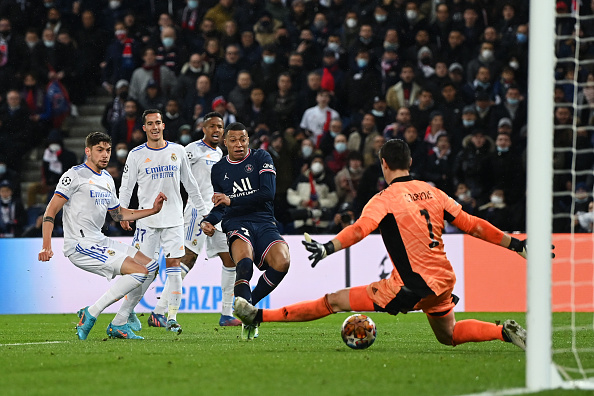 PSG will head to the Spanish capital up one goal after Kylian Mbappe scored the game-winning goal in the dying seconds of the first leg being played at the Parc Des Princes
Five minutes into the first half neither team was able to get a shot on target. PSG looked more in control of the ball early on and was possessing the ball in the offensive zone.
Mbappe almost gave PSG the lead when he managed to tip a shot but Thibaut Courtois made a great kick save and on the following corner kick made another big save on Danilo Pereira.
In the 25th minute, the home side got another shot on target from Nuno Mendes but Courtois was there to shut the door and keep the ball out.
In the 30th minute, Real Madrid earned its first free-kick of the game but Marco Asensio's shot went off a PSG defender and out.
Eight minutes we had a bit of drama as Casemiro got into a scrum and was shown a yellow card for putting his hands on the throat of Marco Verrati.
It was reviewed for a possible red card but after review, the red card was not shown. The first half finished 0-0 with both teams still looking for the opening goal of the game.
Mbappe got the first scoring chance of the second half five minutes in with a great shot but an even better save by Courtois. Two minutes later PSG continued to press and Courtois was forced into action once again making another big save.
In the 60th minute, Mbappe was taken down in the box and the ref pointed to the spot and Lionel Messi stepped up to the spot and Courtois made a spectacular save to keep the ball out.
As time started winding down it seemed like Real Madrid was starting to take over the game and got more chances to score but again failed to convert.
Four minutes were added to the 90 and with 45 seconds left Mbappe finally beat Courtois with a shot between his legs to give PSG the 1-0 lead and the win.