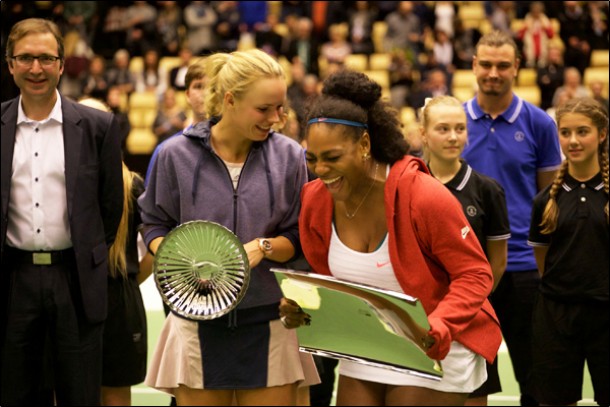 In front of 7000 of her home fans, Caroline Wozniacki defeated her good friend Serena Williams 6-3, 6-4 at the Energi Denmark Champions Battle exhibition held in Herning, Denmark.
The match began with Wozniacki racing out to a 2-0 lead thanks to a series of unforced errors from Williams, before the world number one broke straight back and held to restore parity at two-games-all. However, an abundance of unforced errors from the American handed another break to the Dane, which was ultimately enough for the latter to win the opening set 6-3.
The second set was a much tighter affair with both women beginning to find their range. After holding to start the second set, Williams broke for a second time to take a 2-0 lead, before Wozniacki broke right back to 15. After exchanging holds of serve, the former world number one broke once more, taking a commanding set and 4-3 lead over her good friend. Just like in the opening set, that break proved to be decisive as Wozniacki would go on to successfully serve out the match, claiming a 6-4, 6-3 win over Williams.
"It was such a great thing to play in front of my home crowd here in Herning, and at the same time to play against a great champion and a good friend," Wozniacki said shortly after the match. "I hope very much to be able to play in Denmark again in the future. It's been a great pleasure to come and play here."
Williams, who was returning to action for the first time since her shock defeat at the U.S. Open which cost her the Calendar Grand Slam, looked in good spirits during the exhibition.
"It's been so nice to see Caroline's home country again," Williams, who played Ana Ivanovic at the same event twelve months ago, said. "I've enjoyed my stay and the nice, friendly Danish people I got to meet. And playing in front of the Danish tennis fans again was nice, even though I didn't win!"
Prior to their match, Williams said she thinks Wozniacki can still win multiple Grand Slams. The 21-time Grand Slam champion said that the former world number one is still young, and has a great chance to win at least one major before she retires. The American was also full of praise, saying that people should focus on the fact that the Dane was able to maintain her world number one ranking for more than a year, which is a long time considering the likes of Venus Williams and Maria Sharapova -- who are both slam winners -- were only able to hold it for a few weeks at a time.
"She has even been able to be number one in the world for more than a year and [that] should be something to put more focus on rather than to note that she has not yet won a Grand Slam tournament," Williams said. "Caroline is very young, and she still has a great chance to do everything she can to win not just one—but many Grand Slams. Tennis is an interesting game. You see players who sometimes perform extremely well, and you never know what can happen. Caroline is at a level where there are so many good players, including herself."