A great week was capped off with a title ending victory for veteran Italian Francesca Schiavone as she fought her way to a 2-6, 6-2, 6-2 victory over Shelby Rogers. The final was a matchup of the world number 131 and 132 ranked singles players in the world.
Great Week In Rio
With the title, Schiavone picked up her seventh title of her long career. It is safe to say the 35-year-old Italian is a gifted clay-court specialist. She played impressive tennis on the red clay of Rio all week. It was her first title since 2013 and she also won her sole Grand Slam in 2010 at the French Open. Schiavone showed signs of her prior form as she has struggled in the past few years. The Italian was gracious of her week and shared her joy with the fans.
"I feel very emotional right now," she said during the trophy ceremony. "It was a very tough match, and I want to congratulate Rogers. She is a young player and she grew a lot in the circuit."
"I'm really happy to be here today. I wrote this speech this morning," Schiavone said, addressing the crowd in Portuguese, "regardless of the result, because I wanted to share my joy with you.
"Today is a happy day and I'm very emotional because Brazil is such a wonderful country. Your smile fulfilled my days here and I wish you the best for the Olympic Games.
"I want to thank everybody who helped me, and now it´s time to enjoy."
American Shelby Rogers has a lot to be proud of. She had fought through tough matches all week to get to the final. The American had a come along way as she had been competing on the ITF Challenger Tour while posting impressive results.
"I want to thank everybody who made this fantastic tournament possible," Rogers said in her runner-up speech. "It was definitely one of the best weeks of my life. I hope I can come back next year."
After going 0-8 in finals, Schiavone has gone an impressive 7-3 in finals. She has been a great example of determination and a player who has blossomed later on in her career. With the victory, she returns back to the top 100.
Rogers Looks In Control
It was the first head to head matchup between the two competitors. Both players were testing each other out early on. The American protected her serve and was on with a great 79 percent of 1st serves in. Schiavone was unable to get a chance at a break point the whole set as Rogers confidence grew game after game. The American took advantage as the Italian felt more pressure on her serve to break her twice off of three opportunities.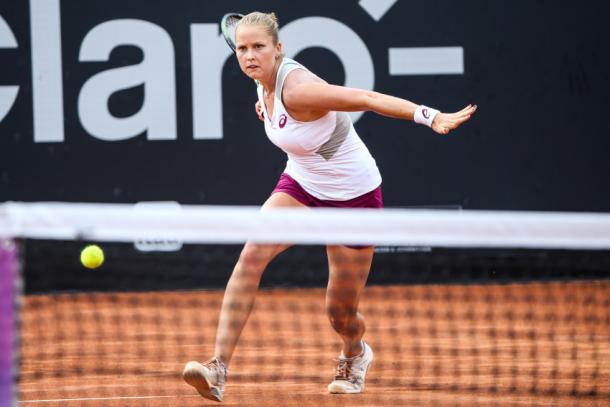 Schiavone's crafty style was unable to bother Rogers as she took advantage of the Italian's second serve and moved forward when she had her chances. The world number 132 cruised to take first set and looked like she had a real chance to continue without any problems.
Schiavone Flips The Script
As the second set got under way the Italian still seemed to be out of rhythm. She allowed her opponent a sole break chance, on what she capitalized on to go up a set and break. Rogers seemed to be playing some of the best tennis of her life.
The experienced veteran then began to regroup and reduced her errors. The American's shots became less and less effective. The Italian began to hold her service games and allowing herself to relax on the return side. She won a great 76 percent of first serve points in the second set. Once the 35-year-old found her groove there was no turning back. She turned in an efficient three of four break points won off the opportunities given to her. The momentum of the first set for Rogers was seemingly gone as the crowd was into the match.
Schiavone began lengthening points as she drew errors from the American's racket. She cruised to a 5-2 lead in the second set. The match then headed to a decider as Schiavone finished the set with precision.
As the third set got started, the 35-year-old showed no sign of fatigue. Her trust in her stamina was showing as she was not afraid to leave it all out on the court and play each point with top intensity. She served great in the decider as she did not drop a single point on her second serve.
It was all Schiavone and flashes of her Roland Garros moments had come to the present. In complete control, the Italian got a two break lead and held for 5-2. A long eighth game was played as Schiavone was relentless on the return as she tried to close out the match. Rogers held tough staving off match points and getting chances to hold on her advantage, but it would not be enough. The Italian eventually took the game, set, and the match as she converted on AD-out to break for 6-2 finish in third set.
Both players showed great sportsmanship as they embraced at net. It was clear that the victory meant a lot to Schiavone as she was ecstatic. Hopefully for both players they can continue their good run of play.