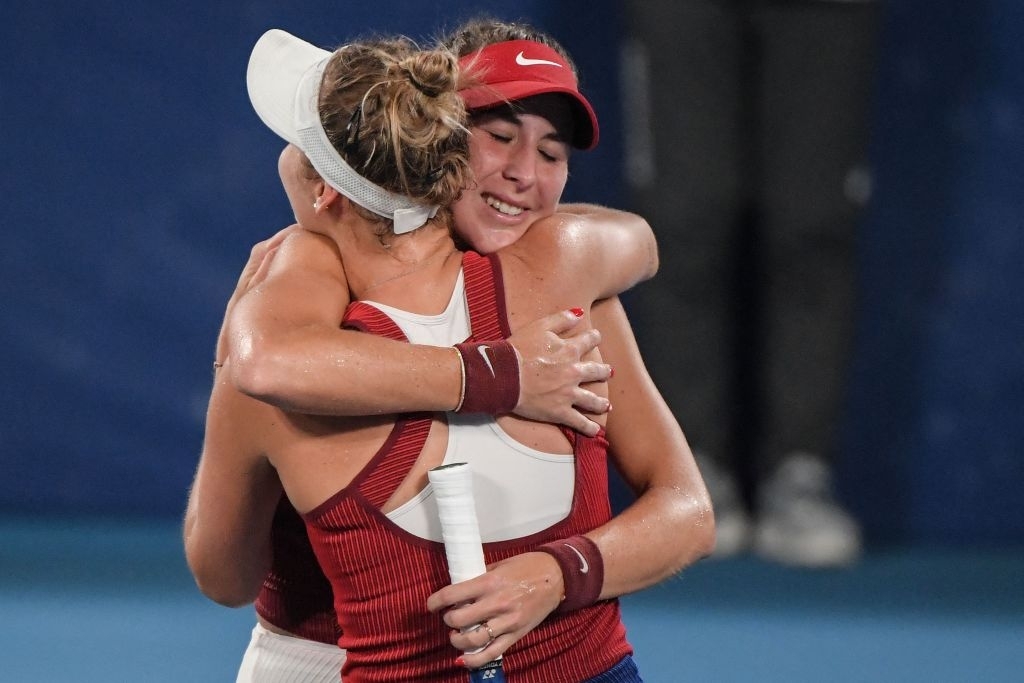 Tennis action at the Tokyo Olympics this year commenced on 24 July, the day following the opening ceremony.
It featured a 64-player draw in both singles disciplines, respectively, along with 32-sized draw in each doubles discipline, and a 16-team field in the mixed.
Taking place over a period of nine days, the sport witnessed 10 nations clinch medals, with four of them (including the Russian Olympic Committee or ROC) tasting medal success for the first time in the sport.
Besides the ROC, the other three such countries, namely, Ukraine, New Zealand, and Brazil, each took home their sole medal in the form of a bronze.
Notably, the American contingent departed the Games without a single medal in tennis, a first for the United States in barely more than a century.
The final American hopes were in the form of doubles pair, Austin Krajicek and Tennys Sandgren, who lost the bronze match in men's doubles to Kiwi pair, Marcus Daniell and Michael Venus.
On the related trivia for this feature, each discipline in tennis at the Tokyo Games witnessed a face-off for the gold medal take place, exclusively, between athletes who are not just representing European countries, but all are of Slavic descent.
Who are the Slavs?
The Slavs are an ethno-linguistic group, the largest in Europe, mainly inhabiting the southern and eastern parts of the continent.
Originating from an area around the Carpathians, it is said that this group expanded westward and southward – to an area spanning Bohemia and Moravia, to the Balkans, and all the way up to the upper regions of the Dnieper.
Divided into South, East and West subgroups, the Slavic people today account for a population of 350 million besides a diaspora that stretches from their homeland in Europe, across the Siberian landmass, to the Americas, across the Pacific Ocean.

A couple of Slavic cultural topics include: -
Pan-Slavic unity (such as the Prague Slavic Congress 1848)
Pan-Slavic colours (white, blue and red)
Naming customs (-ov and -ova, -in and -ina, -ev and -eva, -ski and -ska, -sky and -skaya, -cki and -cka, -enko and -enka, -ic, -czyk, -chuk, -ich, -ek, -ec, and more)
Mutually-intelligible languages (particularly noticeable within a subgroup)
Slavic political unity (such as the now defunct states of Czechoslovakia, Yugoslavia, the Soviet Union, and the present Commonwealth of Independent States or CIS)
A communist past behind the Iron Curtain
On the latter most point, seasoned tennis journalists Chris Oddo and Simon Cambers, in a Tennis Majors podcast entitled The Volley, discussed, among others, the value of the Olympics to athletes who trace their roots back to countries which had a past communist regime.
"It's a phenomenon I have noticed dating back to Sydney (Olympics in 2000) – when (Yevgeny) Kafelnikov won the gold, and (Elena) Dementieva won the silver," began Cambers.
"That was when Dementieva said to me 'The Olympics means so much for people in Russia. The general normal people on the street will tell you who won an Olympic medal. It is more likely they would tell you who won an Olympic medal than who won the French Open.'," he added.
Cambers emphasised the significance of the Olympic Games, which in turn goes back to politics and history, such as the Cold War – when sport served as a status symbol for communist countries.
"They could not hold up too many things as being better than the West, but if they could be better in sport, that is something they thought could do, and they were, for a long time."
"The GDR (German Democratic Republic or East Germany), for instance, yes – with the help of a doping regime, but they beat the Americans, they beat the West. That meant a great deal to their governments, their people, at least," he noted further.
"It was certainly something held up as a status symbol for people coming from those countries, even the ones from countries that are no longer communist."
"If you look at all of Eastern Europe, really, the Czechs, look at (Barbora) Krejcikova and (Katerina) Siniakova, look what it meant to them. I think all of these European countries hold the Olympics, perhaps, in more of a status than the Western countries."
We now revisit each of the five disciplines, and their respective European-Slavic finalists.
Men's singles: [4] Alexander Zverev (GER) d. [12] Karen Khachanov (ROC)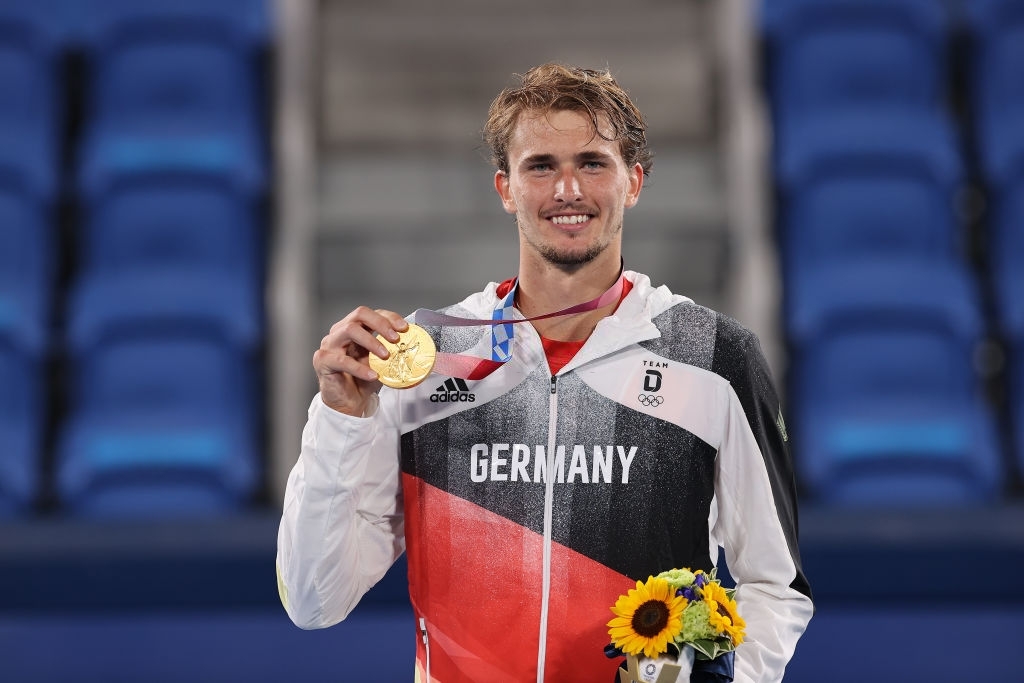 The first player born in the 1990s to win a 1000-level title on the men's tour, at the Italian Open four years ago, German Alexander Zverev entered the Olympic tennis event seeded fourth.
Zverev, whose parents are Russians and had played tennis for the Soviet Union in the past, would follow in the footsteps of senior Angelique Kerber at Rio 2016, by making the final, hence ensuring Germany a tennis medal in singles for the second Olympiad in a row.
En route to the championship match for the gold medal, the Hamburg native opened his Olympic debut account by winning his first two matches comfortably in straight sets.
After overcoming Georgian Nikoloz Basilashvili in a second-set tiebreak to make the last eight, he would lose just one more set to make the final, a face-off against 12th seed Karen Khachanov of the ROC.
There, the German claimed the gold medal with a score of 6-3, 6-1, as he outhit Khachanov with 22 winners and six aces of his own whilst winning 12 of 14 points at the net.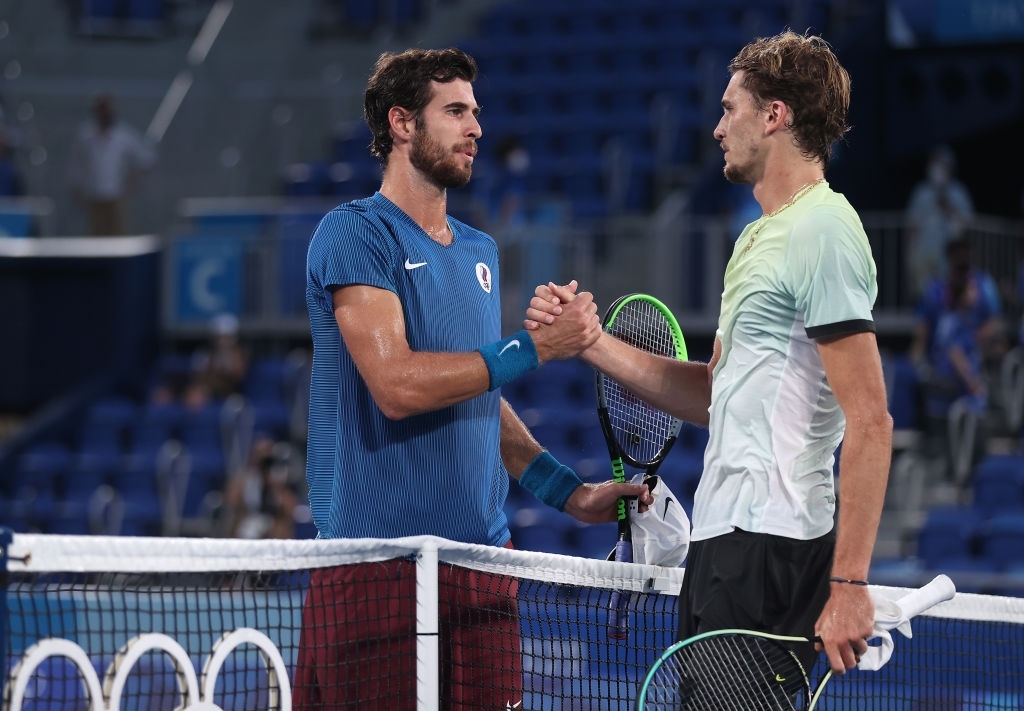 "This is so much bigger than anything else in sports, especially in tennis - this is an incredible feeling me for me right now," said Zverev.
He added: "There is nothing better than this. You are not only playing for yourself, you are playing for your country, and the Olympics are the biggest sporting event in the world. The feeling I have now, and will have, nothing will be better."
Notably, Zverev recorded a form of 'German assistance' as his three-set win over world number one Novak Djokovic in the last four ensured compatriot Steffi Graf's Golden Slam belongs to the latter's exclusively for another three years.
Khachanov, born to an Armenian father and Russian mother, also took pride in his silver medal and looks forward to the Paris Games in 2024: "I also played an outstanding match from my point of view, but he (Zverev) was just better today - all credit to him."
"For me, the Olympics stands alongside as the Grand Slams, that's why I trained for this as soon as Wimbledon was over. I was dreaming of gold, but I'll give it a try at the next Olympics."
The former world number eight and two-time Grand Slam quarterfinalist had recorded a scalp of his own during the Olympic event at the Ariake Tennis Park, notably, top eight seeds in Argentine Diego Schwartzmann and Spain's Pablo Carreno Busta.
Women's singles: [9] Belinda Bencic (SUI) d. Marketa Vondrousova (CZE)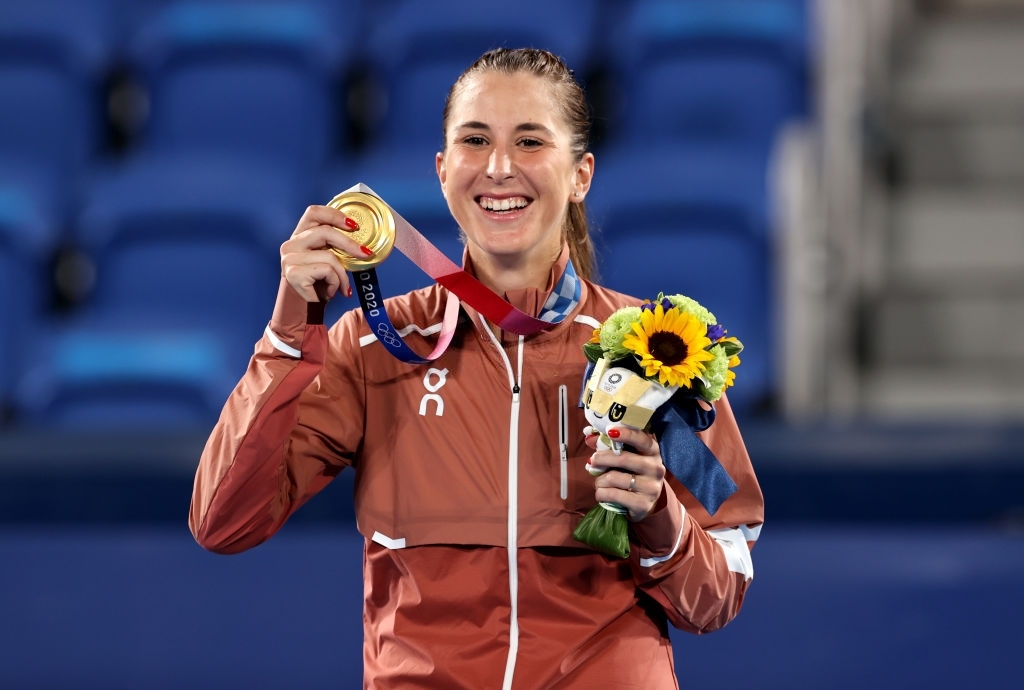 Belinda Bencic already has two 1000-level titles to boast entering the week of the Olympics in Tokyo, Toronto 2015 and Dubai 2019, and famously recorded a slew of three-set wins over top-10 opposition in each run.
The Swiss, who also has two other titles, Eastbourne 2015 and Moscow 2019, to account for, began her Olympic debut with two routine straight-set wins over American Jessica Pegula and Japan's Misaki Doi.
Up in the last 16, she came back from a set down to beat eighth seed Barbora Krejcikova, and two more wins in three sets, over familiar foe Anastasia Pavlyuchenkova and Kazakh Elena Rybakina, saw her through to the final.
There, Bencic, whose parents are Swiss immigrants hailing from Czechoslovakia, in the part of the former state constituting today's Slovakia, went head-to-head against Czech lefty Marketa Vondrousova, in what is technically a Czech-a-Slovak final (a – and in Czech and Slovak).
Like her prior three matches at the event, Bencic won in three sets, 7-5, 2-6, 6-3, to become the Swiss Confederation's second Olympic tennis champion in singles since Marc Rosset in 1992.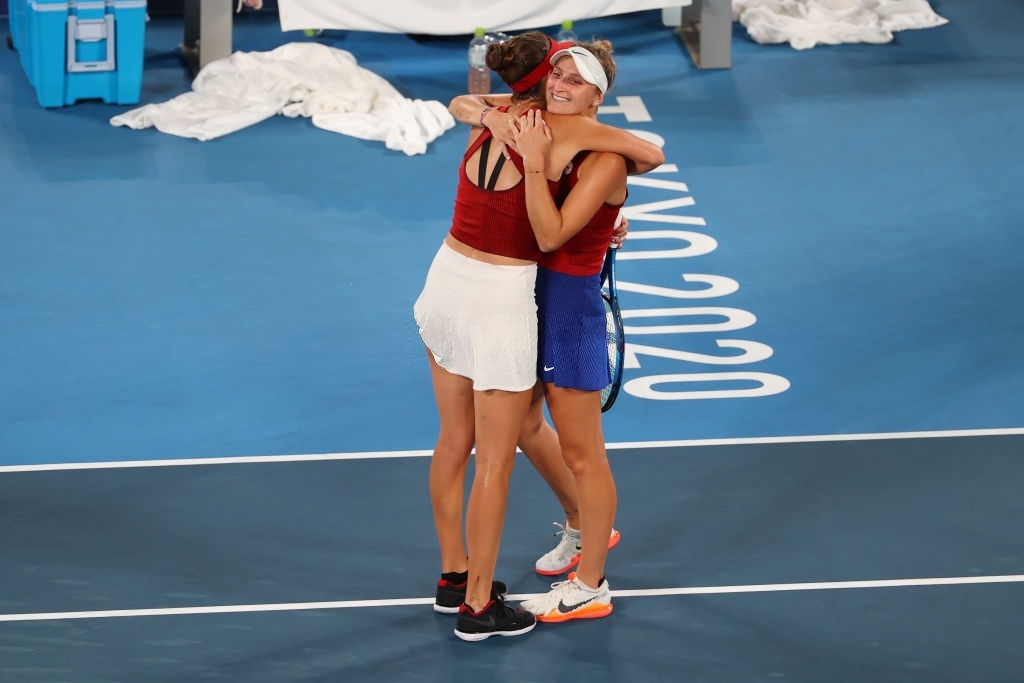 "If I end my career now without winning any additional matches, then I would still be happy. What I have reached today no one can take away from me. I'm incredibly grateful for everyone who made this happen," Bencic exclaimed.
The Swiss also dedicated her achievement to Hingis and Roger Federer: "Roger wrote to me today, and said this is the perfect day to reach my dreams. I was really happy about that, and he was absolutely right."
Flawil-born Bencic, who also speaks Slovak, was a student of Melanie Molitor, mother of now-retired former world number one in singles and doubles, Martina Hingis, and both like Bencic herself – are Swiss nationals with roots in today's Slovakia.
Vondrousova, on her part, had already surpassed Jana Novotna and Petra Kvitova, to become the first Czech player to reach an Olympic final in singles since the nation's independence in 1991, when she beat fourth seed Elina Svitolina of Ukraine in the semifinals.
Prior, under Czechoslovakia, Miroslav Mecir, was the first such player to make an Olympic singles gold medal match, doing so at Seoul 1988 – the Games which marked the return of tennis, the first such Olympiad in the Open Era.
"It's an amazing feeling, of course. Today I was feeling a bit tired, but I think we played an amazing match. To have the medal is so good, I'm just too happy, I'm not going to be sad," the Czech reflected on her medal achievement after the final.
Some more interesting trivia to note relating to Bencic and Olympic champion predecessor Monica Puig of Puerto Rico are:-
For the second Olympic year in a row, the eventual gold medallist was a runner-up in Sydney/Adelaide, earlier in the season, to a past Roland Garros champion (Adelaide replacing Sydney beginning last year)
For the second Olympics in a row, the eventual gold medallist beat Pavlyuchenkova en route
For the second Olympics in a row, the eventual gold medallist beat the reigning Roland Garros champion in the round of 16
The past two Olympic champions now are also runner-ups in back-to-back editions of the Luxembourg tournament, 2017 and 2018, each to a German champion
Mixed doubles: [4] Anastasia Pavlyuchenkova/Andrey Rublev (ROC) d. Elena Vesnina/Aslan Karatsev (ROC)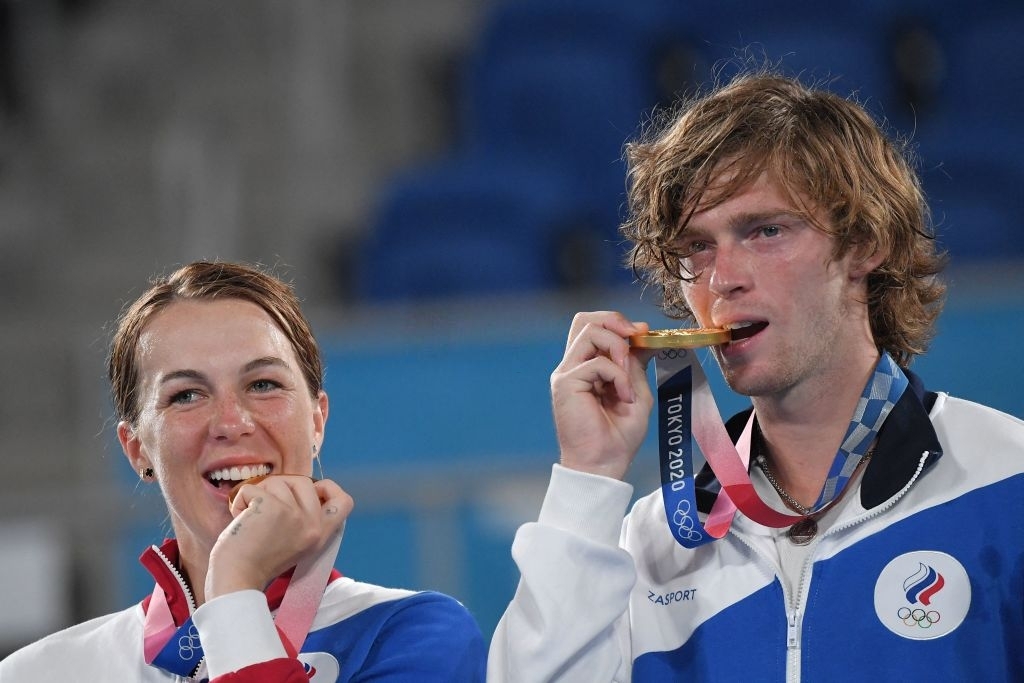 The youngest discipline since return of tennis to the Games in 1988, mixed doubles action at the Tokyo Olympics culminated in all-ROC match for the bragging rights of Olympic champion.
Its finalists were in the form of Pavlyuchenkova and Andrey Rublev, an all-new pairing, up against more experienced compatriots in Elena Vesnina and Aslan Karatsev.
There, the former younger duo edged past their fellow ROC representatives in a deciding tiebreak set with the score 13-11, to win the ROC's sole gold medal in the sport for this Olympiad.
That gold medal vaulted the ROC to pole position in the tennis medal table, thus ensuring they finish as best performers, with a total of three medal wins.
En route to the final, fourth seeds Pavlyuchenkova/Rublev had to grind past Croatian, Japanese and Australian opponents, each win featuring a deciding tiebreak set, and each seeing them win with a two-point advantage.
Thus, it came as no surprise the new pairing re-enacted a similar feat against Vesnina/Karatsev, who were playing their third event together.
Rublev, who went winless in singles and doubles, was appearing his first outing in the mixed doubles discipline, and was in disbelief during the on-court interview after the match: "I am relieved, I am really lucky to be here."
"This is something you dream about all your life when you have been watching as a kid. It's a pleasure and an honour."
Pavlyuchenkova, on the other hand, who had lost to the eventual gold medallist in singles at the past two Games, was equally relieved as she finally got her first gold medal.
Playing just her sixth event in mixed doubles, Pavlyuchenkova, when asked on what was key to their win, said: "We fought like crazy every match. We believed and fought, and tried to enjoy it."
"Nobody expected us to win gold and even a match here. It's an amazing feeling and we proved it."
Interestingly, in all three mixed doubles Olympic competitions to have taken place since its 2012 reinstatement, each witnessed a Slavic team feature on the podium – Belarus' Victoria Azarenka/Max Mirnyi winning gold in 2012, and Czechs Lucie Hradecka/Radek Stepanek claiming bronze in 2016.
Women's doubles: [1] Barbora Krejcikova/Katerina Siniakova (CZE) d. Belinda Bencic/Viktorija Golubic (SUI)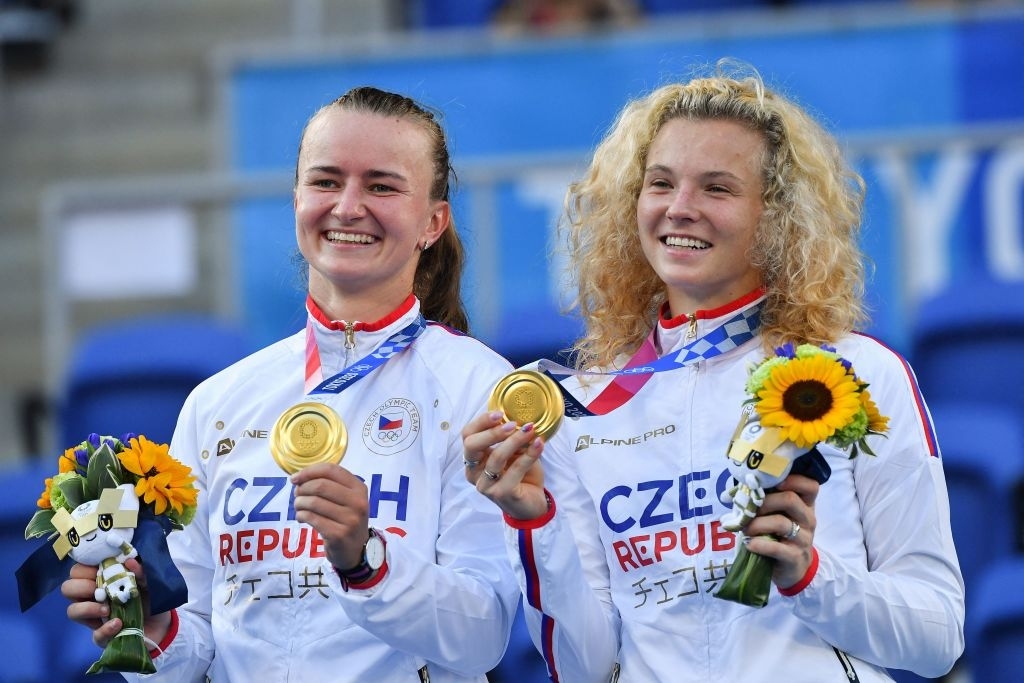 The women's doubles event in Tokyo this year produced several upsets as far as seedings are concerned as only three seeded teams made the quarterfinals.
Among the three, only one advanced further, eventually taking home their nation's first gold medal in the sport as an independent nation – Czech Republic's Krejcikova and Siniakova.
A fruitful pair that has triumphed at the Grand Slams thrice in the past, Krejcikova/Siniakova opened their Olympic campaign with a clinical win over Chinese Taipei's Hsieh Yu-chieh and Hsu Chieh-yu, winning 6-2, 6-1.
The next three matches saw the top seeds tested as they produced a trio of three-set wins, each needing a deciding tiebreak set, moving past Spain's Paula Badosa/Sara Sorribes Tormo, sixth seed Ashleigh Barty/Storm Sanders of Australia, and ROC's Veronika Kudermetova/Vesnina.
In the final, against Swiss pair Bencic and Viktorija Golubic (the latter being of Serb-Croatian descent), the Czechs recorded their second straight-set win of the week as they prevailed 7-5, 6-1.
That meant that the Czech Republic now has a gold, a silver, and a bronze medal to show at each of the past three Games in women's doubles, with the likes of Andrea Hlavackova and Hradecka clinching silver in 2012, and Lucie Safarova/Barbora Strycova the bronze in 2016.
Those medals also go hand-in-hand with Jana Novotna and Helena Sukova's silver medals from the Games in 1988 and 1996, the former under Czechoslovakia, further strengthening the Czech nation's position on the Olympic map.
On their Olympic success, Krejcikova said: "The motivation we got from the previous medallists is really big. I think we got really inspired by them. I think we really need to thank them because without them we just wouldn't have the motivation and the inspiration."
Siniakova also concurred with her older compatriot: "This is really special. It was really tough and I'm so glad we kept fighting and in the end we have this one, this gold medal. "It's really amazing. I feel so honoured I got to represent my country."
Despite seeing her hopes a double-gold triumph dashed, Bencic still left Tokyo 2020 as the only player with multiple medal wins in tennis.
With the women's doubles final played on 1 August, which happened to coincide on Swiss National Day, Krejickova added a second scalp to her name on her opponent's national day – having defeated Pavlyuchenkova on Russia Day to win the women's singles title at Roland Garros earlier this year, on 12 June.
Men's doubles: [1] Nikola Mektic/Mate Pavic (CRO) d. Marin Cilic/Ivan Dodig (CRO)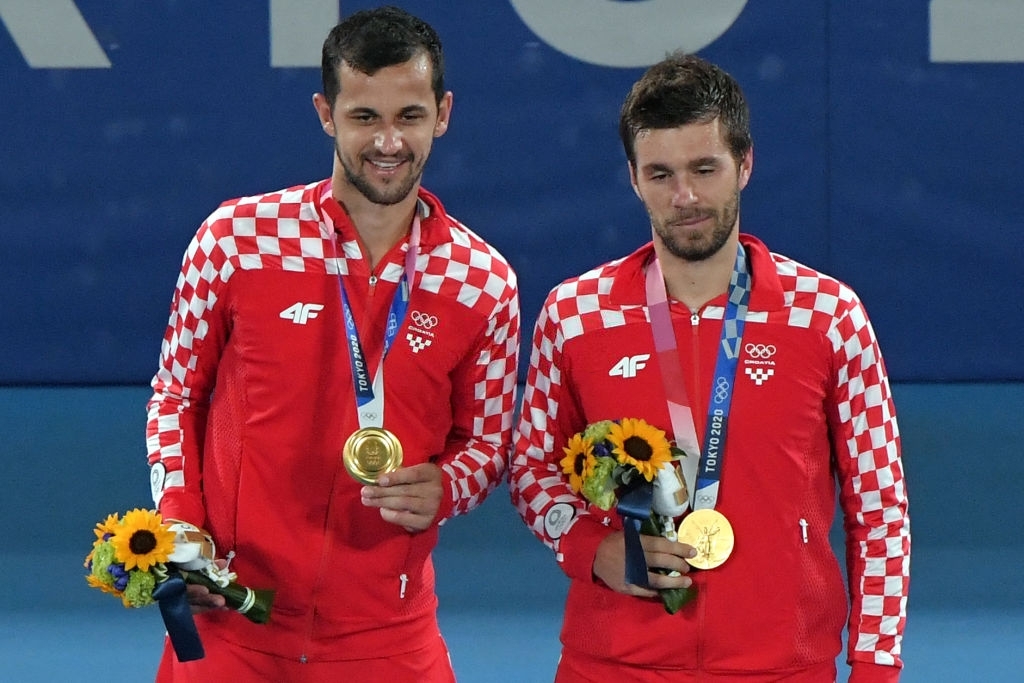 Similarities in the men's and women's doubles disciplines at this Olympiad saw the top seeds hoist the gold medal, with Croat pair Nikola Mektic and Mate Pavic doing so in the former.
Like the women's field, a culling of seeds also occurred in this discipline as only two seeds were left standing come the quarterfinals, the other being third seeds Juan Sebastian Cabal and Robert Farah of Colombia.
Unlike their female champion counterparts, however, Mektic/Pavic had a more straightforward route to the final as they surrendered just one set, in the second round to an all-Italian and all-Lorenzo duo of Lorenzo Musetti/Lorenzo Sonego.
In the final, against their older compatriots, the reigning Wimbledon champions edged past their countrymen in three sets, to claim their ninth title together – with all of them coming in 2021.
That gold medal face-off, notably, was also the first ever Olympic doubles final contested between similar nations outside the mixed discipline.
"To have such a great result is really more than a dream come true. We are delighted, and, me personally, I'm very happy to share this moment with Mate. We're very good friends and everything is much nicer to share with a guy like him." Mektic said.
Those medal wins were a first for Croatia in tennis since Athens 2004 when Mario Ancic and Ivan Ljubicic claimed bronze in the same discipline, and the fourth and fifth overall, with the first having come in Barcelona 19 years ago.
Best of the rest: Bronze finishers, Slavic representation plenty
European and Slavic representations were also recorded in the bronze medallist category of the sport, with outliers (the only ones amongst all medallists) being Kiwi pair Daniell/Venus (men's doubles), Aussie team Barty and John Peers (mixed doubles) and Spaniard Carreno Busta in men's singles.
Newlywed Svitolina, in her first tournament showing since marriage, saw her lift Ukraine's first medal in tennis, as she scrapped past powerful Rybakina in three sets, converting her seventh match point to close out her comeback win 1-6, 7-6(5), 6-4.
Notably, the fourth seed Svitolina, who succeeded Kvitova as reigning Olympic bronze medallist in women's singles, share a similar set of results as the latter in their first two Olympic singles outings, making the last eight in the first and then winning the bronze medal in the next one.
The pair did clash in the quarterfinals of the Rio Olympics five years ago where Kvitova saw off Svitolina in a dominating performance, winning 6-2, 6-0, to reach her first Olympic semifinal.
On her achievement, the Ukrainian said: "To win such a big battle for the bronze medal definitely means the world to me. Everyone in Ukraine is watching – we don't win so many medals, you know – so for sure, it's very special for me and for Ukraine."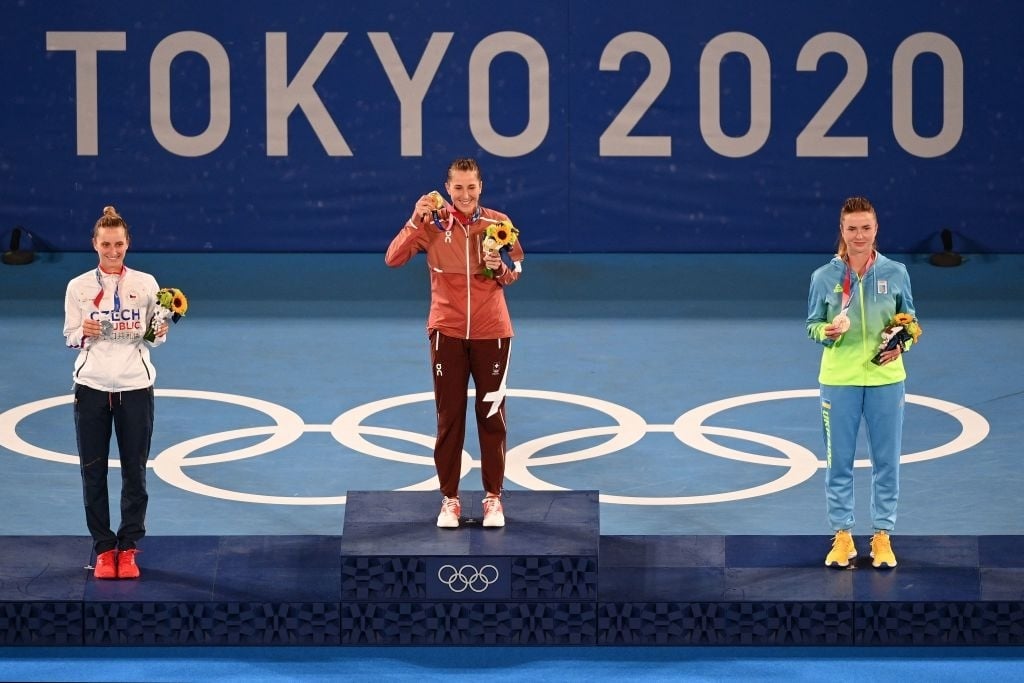 Meanwhile, Carreno Busta scored a repeat of Argentine Juan Martin del Potro's feat at the London Olympics in 2012 as he inflicted Serbia's Djokovic a second defeat in the bronze medal stand-off.
The Spaniard, seeded sixth, was made to work hard as world number one Djokovic denied the Spaniard a match point in the second set, and four more in the decider.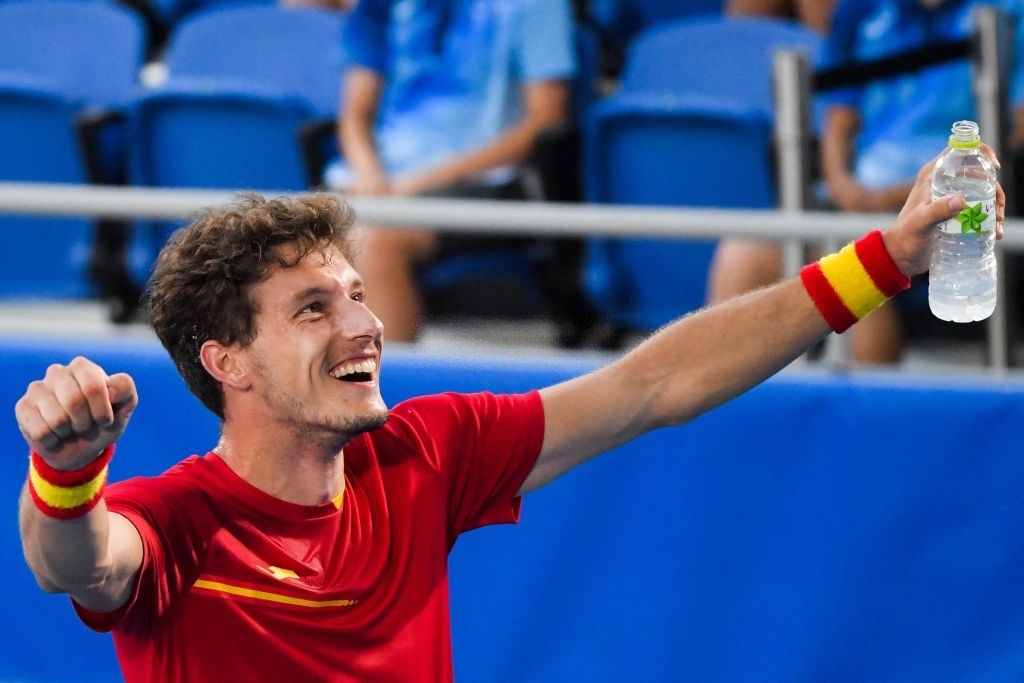 Converting his sixth match point, Carreno Busta thus ensured Spain is represented on the singles podium (men and women combined) for the sixth time in history.
"This is even more incredible than winning a tournament. I won Davis Cup, and I've gone far in other tournaments, but winning an Olympic medal is indescribable. I've felt the support from Spain, my family and people around me. I want to share this medal with all of them," Carreno Busta gleamed.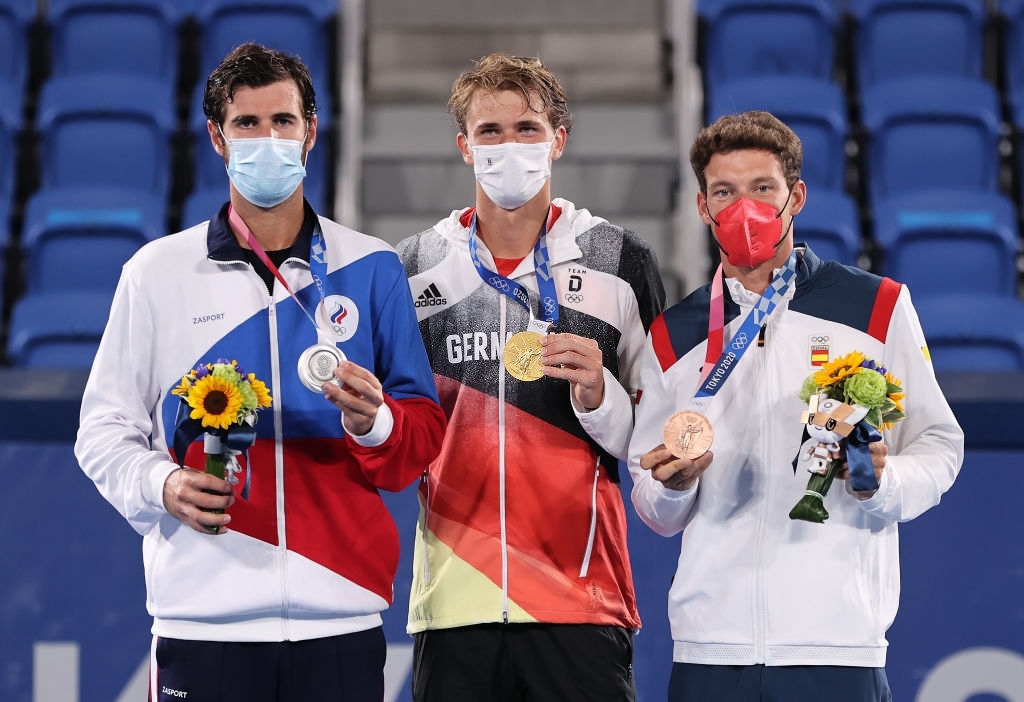 The other three disciplines saw each bronze winning team record special firsts for their respective countries, as mentioned prior.
In the mixed, Barty/Peers rose to the podium by virtue of the withdrawal of Serbia's Djokovic and Nina Stojanovic, and Barty said: "Obviously it seemed incredibly tough to Team Serbia to not be able to get on the court tonight, but for John and I it's a dream come true."
"Ash and I both had the Olympics on the schedule this year, it was one of our goals to walk away with a medal for Australia. To be able to say we did, it's something really special and amazing," Peers added.
Barty/Peers, notably, are also the first pair outside Europe and the Americas to appear on the mixed doubles podium in the Open Era.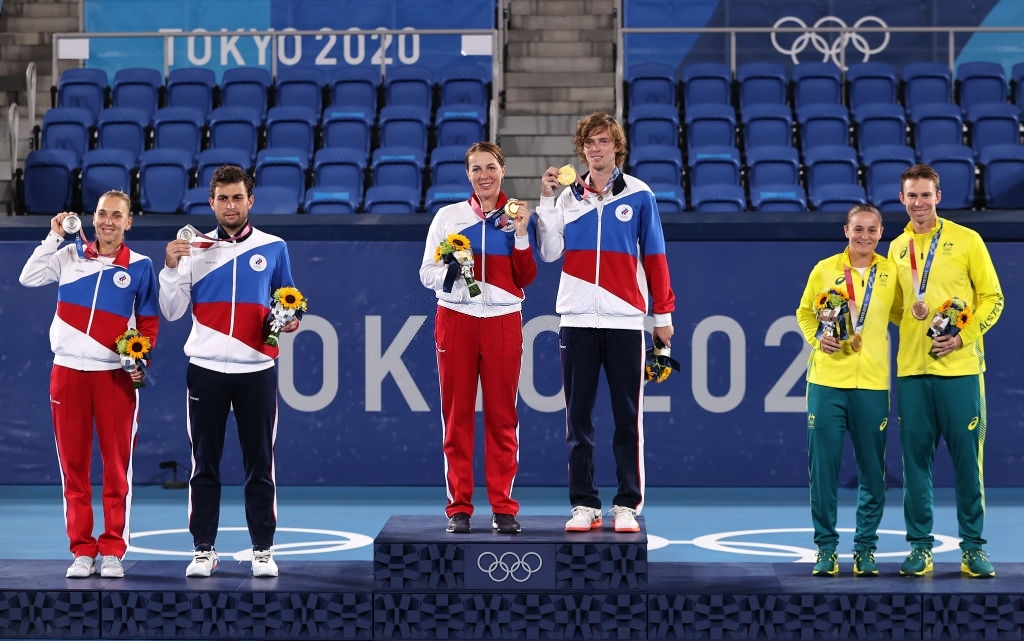 Brazilian duo Laura Pigossi and Luisa Stefani, also left Tokyo with a similar feat as fellow bronze medallist Svitolina, clinching Brazil's maiden medal in the sport – making their nation the first from South America to win an Olympic tennis medal at the same time.
The pair, who took ROC's Vesnina/Kudemertova to a decider in the bronze match, completed their come-from-behind-win in scintillating fashion, denying their opponent multiple match points up 9-5 in the tiebreak set, to win it 11-9.
"Words can't express what this medal means. It's a dream. I always wanted this medal, I always wanted this – I'm over the moon and speechless. Everything I've done, everything I've given up to get here, I always thought it was worth it, but now I have a medal to prove it," Pigossi said.
Stefani appeared equally lost for words: "I don't think we understand where we are. We knew that we had given everything, and now we have all this emotion. From 0-0 to 9-5, we believed we could make it. This feeling of confidence and to play properly, this is what is wonderful."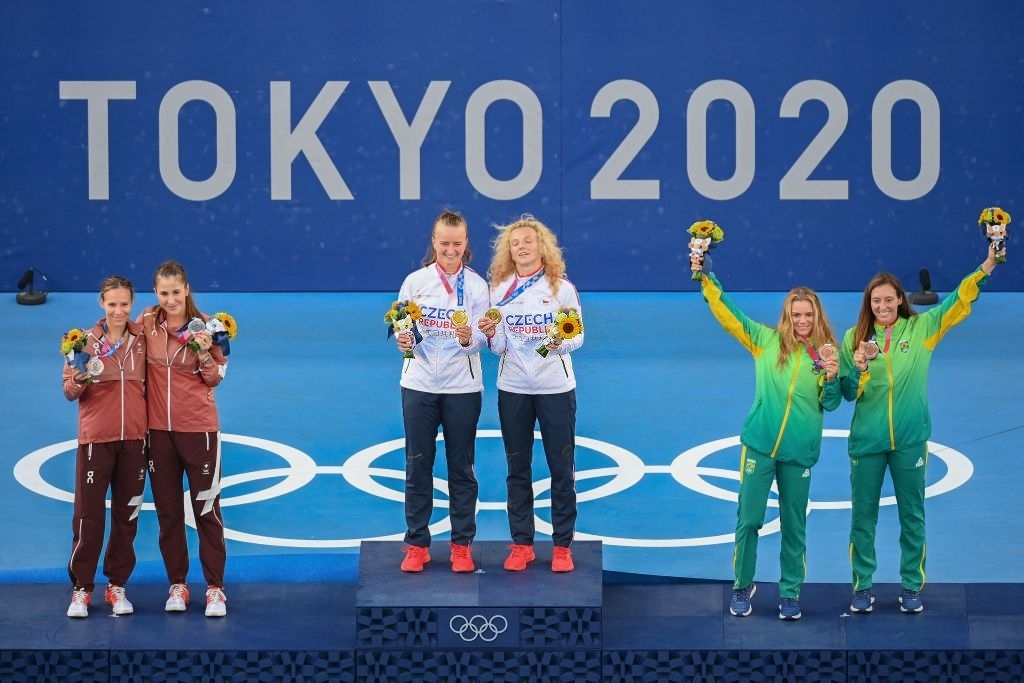 Meanwhile, the Oceania region had another representation on the podium, in New Zealand's Daniell/Venus, the pair scoring their nation's first medal in tennis, by defeating Krajicek/Sandgren of the United States.
The achievement is also a second overall in Olympic history for a New Zealand-born athlete, after Australasia's Tony Wilding, who also won bronze, in men's singles at the 1912 Games in Stockholm.
"To follow in his footsteps, he was New Zealand's best ever tennis player and I think he won a few Wimbledons, is surreal," Daniell remarked.
"We're a small country but we love our sports. Both of us grew up watching the Olympics, it's the pinnacle of the events in New Zealand," Venus added.
The latter further said: "To see all the great athletes before us come here and compete and win medals.... just firstly to be part of the team here, and to get to know the other athletes and their stories was very special. To win a medal on top of that... it's just unbelievable. I'm super happy and proud of us."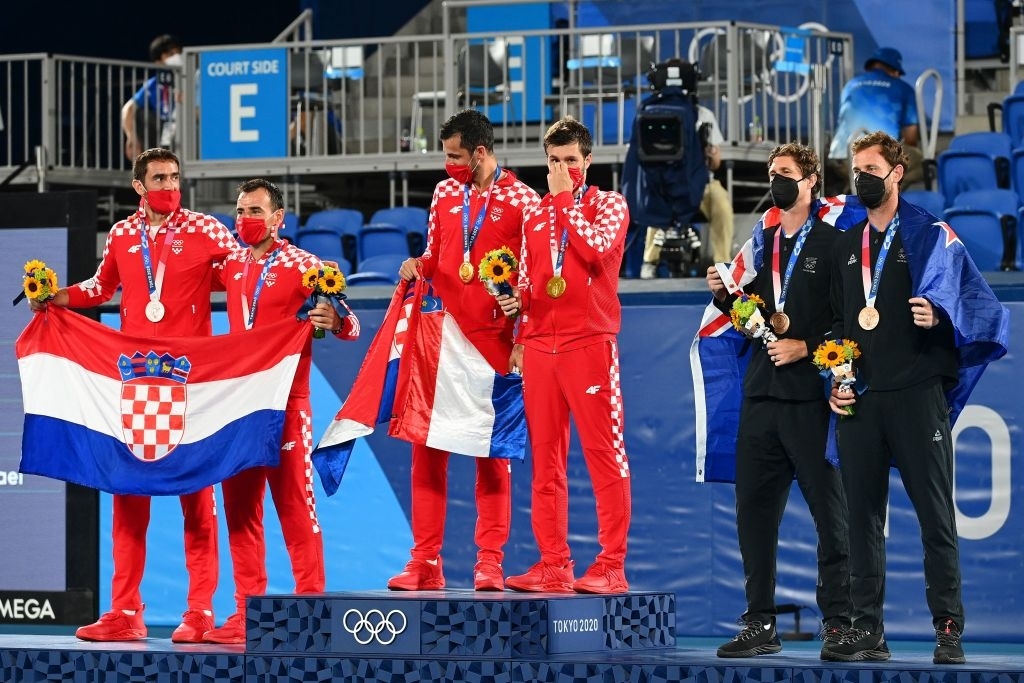 Tennis medals a decisive achievement
At the conclusion of the tennis event, the nations which won at least a medal in tennis were placed at these positions:-
| | |
| --- | --- |
| Placing | Nation |
| 5th | Russian Olympic Committee |
| 6th | Australia |
| 9th | Germany |
| 12th | Brazil |
| 13th | New Zealand |
| 18th | Czech Republic |
| 22nd | Spain |
| 24th | Switzerland |
| 26th | Croatia |
| 44th | Ukraine |
Notably, Ukraine is also the only nation outside the top 20 of the overall final standings to have a double-digit tally for any type of medal.
That came via the contingent's 12 bronze medals collected out of their total final haul of 19 medals amassed.