 Gael Monfils got Yannick Noah and the French team off to the perfect start as he dominated Frank Dancevic in the first rubber. Gael Monfils grew up in the Caribbean Island and got a warm reception as he walked out in front of a packed Stade Velodrome Amedee Detraux.
Good start by Monfils
Monfils, who has had a very good start to his year, continued that good form against Frank Dancevic. Both players held serve in their first service games, but Monfils stepped up and broke for a 2-1 lead and then consolidated that break by holding for a 3-1 lead. Dancevic, who was playing his first tie since 2011 was finding it difficult, despite hitting some winning shots, they were all flat handing the Frenchman a 4-3 lead, (providing 16 unforced errors and 38 in total). Monfils grew up around these parts, with the announcer presenting him as the "native son." Monfils held for a 5-3 lead with Dancevic serving to stay in the set. Having saved three set points, the Canadian hit the net cord handing the local Frenchman the first set.
Gael Monfils runs away with the match
Frank Dancevic continued to struggle in the humidity. Having held to start the second, the Frenchman broke with a stunning forehand cross court winner. The Canadian soon found himself serving to avoid the bagel. He managed to hold to win his first game in 5 matches, but that wasn't enough as the French showman took the second set 6-1, with Frank unable to return a powerful Monfils 2nd set.
First points under Yannick Noah
Monfils made the breakthrough in the third set at 3-2 with the Canadian hitting a forehand into the net. Both players then held serve and after half an hour, the Frenchman had match point on the Dancevic serve and won the match by hitting a backhand winner down the line. Monfils then pointed his finger towards the crowd and tapped his heart with his hand showing love for Guadeloupe. This was the first points under Yannick Noah. He was part of the French team that finished runners-up against USA in 1982, losing 4-1.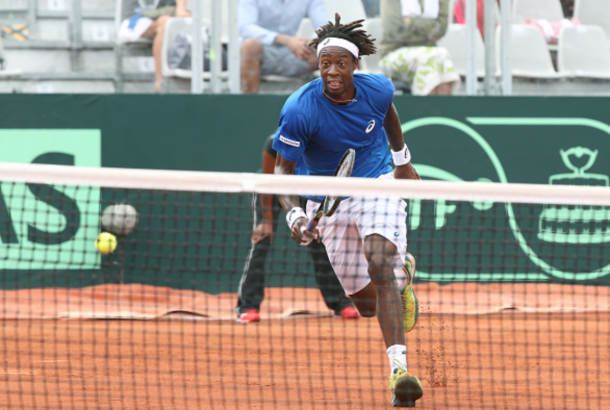 Match Stats
The stats reflected the Frenchman's dominance in the match. The Frenchman hit 71 percent of his first serves, winning 81 percent, with the Canadian struggling by hitting 62 percent of his serves in and winning only 59 percent. Gael Monfils was perfect behind his second serve, hitting 19 serves and winning 13 points. Frank Dancevic had 29 out of 30 serves, but struggled to win any points on his second serve, winning only 41 percent. Gael dominated the match, crafting 10 break point opportunities and taking 6 of them. Gael had 29 winners and 19 unforced errors. Dancevic had 18 winners and 38 unforced errors.
Gael Monfils is set to play the fourth rubber against Vasek Pospisil, a reverse singles match.