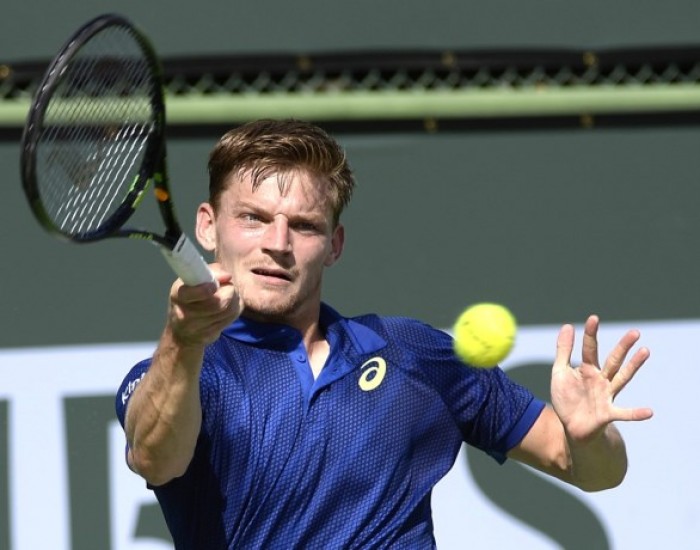 David Goffin faced off against Guido Pella in the third round of the BNP Paribas Open. A slow start put the Belgian in a hole after Pella jumped out to an early one-set lead. However, the lefty lacked enough firepower to withstand the storm of Goffin's punishing serve and forehand attack. Goffin won the match in three sets to the tune of 4-6, 6-3, 6-2.
Pella Takes Advantage As Goffin Struggles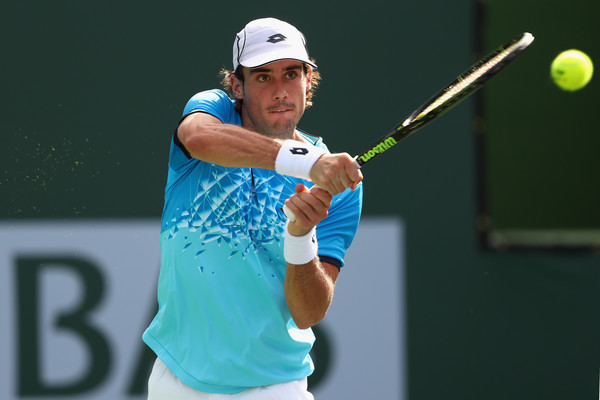 Wasting very little time, Pella broke Goffin in his second service to take a 2-1 lead. The Argentinean had little trouble holding his next two games, but with a 4-3 lead, it looked as though he might crumble. Goffin found himself looking at five break points, but none of them went his way as Pella held and took an insurmountable 5-3 lead. The set ended with both players holding, and the lefty halfway to victory in a 6-4 first set win.
The 25-year-old Argentinean played his higher-ranked opponent about even through the first set with the only glaring advantage being the one break point. Luckily for Pella, he only needed one more than Goffin to ride his lone break to victory. Doubling Goffin's number of winners in the first set, 18 to nine, was also a catalyst for Pella.
Oddly enough, both players had as many aces as double faults. Pella had five of each; Goffin, two.
Goffin Has No Problem Bouncing Back
The second set could not have started much better for Goffin. He held his first service of the set at love, but the most important difference was the early break of Pella's first service. It can't be said that Pella didn't put up a good fight as he saved the first break in a 24-shot rally. A gifted break via double fault on the second opportunity gave the 18th ranked ATP player a 2-0 lead. The third set looked like déjà vu for Goffin as he won his second service game-love. For those keeping track, that's a perfect 8/8 on shots in his first two services. That put the Belgian up 3-0.
Nearing a double break, Pella was able to hold on, despite double-faulting twice in the game. That brought the score to 3-1, in favor of Goffin.
While Pella was able to hold through the rest of the set, Goffin's service attack was nearly unstoppable. He only gave up one point in his next two services to put him at 16/17 after four total. The 5-2 lead was too high much for Pella to overcome, even though he was able to get to his first break point opportunity in the set with a 25-shot rally. He wasn't able to break the scorching Belgian as Goffin took the second set, 6-3.
Racking up five double faults and allowing Goffin to win 89% of his first services was a recipe for disaster for the 40th ranked ATP player.
Goffin Continues To Roll
Following his hot second set was not a problem for Goffin, as he broke Pella's serve early at 15 to take a 2-1 lead. If that wasn't enough, he did it again on the lefty's next service to make it 4-1, favoring the Belgian. Pella responded with a break of his own, but Goffin wasn't finished. With his third consecutive break, Goffin took a 5-2 lead that, coupled with a hold in the next game, would end the match. He will advance to the fourth round where he will play the winner of Stan Wawrinka and Andrey Kuznetsov.