 With the ATP World Tour Finals starting on Sunday, the alternatives have been decided. Belgium's David Goffin and Spain's Roberto Bautista Agut have both accepted offers to be the alternates. Goffin, who initially finished in ninth in the Race to London moved up one place to eighth following injury to Rafael Nadal. On the other hand, Tomas Berdych declined the offer to be an alternate, placing Bautista Agut as the second alternate for the finals.
Berdych can enjoy some well-earned rest after declining offer to be alternate
At Wimbledon, having made the semifinals, Tomas Berdych has failed to create any form that has seen him make the World Tour Finals every year since 2010. The Czech came into Paris knowing that had he made the semifinals, he would have booked his spot in this year's finals. However, he lost to Andy Murray the eventual champion in Paris 7-6(9), 7-5 having taken a 6-1 lead in the opening set tiebreaker. With that loss, Austria's Dominic Thiem qualified for the World Tour Finals for the first time in the eighth position.
For the Czech, he now enjoys some extra rest that he had not been given the previous years he has qualified. On Social Media, Berdych wrote: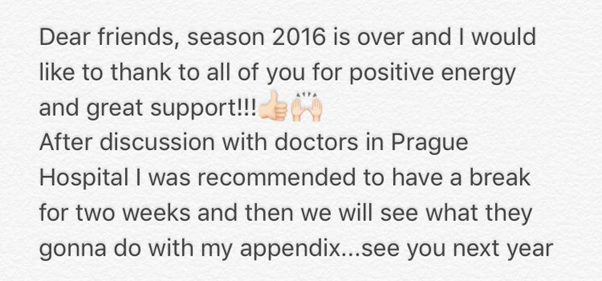 Tsonga fails to qualify, declines offer as an alternate
Jo-Wilfried Tsonga, the other contender had a much tougher task to qualify. The Frenchman had to win the title to stand any chance of reaching this year's finals. The Frenchman had beaten Albert Ramos-Vinolas and scored an upset over Japan's Kei Nishikori before crashing out to Milos Raonic in the quarterfinals.
Goffin and Bautista Agut off to London
Another contender, David Goffin had had a good year reaching both Masters 1000 event in America earlier in the year. That was then backed up by a quarterfinal run at the French Open. The Belgium lost to Marin Cilic in the third round of the Paris Masters which ultimately ended any hopes he had of qualifying. The second alternate, Bautista Agut started his year by winning titles in Auckland and Sofia before finishing his year by coming runners-up at the Shanghai Rolex Masters.
Unlike Berdych, David Goffin posted some good news on his social media site:

Doubles alternates
Along with the singles, the doubles alternates were also decided. Colombian pair of Juan Sebastian Cabal and Robert Farah, who initially finished tenth were named as alternate when last year's champions of Jean-Julien Roger and Horia Tecau denied the opportunity to come to London.