On Thursday afternoon, Julia Goerges and Samantha Stosur stepped on Court 7 to face each other for the fifth time of their career. The German ended up scoring an upset against 26th seed, Samantha Stosur, winning 3-6, 6-1, 6-4.
Stosur takes one lethal break, goes on to win the first set
Both players started the set by serving very well, winning their service games quite easily. The Aussie made the difference in the sixth game where she broke the serve of her opponent with a tremendous forehand return winner. The German had some trouble dealing with the kick serve of her opponent especially on the backhand side, which allowed Stosur to keep this lethal break until the end of the first set. In this opening set, the serve was really the key for the Aussie player since she won 92% of the points behind her first serve and 64% of the points behind her second serve.
Goerges finds a second wind and levels up the match to one set all
In the second set, the German had the advantage to serve first. She held her serve easily in the opening game and went on to break Stosur for the first time of the match with a backhand return winner. She then faced off 3 break points in the next game, saving all of them to take a 3-0 lead. Goerges turned the knife in the wound a little bit more in the middle of this set, breaking Stosur once again to take a 5-1 lead. She made no mistake when she had to conclude the set even though she had to save some more break points again in the final game.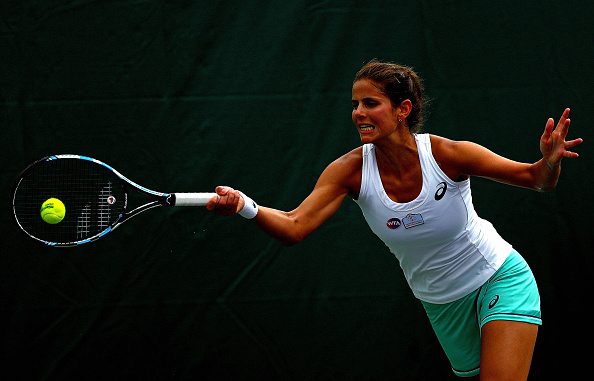 Goerges, too strong for Stosur, goes on to win the match
The deciding set started off in the best possible way for the German as she broke straight from the opening game thanks to a huge mistake at the net from Stosur. From that moment, Goerges held her nerves in every single service game and hence, never had to face a single break point in this final set. She kept playing very solidly and very aggressively which even allowed her to get two more break points at 4-2, in vain. Stosur resisted well and didn't lose her fighting spirit but it was just not enough as Goerges fired some amazing serves in the last game to eventually snatch the win 3-6, 6-1, 6-4 after one hour and 46 minutes.
Simona Halep looms in the third round
In the next round, Julia Goerges will have to battle out with either Simona Halep or Daria Kasatkina. Concerning the head to head, the German is tied at 1-1 with both players. It will hence be a very interesting match whoever she will meet.