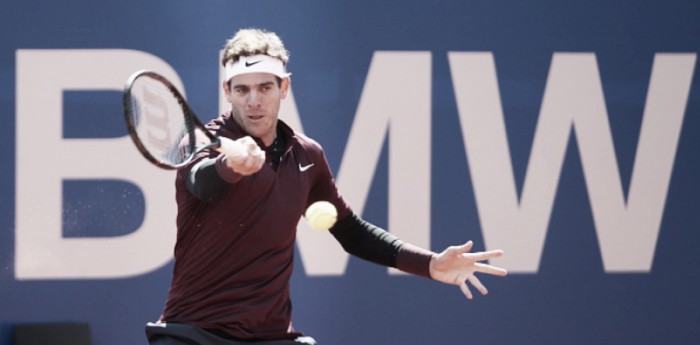 Wild card Juan Martin Del Potro continued his clay court comeback in Munich after dispatching Jan-Lennard Struff in just under two hours.
The 250 tournament has been marred by untimely weather throughout the week. Snow fell over the courts during qualifying rounds, rain had washed out nearly the entirety of the first day of the main draw and today would show no differently.
Del Potro's Dominant First Set
Del Potro raced out to a 5-0 lead at the start of match breaking the German three times in the process. Del Potro played a little more passively when he tried serving ot the set allowing Struff to snag a break on his first opportunity.
The match was interrupted by rain delay forcing players off court for 10 minutes. When they returned, Del Potro played a loose service to take the set 6-2.
Struff Steals The Second Set
Struff exposed holes in Del Potro's game early on in the second set. The German preyed on Del Potro's backhand breaking the Argentine in the second game and again in the sixth game to take a commanding 5-1 lead.
Del Potro broke Stuff's serve as he tried serving out the set at 5-1 and nearly broke the German again at 5-3, but staved off three break points before taking the set 6-3.
Both players struggled to hold firm on their serve in the decider. Struff won less than 50 percent of first and second serve points forfeiting three out of six break points.
Del Potro did slightly better, credits to attacking hard off the first serve. Del Potro won 68 percent of first serve points but only won 38 percent of the time off the second serve.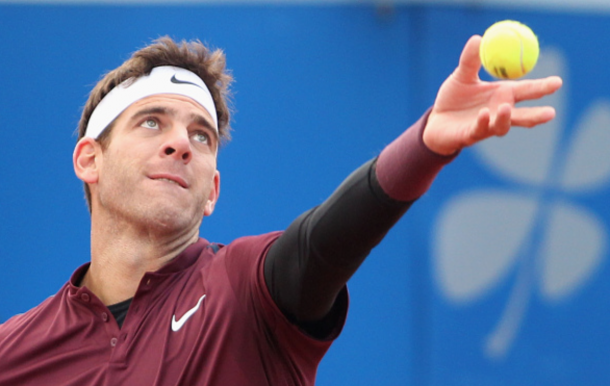 Del Potro Takes It In Three
Del Potro broke Struff twice to go up 4-0 in the decider, but followed up by dropping two of his own service games.
At 5-1 Del Potro had four chances to break Stuff's serve for the match but couldn't commit. He would have to wait until his next service game when he served out the match at 30 to take it 6-2, 3-6, 6-3 in an hour and 53 minutes to advance to the Munich quarterfinals.
The win is assuring for the Argentine having not won consecutive clay-court since his run to Roland Garros quarterfinals in 2012. (l. to Federer) After dismal results on clay in 2013 Del Potro had opted out of clay altogether in the handful of tournaments he entered in between 2014-2016.
He moves on to face fourth seed Philipp Kohlschreiber who defeated fellow German Florian Mayer in straight sets. Del Potro has won all six previous encounters with Kohlschreiber, but this will be their first time meeting on clay. The two last faced off almost three years ago in Shanghai where Del Potro won in a third set tiebreaker.