 Timea Bacsinszky and Ekaterina Makarova crossed paths in the second round of the 2016 Mutua Madrid Open, and it was last week's Rabat champion and this week's tenth seed who won the tight encounter 6-4, 5-7, 6-4, in just over two hour and 20 minutes. The Swiss will now face Romanian Simona Halep, who defeated Karin Knapp earlier today with just the loss of two games.
Bacsinszky wins tight opener
The match kicked off with the Russian star, Makarova, holding serve to love. It then looked as if she was going to grab an early break in the very next game as Bacsinszky errors handed her a 0-40 lead. The Swiss, though, didn't let Makarova get the break, ultimately saving all three break points and winning five points in a row to get the match square at 1-1. Both players then again held serve, Makarova also getting two break points off the Bacsinszky serve, but wasn't able to close out the game. The Russian then held to love again, as Bacsinszky wasn't posing much of a threat on her opposition's serve.
Both players then each held serve to love, making the score 4-3 in favor of Makarova. This lead didn't stay, though, as a consistent Bacsinszky forced her Russian counterpart to make the error for her second easy hold in a row. The Swiss then turned right around to break Makarova, saving a game point and breaking on her first opportunity. Serving at 5-4, Bacsinszky was trying to serve out the first set, and she did just that, a hold to love sealing the deal for the 26-year-old.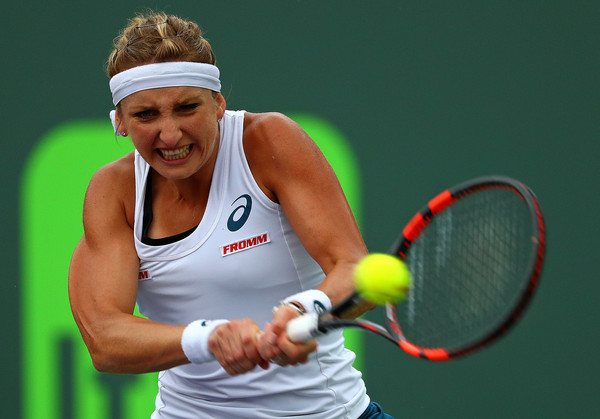 Makarova strikes back; forces third set
The beginning of the second set saw Makarova comfortably hold serve to 15. The Russian seeming to find her rhythm as she had in the first. Bacsinszky, though, seemed to be the exact opposite, as all the momentum got taken from her grasp as Makarova broke the Swiss on her first attempt. The momentum was now completely with the Russian as she battled back from 0-40 down and saved three straight break points to consolidate a commanding 3-0 lead.
But Bacsinszky wasn't finished and she went on a four game winning streak, breaking Makarova to love twice and holding her own service games easily to get up a break lead at 4-3. Makarova, though, who had lost four games straight, started to return and play a lot better to break Bacsinszky right back at love. Both ladies then routinely held serve, neither facing a break point as both players were being aggressive and consistent. Despite being down a set, Makarova played flawless tennis on her way to again easily holding serve, then surprisingly breaking the Swiss to earn her the second set in 48 minutes.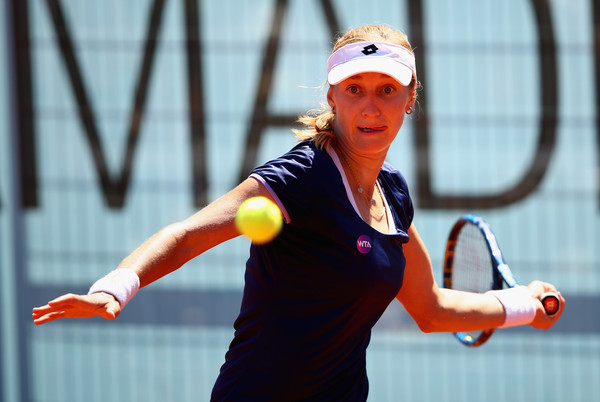 Bacsinsky gets early break and never lets go
The third and final set started off as both players routinely held serve for the first four games, neither facing a break point on either of their service games. Bacsinszky, however, got more aggressive and consistent as the match went on. Makarova also got more aggressive, but unlike Bacsinszky, was making more unforced errors. The Swiss then wasted no time in breaking Makarova for a 3-2 lead in what was the turning point in this final set.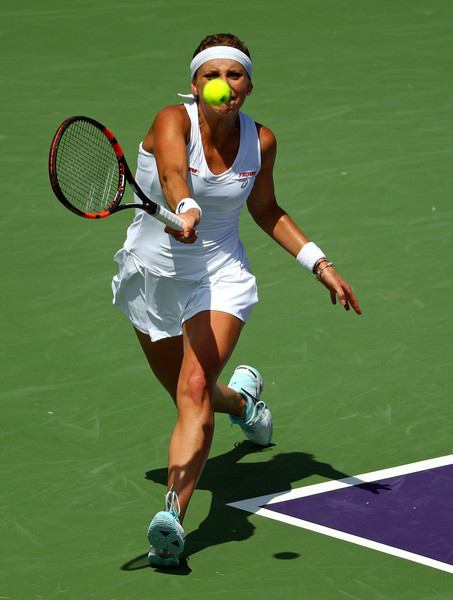 It seemed like Makarova wasn't going to put up much of a fight as Bacsinszky consolidated the break to love, then turned right around and broke the Russian again on her first attempt, to give her an ominous 5-2 lead. The Swiss, though, tightened up when trying to serve for the match, and allowed Makarova to swoop in and break on her first attempt. She then held her own serve to 15, forcing Bacsinszky to serve for it yet again. This time, though, she didn't fail, winning the two hour and 21 minute match 6-4, 5-7, 6-4 on her second match point.