 American Shelby Rogers was brilliant throughout the French Open, a tournament filled with plenty of upsets. However, her run ended at the hands of finalist Garbiñe Muguruza.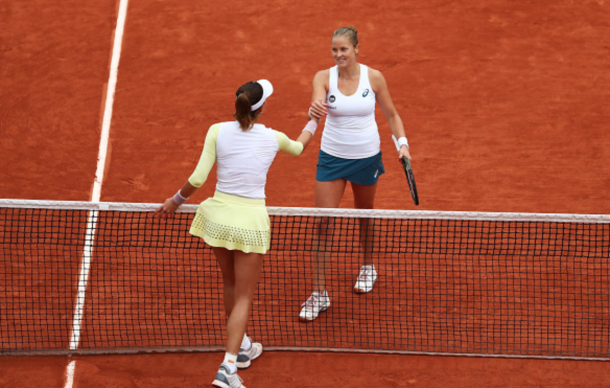 Q. How did you feel you handled the occasion? One step further, a little bigger stage, Grand Slam quarter. How was that for you?
SHELBY ROGERS: "It was amazing. It was a really great experience. I started really well obviously in the first. You know, I feel like I had a bunch of short balls. Missed a little bit. But I felt like I was constructing the points well, and, you know, doing what I thought I needed to do today, so I'm very proud of that."
Q. From a 5-3 in the first I think you dropped seven games there on a run.
SHELBY ROGERS: "Good. Thanks."
Q. I'm wondering, was that nerves at that point? Did you feel the occasion getting to you once you were getting closer to…
SHELBY ROGERS: "The match was kind of weird. Like there was a lot of momentum shifts in the first. In the second even she went up 3-0 and I came back. I think both of us just had streaks of playing well and then not playing very well. She definitely knew what she wanted to do with the big points. I think that was the biggest thing. But I'm pretty happy with the way I played. It was just kind of an execution issue today. A few errors here and there. Yeah, enjoyed it as much as I could for a loss."
Q. What was the mindset for the most part? Are you thinking, I'm in a Grand Slam quarterfinal; this is a great achievement, a great opportunity? Or were you trying to treat it as any other match?
SHELBY ROGERS: "I mean, sure, of course. It's the biggest match of my life and it's hard not to think about that. But I thought I handled it pretty well. You know, I wasn't too nervous, so I did a good job in the beginning kind of just breathing and controlling myself. Hopefully many more to come."
Q. Do you think you'll look at yourself as a different player coming out of this event?
SHELBY ROGERS: "Maybe. I mean, I definitely want to keep doing what I have been doing because it's been going pretty well these last couple of weeks. (Smiling.) I just want to, you know, keep building on this week. There were a lot of positives for me, and I want to continue that throughout the year."
Q. That was the first time you played against Garbiñe. Could you describe your feelings of playing against her and your opinion about her skills, her playing skills? Which one of the skills impresses you the most, if any?
SHELBY ROGERS: "Sure. Yeah, she's a very aggressive player. You know, she likes to take control of the points and be the one dictating play. She's got a great serve. She moves forward very well. She did that very well today. (Smiling.) But, yeah, her serve was pretty good today when it mattered."
Q. Just wondering now that you've got a Grand Slam quarterfinal under your belt forever.
SHELBY ROGERS: "Forever."
Q. Forever. Does this reset expectations or goals, short term or long term, for you?
SHELBY ROGERS: "No, not really. I mean, it was always kind of, you know, in the goals, so I think you just have to reset based on where my ranking's going to be now kind of thing and different tournaments on the schedule, that sort of stuff. But as far as my game and the player I am, it's going to stay the same."
Q. Off of that, too, how does it change what you're doing logistically, as well? I mean, being ranked 60-ish is different than ranked 110.
SHELBY ROGERS: "Yeah, absolutely. Not in the qualifying of a bunch of tournaments. I think it's a little bit easier to plan because you know which tournaments you're for sure going to get into. It will be exciting kind of redoing my schedule and figuring out how the rest of the year is going to look."
Q. My question is: What do you think you're going to tell your journal?
SHELBY ROGERS: "Yeah, it was a great experience and I definitely want more like this."
Q. In one way or another this is going to change things in your life. How do you think you're going to handle it? What do you think you'll do to make the adjustments?
SHELBY ROGERS: "Well, I want to make it as positive of a thing as possible. You know, I've gotten some really positive feedback and I'm happy for myself for the last couple of weeks. You know, I don't want to change things too much. Just, kind of like I said before, just build on it and take this momentum and hope to carry it into the rest of the season."
Q. Could you just gamble about Garbiñe's chances in last two…
SHELBY ROGERS: "Sure. At this point it's anyone's game. She's been playing amazing throughout the whole tournament and she's worked her way into the draw very well. Best of luck to her. Yeah, she could do well. Of course."
Q. You move on to grass. I know you had a tough Wimbledon last year. Just wondering how you think your game -- I have watched more of you this week than before, obviously, but it seems like very hard hitter, control the middle of the court well. Grass should be pretty good for you in theory.
SHELBY ROGERS: "Yeah, I haven't played too many matches on grass, but I do like it for sure. It's a lot of fun. Whole different dynamic, for sure, so I have to change the mindset. Hoping to hit some big serves and definitely a lot shorter points, too."
Q. Will you go home? What's the schedule for the next month or so?
SHELBY ROGERS: "No, I'm not going home. I'm going to stay here. Definitely a few days off, I think, is in order (smiling.) It's been a lot on my body these last couple of weeks. And mind. But it's been a lot of fun. I'm going to Mallorca for sure, and obviously Wimbledon, singles and doubles now since my ranking is up. Excited. Let's get on the green grass."
Q. When you go to Mallorca will you hang out with a famous tennis player from there, Rafa Nadal?
SHELBY ROGERS: "If he's there. I don't know what he's doing. Looks beautiful, though. I'm very excited."
Q. If you had to say, to choose just one favorite moment, one favorite memory of this incredible run with really, really great wins and so forth, what would it be?
SHELBY ROGERS: "I'm not sure I can pick one. It's kind all of it if I could combine it together. Just this whole two weeks has been really amazing for me. Obviously winning my match to get into the quarterfinals was very special, but even my first-round win was almost just as special for me. It's a huge win for me, and just seeing how far my game has come is really cool."
Q. Did Kvitova say anything special to you?
SHELBY ROGERS: "Did she?"
Q. No. Did your winning over Kvitova say anything special to you?
SHELBY ROGERS: "Oh, yeah, of course. Every win I have had here has, you know, been really special to me. I hope to have many more like it."