 In the history of tennis, there has perhaps never been a more daunting task than facing off with Rafael Nadal on court Philippe Chatrier at Roland Garros. The King of Clay has an astounding 54-2 record on the main court in Paris. There is something about court Philippe Chatrier that brings out that absolute best in Nadal. Let's take a look at what makes the King of Clay so dominant on the centre court at Roland Garros.
Style of play
A big reason why Nadal is so good on clay is that his style is designed to win on the dirt. First of all, pretty much every professional tennis player will tell you that movement is key to clay court tennis. There may be no one in the history of the game who covers the court as well as Nadal. The Spaniard is incredibly fast and his footwork is impeccable. The fact that he is able to slide on clay makes things even easier for him. Rafael Nadal on clay is as close to playing again a wall as there is in tennis.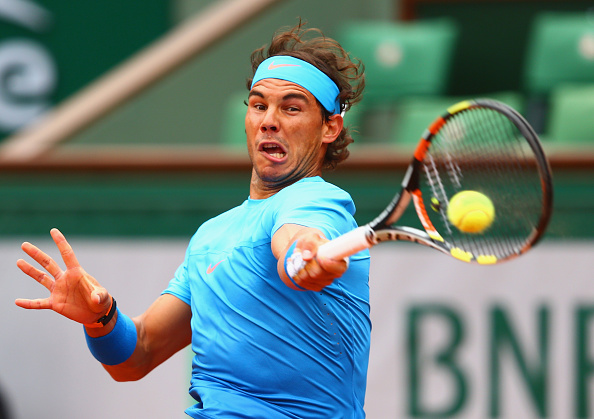 And then there's his groundstrokes. Clay highlights spin put on the ball, and Nadal's shots, particularly his forehand, are some of the biggest spin shots the tennis world has ever seen. The Spaniard has made a career out of hitting his heavy-spinning forehand high to opponents' backhands, pushing them back off the court until either they hit an error or he buries a winner. It's the tactic that he has used to dominate Roger Federer over the years.
Nadal's forehand often bounces up above opponents' shoulders, making it very difficult for them to hit good shots to counter. He controls the court with that high bouncing top spin, wearing down opponents and pummeling them into the ground. His shots are at their most dangerous on clay. There are very few players on tour who can consistently stand up to a Nadal top spin assault.
The clay on Chatrier
Rafael Nadal loves clay. Whether it be the speedy clay of Madrid or the slow dirt of Monte Carlo, the Spaniard is always more comfortable when he can slide around the court. However, he seems to have a particular fondness for the surface on Chatrier. No two clay courts play the same way, but Chatrier seems to be the best for the nine-time French Open champion.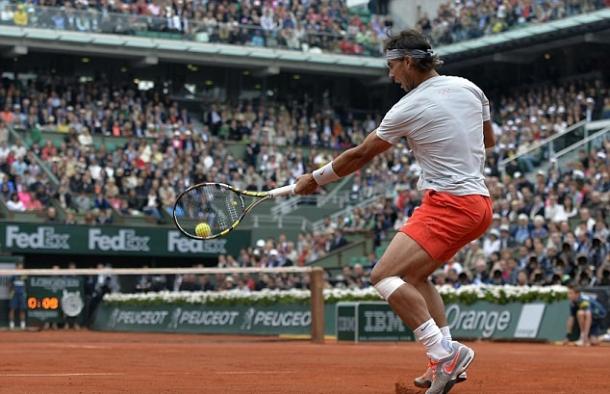 A reason for this is that the centre court tends to be dryer, which allows the ball to play faster, but not Madrid-altitude fast, and allows his heavy top spin forehand to bounce even higher, pushing opponents back more than they would on a slower court. Nadal is able to keep his opponents under constant pressure with his big shots and it's tough for them to turn the tables on him. The clay itself is perfect for highlighting the Spaniard's strengths.
Literally the biggest stage
A reason that many would not think of as to why Nadal is so good on Chatrier is the size of the playing surface. While the lines on Chatrier are the same as they are on any other court, there is a ton of space surrounding the court, meaning that more balls are reachable. With Nadal's ability to cover the court, it is nearly impossible to put the ball away.
The Spaniard is the first person to admit that the bigger court works to his advantage. When asked about it last year, he said, "It's obvious that a big court helps a little bit more my game and for the opponent is a little bit more difficult to attack, to see the clear winner."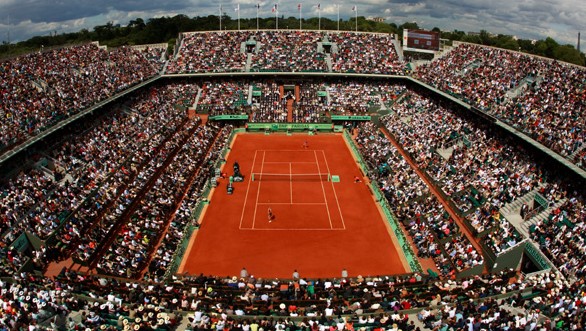 Current world number one Novak Djokovic, who has fallen victim to Nadal on Chatrier six times, said of playing the Spaniard on the Roland Garros' main court, "For an opponent playing against Nadal on Chatrier, it seems that you have to put double as much effort than any other court in the world, because it's so much space and it feels like you can't make a winner. He's getting [to] every single ball."
On the big court, it's easier for Nadal to cover space and even camp back on or behind the baseline, reaching every ball and using his phenomenal defence to wear down opponents. He can stand as deep as he wants to return serve. He can stand deeper in the court, allowing him to see more space and take his time reading the ball and setting up his shots. It is nearly impossible to put Nadal under pressure on this court.
The physical factor
At his prime, Rafael Nadal was the fittest player on the ATP World Tour and remains one of the fittest today. A big difference about the French Open is the fact that it is a best-of-five match. Forget the venue, outlasting Nadal over five sets on a clay court is nearly impossible. On fitness alone, most players simply cannot play at a high level as long as Nadal can. Then factor in how Nadal plays, how physical a match with him can be.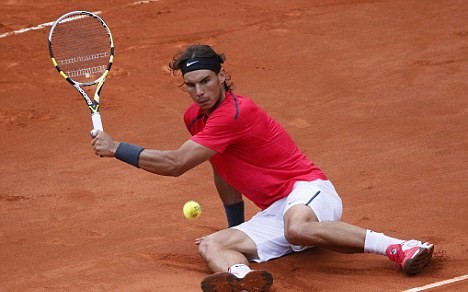 Over three sets, it is possible to hold off the Spaniard long enough to win, but being able to hang on through those long, physical rallies where you are resisting some of the heaviest shots the tennis world has ever seen for three, four or five hours? There is almost no one who can do it. Nadal has only ever lost two best-of-five matches on clay in his career, his record being 89-2. He has never lost a five-set match on clay.
The mental advantage
Imagine for a moment that you are a professional tennis player drawn to play against Rafael Nadal on court Philippe Chatrier. Considering everything you've read in this article, do you honestly think that you could beat him on this court? No one would blame you if the answer was no. Heck, most would say you were sane to say no. Even greats like Roger Federer and Novak Djokovic probably have doubts when they take on Nadal on Chatrier.
When you have been so good for so long on a specific court, it gets into the heads of opponents. For almost anyone, including fellow legends, they go into matches with Nadal on Chatrier knowing at the very least that this is the toughest test they will ever face. Most players go into that match knowing that their tournament is about to end. It is very difficult to play a good tennis match with that kind of mental baggage weighing on you.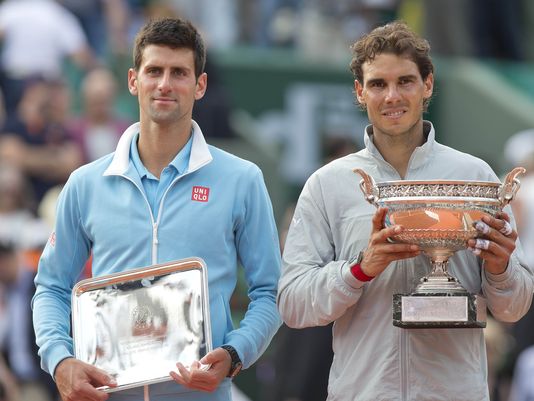 Even the legends struggled to beat the King of Clay on this court partly due to the weight of the task at hand. True, Djokovic finally defeated Nadal on the court last year, but the Spaniard was a shadow of his former self. The nine-time champion had beaten the world number one in the previous three French Opens, coming off losses to the Serb in their previous match in both 2013 and 2014. Need proof that the task of defeating Nadal on Chatrier was a factor in those defeats for Djokovic? He double faulted on championship point to give the match away in both the 2012 and 2014 finals. In 2013, he had a break lead in the fifth set, only to literally give the break back (by falling into the net on a key point), before going on to lose.
To make matters worse for opponents, there is probably no court in the world where Nadal is more confident. All the reasons above give the Spaniard tons of reasons to feel good about his chances in a match. Add to that all the positive memories of winning on this court, Nadal automatically steps up a level when he takes to Chatrier. And he pretty much always plays his best.
Perhaps in the history of tennis, no player has been more dominant on a specific court than Rafael Nadal on court Philippe Chatrier at Roland Garros. The Spaniard was born to play and rule on Chatrier. After struggling for the past few years, the King of Clay seems to be almost back at his championship level, and that is a scary prospect with the 2016 French Open starting this weekend. As a revamped Rafael Nadal takes to his best court, the rest of the tour will once again face the near-impossible task of taking him down on Chatrier.