 The year 2016 has seen a lot from Nick Kyrgios. He's told umpires that he would rather be sleeping, he's left the Australian Olympic Team hanging, but he's also done a lot of good things on a tennis court. For every temper tantrum, the up-and-coming star has shown flashes of brilliance tenfold. However, with only one grass court match under his belt, it's imperative that he gets accustomed to the lawns of Wimbledon quickly.
Notable results to date
In just his fourth year since turning pro in 2013, Kyrgios has seen a steady increase in his production, thus breaking way through the usual barriers.
The Australian won his first Masters title in Marseille this year. En route to that Masters 250 victory, Kyrgios took out very respectable players: Vasek Pospisil, Tomas Berdych, and eventually the 2014 US Open champion, Marin Cilic. It might not have seemed like a huge tournament to win, but it served as an early coming out party for a future star.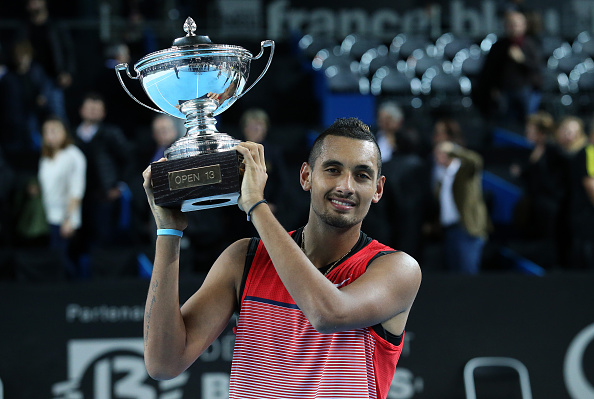 While he hasn't made the finals of an ATP World Tour event since, the young gun made the semifinals in the Miami Open and the quarters of the Mutua Madrid Open. In Miami, he displayed some big hitting dominance over Milos Raonic but was ousted by Kei Nishikori. Madrid was a similar story; Stan Wawrinka--a player Kyrgios knows well--was upset by the now world number 18, and Nishikori's game remained the unsolvable puzzle standing in his way.
Best grass results leading to Wimbledon
As previously mentioned, Kyrgios has played in one grass court match in 2016. It lasted two days and came via an unlucky first round draw of Raonic in the Aegon Championships. Despite heading into the match with a three-game win streak against his Canadian foe, Kyrgios was deflated by Raonic's rocket serves in three sets.
Best result in Wimbledon
This year's event will only be Kyrgios' third attempt at Wimbledon, but he has already made a splash on the lawns in the past.
In his inaugural season at Wimbledon, the Australian youngster made it all the way to the quarterfinals as the world number 144. His first big win came in the Round of 64 where he clawed back from a two set hole to defeat Richard Gasquet, 3-6, 6(4)-7, 6-4, 7-5, 10-8. That wasn't his biggest upset, though; that dubious title goes to his Sweet 16 victory over the top-seeded player Rafael Nadal. The clock finally struck midnight on Kyrgios' Cinderella run when Raonic bested him in four sets.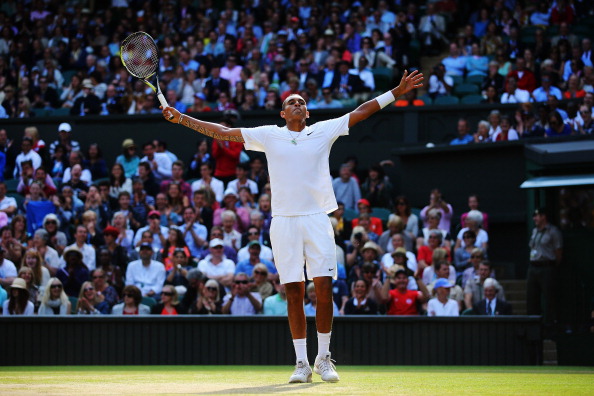 The only other appearance for Kyrgios came last season where he made the Round of 16. This time, however, Gasquet and Raonic flipped roles; Raonic was the loser of a tight match, while Gasquet was the wall that ended Kyrgios' impressive run.
How Kyrgios' game translates to the surface
Grass generally favors players with big serves, big strokes and strong net games. Kyrgios' biggest strengths? A big first and second serve, strong hitting from either side and a keen sense for angles at the net.
If Kyrgios is firing on all cylinders, he's a player capable of beating anyone on grass. He just has to make sure he can stay out of his own way mentally.