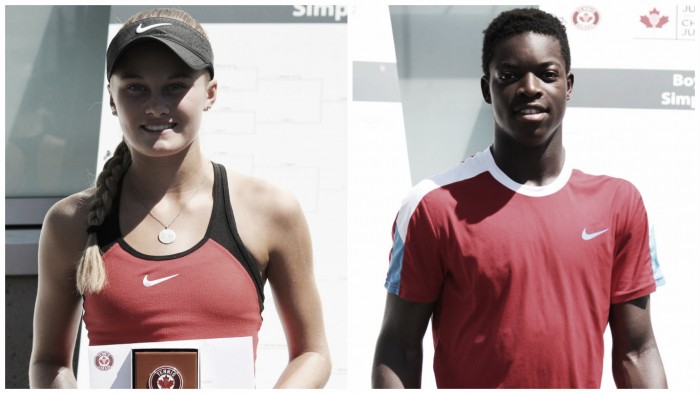 The 2016 U18 Rogers Junior National Championships wrapped up last Friday, putting an end to a week of phenomenal tennis from Canada's brightest prospects. After both having to fight tooth and nail in their respective singles finals, it was top seed Layne Sleeth of Ontario and Nicaise Muamba of Quebec who reigned supreme, taking home the biggest nationally exclusive junior title in Canada.
Solid Sleeth Too Strong for Manolescu
Leading the charge on a beautiful Friday morning at the Ontario Racquet Club was top seed Layne Sleeth, who came from a set down to defeat fifth seed and good friend Alisia Stephanie Manolescu, 2-6, 6-4, 6-1, while showcasing some of the form that saw her drop just eleven games in eight sets en route to the final.
However, Sleeth was in for her first major test of the tournament, dropping the first set to a resilient Manolescu who ran everything down, while making the most of an uncharacteristically inconsistent set of tennis from the top seed to run away with the opener, 6-2.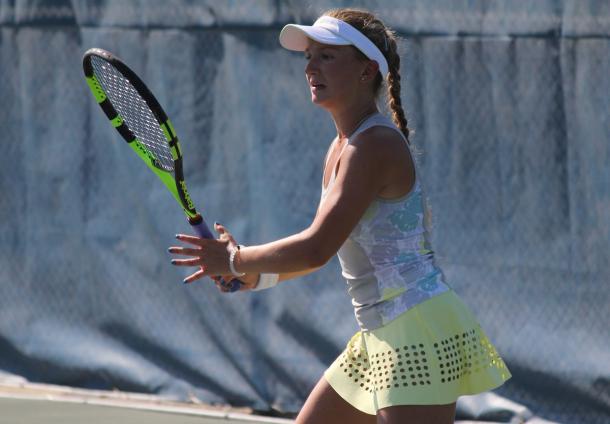 The second set was a much tighter affair with both players beginning to raise their level, matching each other shot-for-shot as the points grew longer. Much like in the opening set, it was Manolescu who struck first, earning an early break in the second to go a set and a break to the good, before Sleeth mounted a seemingly unlikely comeback. Finally beginning to find a chink in Manolescu's armour, the 15-year-old utilized her heavy forehand and lethal backhand to maximum effect, striking back to take the second set, 6-4, after an exchange of breaks.
But once Sleeth was able to find her groove, there was no stopping her; the top seed reeling off seven of the last eight games of the match to take home the second biggest title of her young career, outlasting Manolescu 2-6, 6-4, 6-1.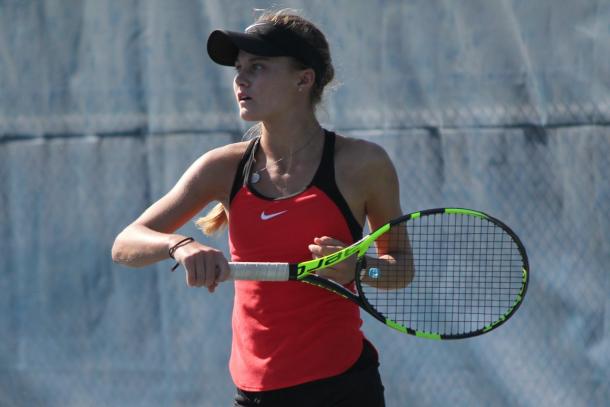 "I started off a little slow but then I started to play my game and be more consistent," said Sleeth after her monumental victory. "I stuck with my game plan. I made a lot of balls in the court and took the opportunity when I had a chance [to dictate] and then she started to miss a little more."
"It's nice to see that all the hard work is paying off; it's always nice to get the win under your belt," she later added.
Marvellous Muamba Marches to Victory, Edges Out Lin in Three-Set Thriller
On the men's side, top seed Jack Mingjie Lin didn't enjoy the same fate as he was unable to solve the riddle of second seed Nicaise Muamba. The 15-year-old victorious after edging out Lin in a fierce, two-hour battle, 7-6(1), 2-6, 6-4 to capture one of the most memorable victories of his junior career.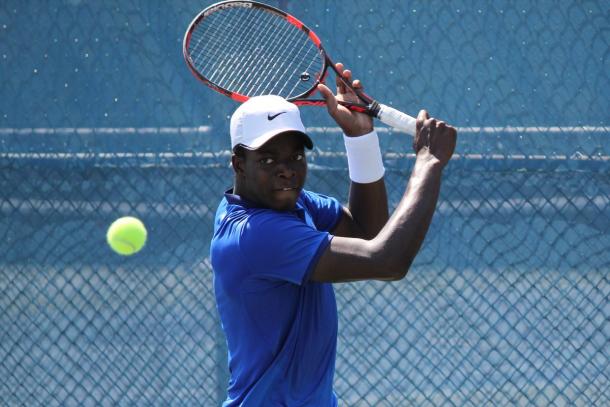 Played simultaneously on the court directly across from the one in use for the girls' final, there was very little to separate both men as proceedings were unsurprisingly dominated by the server, with a first-set tiebreak needed to separate the two. After such a competitive set of tennis, it was Muamba who was surprisingly decisive in gaining the upper hand and never relinquishing control, running away with the tiebreak, 7-1, to move within a set of the title.
Apart from a minor blip in his first match of the week, top seed Lin looked impressive all week, dropping just ten games in his next three matches en route to the final, and was beginning to show glimpses of that stellar form early on in the second. Soon enough, the 17-year-old's persistence was finally rewarded with the first break of the contest, before a second break was all that was required to take the second set, 6-2, and draw level at a set apiece.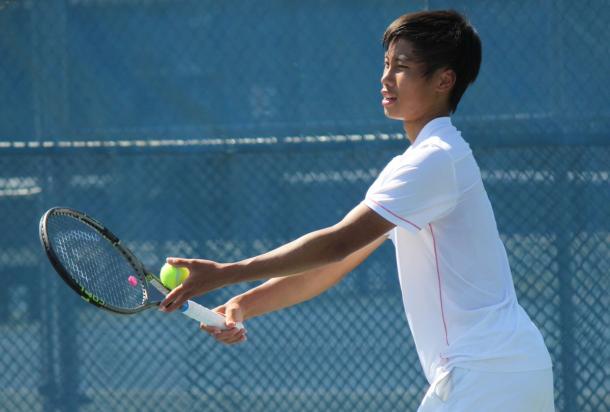 After a poor start to the second, a good start in the decider was key for Muamba if he wanted to have any look at a decisive break, and he did just that. After exchanging holds early in the final set, the 15-year-old bided his time to claim a seemingly decisive break in the fifth game before Lin steadied the ship, breaking straight back shortly thereafter. However, unperturbed by his failure to consolidate the break, Muamba fought back with a vengeance, breaking once more to take a 4-3 lead—this one eventually proving decisive. In the end, Muamba would prove too strong for a resurgent Lin, sealing the victory in just a few minutes past the two-hour mark, 7-6(1), 2-6, 6-4.
"It was a really tough match and [I] just sort of kept fighting until the end and I felt confident with my game because of the tournaments I played lately and my practices too," Muamba said after the match.
"I think that this win will really motivate me to train harder and beating a good player like Jack in the finals is always good for the confidence."