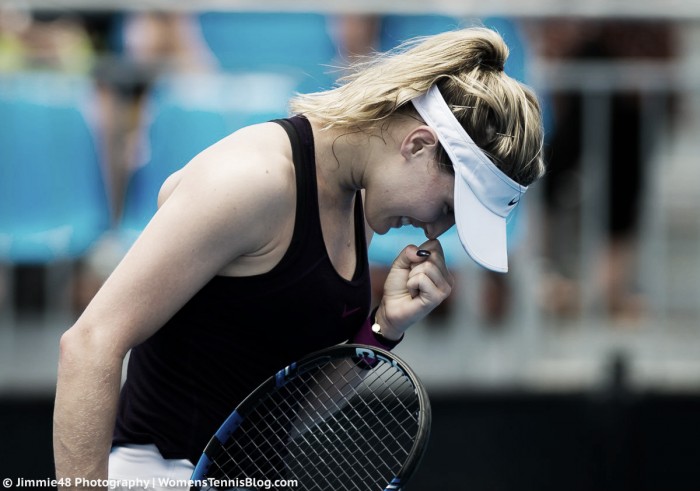 On one of the hottest days of the Australian summer, Eugenie Bouchard looked impressive throughout in a hard-fought 6-4, 6-3 victory over third seed Dominika Cibulkova to advance to the quarterfinals at the 2017 Apia International Sydney, her first last-eight appearance at a WTA event since March 2016.
Bouchard Comes from Behind to Steal Opener
In what was guaranteed to be another battle royale from the back of the court, it was Cibulkova who would strike first, eager to get revenge on the Canadian after only managing to win two games in their last encounter last summer at the Rogers Cup presented by National Bank. However, Bouchard would strike back almost immediately; a series of untimely unforced errors, including a double-fault on break point, from the world number six allowing the Canadian to get back on track after a slight wobble.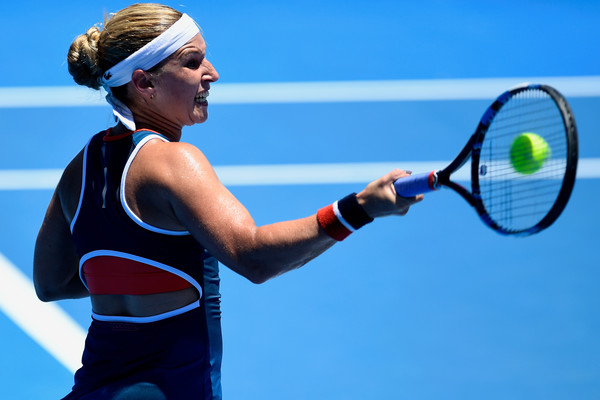 As the points grew longer, so did the games, and both players managed to tough out grueling holds in which they both were in danger of going down a break, but both held on just long enough to keep the match on serve. But try as she might, Bouchard simply wasn't able to withstand another Cibulkova onslaught as the Slovak soon found herself back up a break at 4-3.
But in a case of déjà-vu, the former Wimbledon finalist would rebind almost immediately, sending down a series of scorching forehand winners en route to reeling off the last three games of the opening set to clinch it, 6-4, in a 52-minute duel.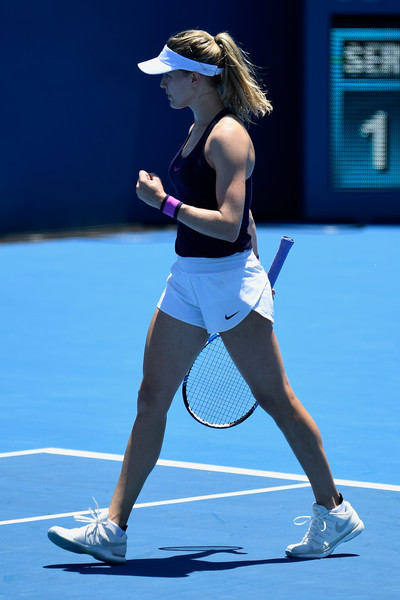 Brilliant Bouchard Surges into Sydney Quarterfinals
With Bouchard now in the driver's seat and playing from strength to strength, it became increasingly harder for Cibulkova to play on her terms and get ahead in the majority of the rallies.
After the first three games of the second went with serve, a determined Bouchard went on the offensive in the fourth game, fighting her way from 40-15 down to break Cibulkova for the fourth time and go a set and 3-1 clear of the finish line. But this break only seemed to be the first of many in the second set as Cibulkova, showcasing her trademark fighting spirit, refused to go down quietly. In the end, it was a case of third time lucky for the Slovak as she would quickly get the set back on serve, but not for long.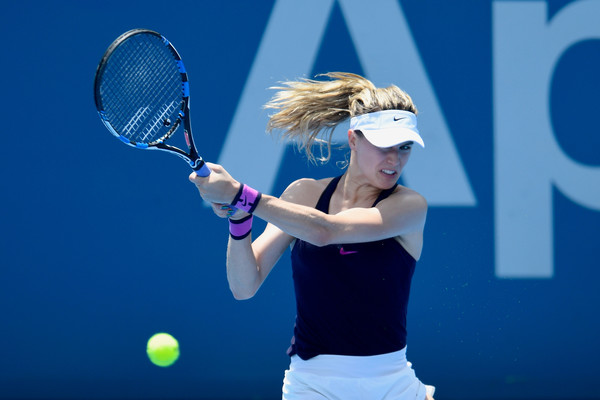 Despite a sudden change in her fortunes, an unfazed Bouchard continued to impose her game on a shaky-looking Cibulkova, breaking once more to go up 4-2, which ultimately proved to be a very lethal blow for the world number six. From there, the Canadian wouldn't look back, eventually sealing the very impressive victory with one last glorious backhand winner down the line.
Up Next for Bouchard: Pavlyuchenkova
Awaiting her in her first WTA quarterfinal since making the last eight at the Alya WTA Malaysian Open in Kuala Lumpur 10 months ago, Bouchard will have her work cut out for her in the form of Russia's Anastasia Pavlyuchenkova, who upset defending champion Svetlana Kuznetsova earlier in the day in straight sets.