 Kristina Mladenovic reached her first Premier Mandatory semi final and will debut in the Top 20 of the WTA rankings next week after an excellent win over 2011 champion Caroline Wozniacki, 3-6, 7-6, 6-2 in the quarter finals of the BNP Paribas Open at the Indian Wells Tennis Garden.
Mladenovic, who defeated Lauren Davis in the fourth round, is on a career best run of form and is on a 16-3 win to loss run since the start of the St Petersburg Open in February.
Wozniacki wins key points to claim first set
The Dane opened up the first set by serving but was quickly down 15-40 and had to scramble to save both break points, before claiming the game on the first deuce. The Frenchwoman found things slightly easier to start with, opening with a hold to love. Wozniacki was again pushed to deuce but was able to hold again, and brought up three break points in the next game, which she the took the first of three.
Mladenovic brought up three break points of her own, which were all saved along with two more after deuce, before Wozniacki somehow held to lead 4-1. Mladenovic couldn't close out her service game at 40-30 or on advantage on the first deuce, and Wozniacki took her first break point to lead 5-1. Mladenovic was 0/7 on break points while Wozniacki was 2/2, which shows how different the set could've been.
Mladenovic fashioned up two more break point opportunities in the next game, but was again unable to claim, leaving her at 0/9 on break points at deuce. Wozniacki brought up a set point which was saved and the Frenchwoman finally took her tenth break point, to cut the lead to 5-2. She then held to 30 to make it 5-3. Wozniacki, again, brought up another set point at 40-30 and eventually took this to claim the first set, 6-3.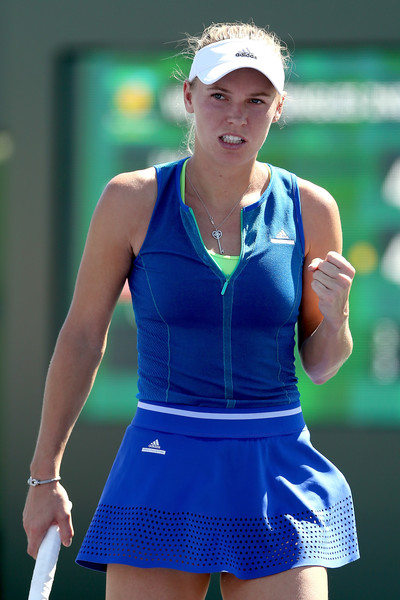 Mladenovic edges tight set to force decider
The World number 26 opened up the second set serving but was immediately facing break point at 30-40. She was able to save this and one more but succumbed to the third and slipped behind early in the second set. She immediately broke back though, shaking off the demons of the first set by taking her first break point at 30-40 in the next game.
Three back-to-back comfortable holds followed as Mladenovic led 3-2 and then she brought up two break points at 15-40 and took the first to lead 4-2. It would be far from decisive though, as it was only the first of four successive breaks of serve, as both players wilted in the desert heat. At 5-4, three successive comfortable holds follow to ensure the second set would end in a tiebreak.
The Frenchwoman immediately brought up a minibreak at 2-0 but Wozniacki was able to nip it back to get it back on serve at 3-2. Mladenovic won the point before the first changeover to get the decisive minibreak and she'd never look back, bringing up three set points at 6-3. The first was saved, but Mladenovic claimed the second and took this quarterfinal into a third set.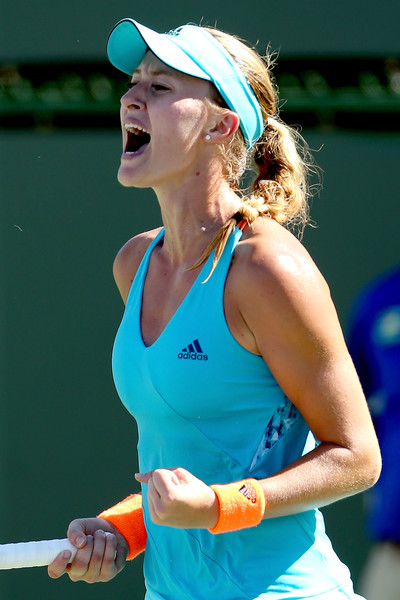 Mladenovic runs away with third as Wozniacki wilters
The Dane opened up the final set by serving and was pegged back from 40-15 to deuce, but after a little struggle she was able to hold. Mladenovic faced the first break points of the final set, facing one at 30-40 and after the first deuce. She was able to save both and squeeze of the game to level it up. Wozniacki then held to love but called for the trainer and took a medical time out to have her feet and ankles taped up. It didn't affect Mladenovic, despite a brief struggle as she slipped to deuce from 40-15, she held to level up at 2-2 in the first of five successive games to close the match.
After forcing Wozniacki to deuce on her serve and holding off a couple of chances for her to hold serve, Mladenovic got a break point and took it at the first time of asking to lead 3-2 in the decider. She then held to 30 to consolidate this break and lead 4-2. She brought up another break point opportunity at 30-40 in the next game but it was saved, before one on the first deuce was taken and Mladenovic led 5-2 and would serve for the match. She brought up three match points at 40-0, and despite the first being saved, she clinched it on the second for an impressive 3-6, 7-6, 6-2 win.