 After a very tight opening set, Agnieszka Radwanska earned an excellent victory over former world number one Jelena Jankovic in a blockbuster first-round match of the Wimbledon Championships, looking to be playing her best tennis once again.
Radwanska steals the opening set in a tiebreak
Radwanska had a positive start to the match as she managed to eke out a tough service hold in the opening game, saving a break point with an excellent backhand volley winner and eventually held her serve for an encouraging start. Jankovic followed suit despite hitting a couple of backhand unforced errors, leveling the scores. Unexpectedly, both players were solid in their service games as both of them were playing some good tennis, a huge improvement as compared to their performances previously. Being 15-30 down while serving at 1-2, Jankovic attacked the vulnerable Radwanska backhand as she claimed three straight points to narrowly escape from the brink, remaining on serve.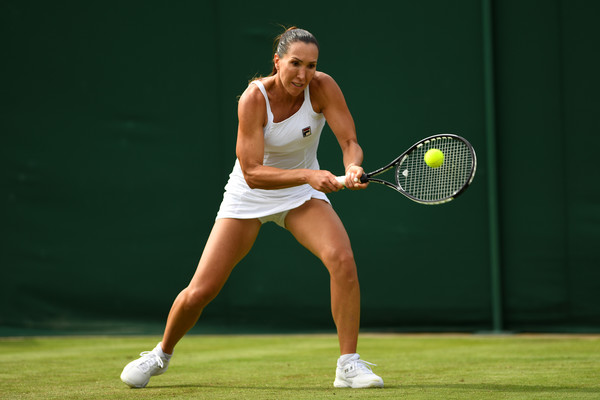 Both players looked encouraging on their serves as Radwanska looked to have found her net game once more, and Jankovic is looking powerful on her serves and consistent groundstrokes. Nevertheless, the first break of serve finally arrived upon us as Jankovic came from 40-15 down after Radwanska hit an incredible hot shot, but failed to follow it up as the Serbian hit a fluke return winner on break point to get the first breakthrough of the set just at the last moments, earning the golden opportunity to serve out the first set. However, Radwanska became more aggressive at the crucial moments as she won an important point at 30-30 with a huge forehand winner, earning her first break point of the match. The Pole eventually got back on level terms after Jankovic hit an easy backhand drive-volley wide, losing the advantage after just one game.
Nevertheless, the Serbian regained the lead soon after as she managed to outhit Radwanska at the baseline, forcing her to commit a couple of errors as she was broken for just the second time today, earning her second chance to serve out the set once again. It was another disaster for Jankovic when trying to serve out the set as she was broken for the second consecutive time, allowing Radwanska to send the set into a tiebreak to decide its winner. From 4-3 in the tiebreak, it was all about the higher-ranked player as the Pole won three straight points to seal the opening set 7-6 after 66 minutes of play, playing some great tennis to do so.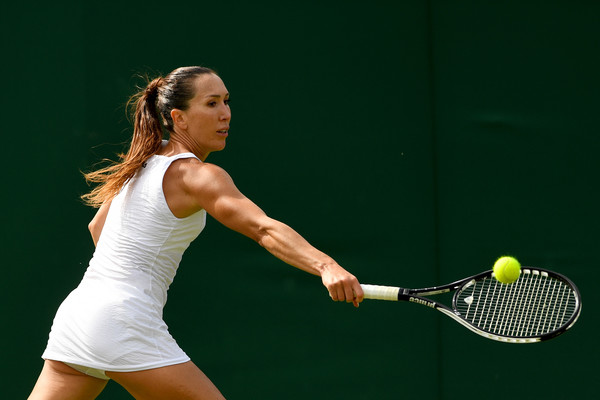 Radwanska whitewashes Jankovic
Starting the second set being a little shaky, Jankovic started to commit countless unforced errors as she was handing out free points to Radwanska, who took advantage as she secured the service break in the opening game of the second set. With the momentum running in her, the ninth seed powered herself to a love service hold in her first service game of the second set, consolidating the break and looking on course to seal the win as soon as possible. Jankovic started to struggle through the set as she lost the rhythm in her game, throwing in an unexpected double fault on break point to gift Radwanska her second break of the set, allowing her to lead by a set and a double break.
Radwanska continued to stroll through the set, consolidating the second break with an ace on game point to have a four-game advantage, being just two games away from the victory. An impressive backhand drop shot sealed the third service break for the Pole as she edged closer to the victory, earning the golden opportunity to serve out a bagel to the former world number one. Radwanska finally sealed the win after Jankovic hit a backhand long, allowing the former world number two to triumph in this blockbuster clash.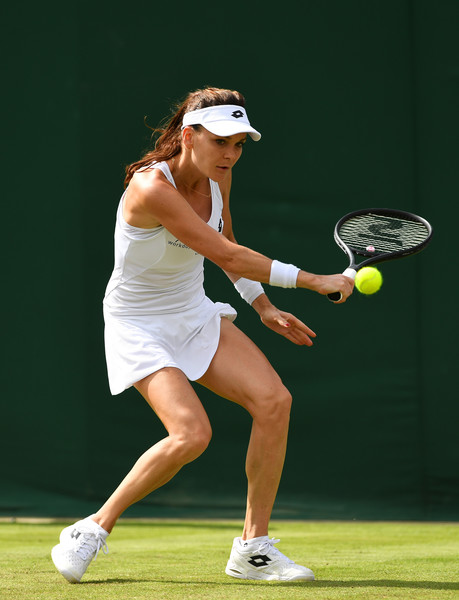 Match Stats: Radwanska was the more consistent player
Radwanska was very solid on her serve as she won 62 percent of her first serves and an incredible 71 percent of her second serve points. It is much better when compared to Jankovic's 28 percent on her second serves, winning just a mere five points off them throughout the match. Both players were generally effective at the net with Radwanska winning 18 points there, and Jankovic not lagging too behind with 16 points being won there. The crucial factor was the winner-unforced error count as the Pole managed to hit an unbelievable 27 winners throughout the affair, which came with just 11 unforced errors. It is a positive difference of 16, as compared to Jankovic's negative difference of -11. Jankovic failed to be consistent and despite hitting 21 winners, it came with a heavy price of 32 unforced errors. A statistic worth noting is that Jankovic only managed to win just six points in the second set, and Radwanska made no unforced errors en route to the bagel.