 Maria Sharapova will be making her comeback on the 26th April 2017 at the Stuttgart Open after her return from her drug suspension, and this article would give the readers a sense of what she achieved in her whole career.
Sharapova's best performances in all 4 grand slams are arguably in 2005 when she reached her second consecutive quarterfinal at the French Open and reached the semifinals of all the other three grand slam semifinals, owning a 19-4 win-loss record in grand slams that year. Sharapova also managed to reach the second week of all the grand slams she played in a calendar year in 2006, 2012, 2014 and 2015, which is a very incredible feat. The international Russian superstar has a 179-43 win-loss record at all four grand slams combined, which rounds off to winning around 80.63% of the matches.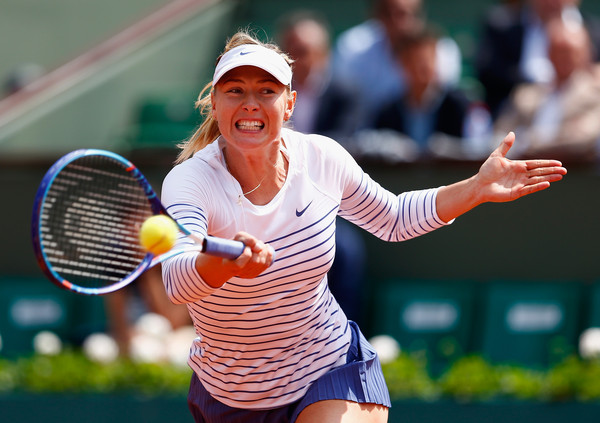 She owns a 48-11 record at the Australian Open, reaching the semifinals seven times in her career, including four in a row from 2005 to 2008. Starting off her career with her worst surface being clay, it changed totally after her career-threatening injury which saw her modify her game slightly to excel on clay, earning her the status as "Claypova".
Reaching a total of five semifinals at the Wimbledon Championships, Sharapova has had some disappointing results in London as she fell in the first week of competition thrice, all in the second round and to lower-ranked players. Arguably, the US Open is Sharapova's poorest performing slam as she had the lowest percentage of wins in Flushing Meadows as compared to the other slams. Reaching the semifinals only thrice, the Russian blonde fell in the first week five times, which is half of the total appearances made in New York.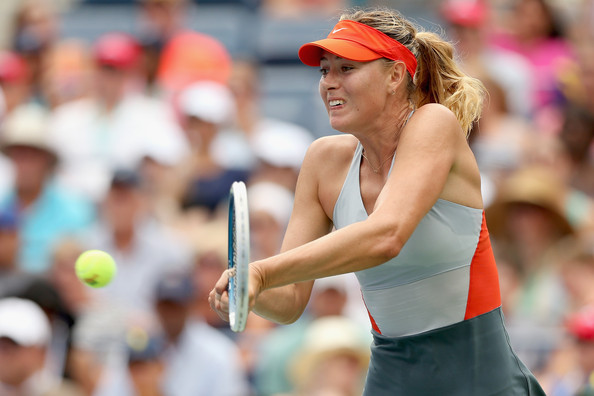 In her illustrious career, Sharapova reached 58 WTA Finals, winning 35 of them. She has won at least one title per year from 2003 to 2015, a streak only bested by the legendary Martina Navratilova, Chris Evert, and Steffi Graf. Sharapova could have a chance to be tied with Steffi Graf, however, she broke the anti-doping rules in 2016 and was banned for 15 months. In her 58 finals, 18 of them were won against players in the top 10, an extraordinary feat. Her best season is thought to be her 2012 season when she won the Silver Medal at the London Olympics.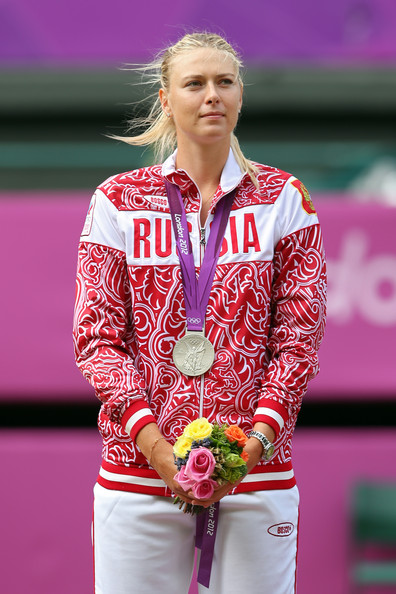 Also, during 2012, Sharapova completed the Career Grand Slam by winning the French Open, comfortably defeating Sara Errani in the final, which regained her the number one spot in the world for the first time since 2008. Reaching a total of nine finals that year, although being on the losing end for six of them, saw her finish at the number two spot eventually at the end of the year, finishing above nemesis Serena Williams. Some stellar performances saw her reach the finals at the Australian Open, Roland Garros, WTA Year-Ending Championships, London Olympics; and the semifinal of the US Open (Five of the six biggest events of the year), we are safe to say that Sharapova was one of the most consistent players in that year.
Sharapova has a fair record at the Premier Mandatory and Premier 5 events in her career. In Indian Wells, Sharapova won the trophy twice and reached the semifinals for six times in total, owning a 78% of wins in her matches there. However, it was a different case in Miami as Sharapova seems like she has a curse on her there. Reaching the finals for a total of five times, she lost all five of them. The final that she had the biggest chances to win was the one in 2012 where she faced Agnieszka Radwanska, whom she had a big lead against in their head-to-head record. Despite that, Radwanska still managed to defeat Sharapova in straight sets.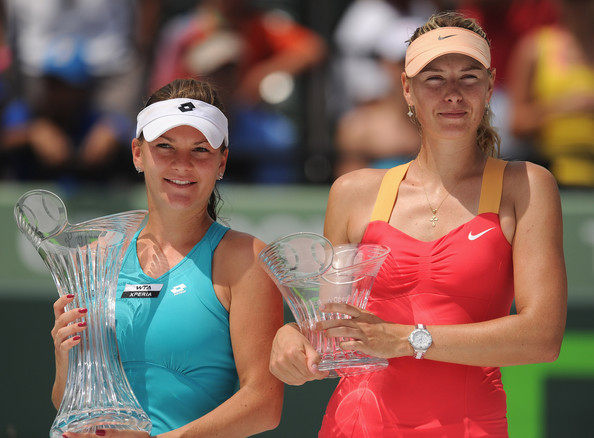 At the other two premier mandatory events in Madrid and Beijing respectively, Sharapova reached two finals at both tournaments and lifted the title once at both events too. Something worth noting is that the Russian reached at least the semifinals in her last three appearances in Madrid, and reached at least the finals of the China Open in her last appearances.
The former world number one has also won every possible Premier 5 title with the exception of the Rogers Cup and the Wuhan Open. Sharapova was only able to get past the third round of the Rogers Cup for one time in her whole career, in 2010 when she reached the final only to lose to compatriot and now-retired Elena Dementieva. A relatively new event, Sharapova only made two appearances in the hometown of Li Na, falling in the third round or before in both times.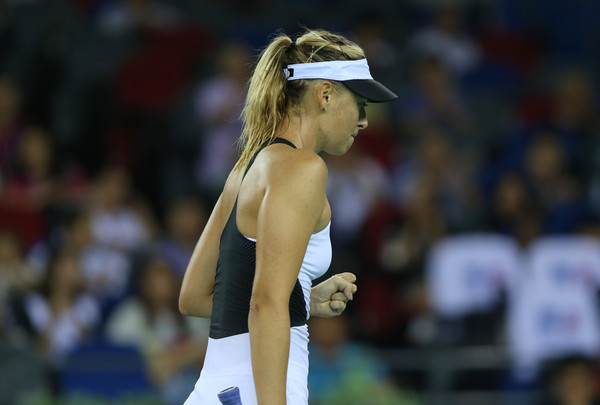 Sharapova qualified for the WTA Finals for a total of 10 times in her career but only played for eight times as she withdrew from the competition in 2008 and 2013 where she suffered from injuries that kept her out of action for a long period of time. On her debut appearance at the WTA Finals at Los Angeles in 2004, she capped off her breakthrough season with the title as she beat Serena Williams, which would still be her last victory of the 23-time grand slam champion until now, in three grueling sets.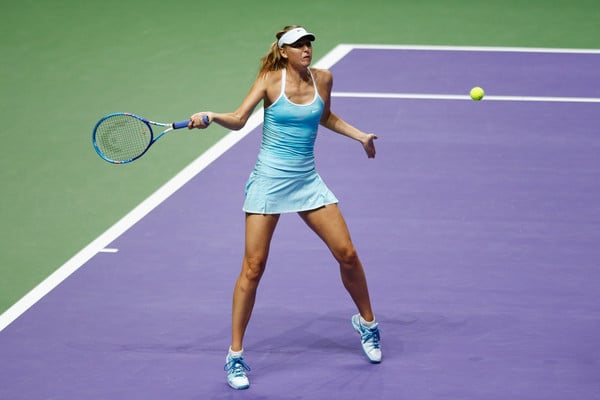 Coming out of the group stages on all her appearances until 2011, Sharapova showed that she can beat her fellow top players on a consistent basis. Since 2007, her best chance to win the title once again was in 2015, where she was the third seed and progressed to the semifinals with a 3-0 record. She shockingly lost to Petra Kvitova in straight sets, missing out on a chance to end the disappointing season on a positive note.
Despite not being particularly fond of the Fed Cup competition, Sharapova played a couple of ties to be eligible for the Summer Olympics. Her debut in Fed Cup was during 2008 where she won her first two matches against Israeli players in straight sets, achieving a perfect start. She then suffered her first and only loss in Fed Cup when she was a victim of a huge upset against Virginie Razzano, falling in straight sets.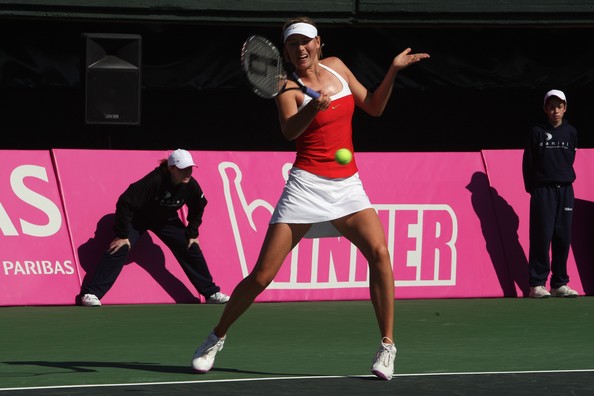 Being the main player in 2015, she steered Russia to a comfortable 4-0 win over Poland, defeating both Radwanska sisters in the process. After missing the semi-final against Germany due to an injury, Sharapova returned for the final against the Czech Republic. There, she claimed an excellent victory over Karolina Pliskova in their first career meeting to level the tie for Russia at 1-1 after the first day, before giving Russia a formidable 2-1 lead by exacting revenge on Petra Kvitova in three tough sets. However, the Russian team was unable to close out on the title as they lost the following matches.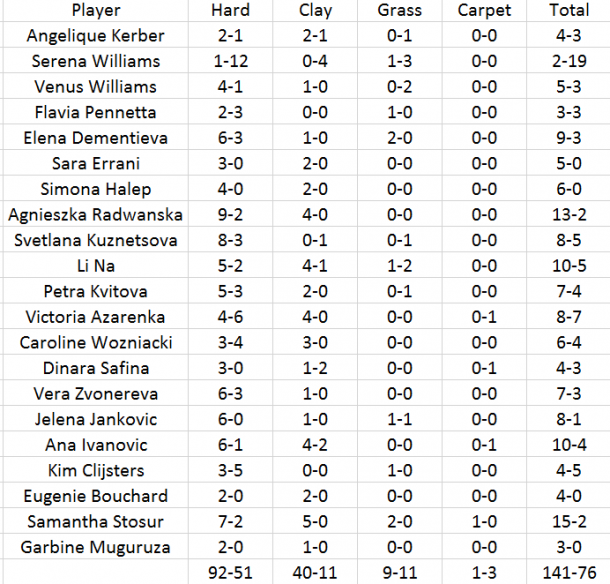 Sharapova owns a very good record against her fellow former or present top 10 players, especially against both Samantha Stosur and Agnieszka Radwanska. With her explosive offensive game, the Russian is always able to outhit the Australian and the Polish in their matches, losing only four out of 32 matches played against them. Players that Sharapova has a lopsided head-to-head record over include Jelena Jankovic, Simona Halep, Sara Errani and Eugenie Bouchard.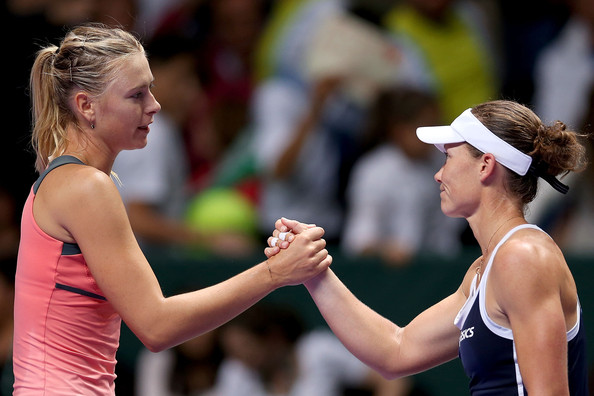 Jankovic's sole win over Sharapova came on grass in 2007, before the Russian started to go on a rampage over her, winning all the rest of their meetings. Halep is a player who is known to struggle against Sharapova because she was consistently being outhit by the five-time grand slam champion, with their most notable meeting being in the 2014 French Open final where Sharapova triumphed in a marathon 3 hours and 2 minutes. Errani's special defensive game saw her reach numerous achievements throughout her career, but unable to go against Sharapova's merciless offensive game as she owns a 0-5 head to head record against the Russian, with their high-profile meeting in the 2012 French Open final being the stand-out match of their rivalry.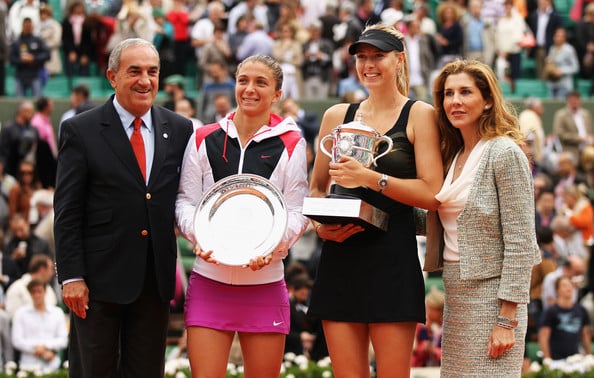 The player that Sharapova struggles against is obviously the legendary Serena Williams, who owns a 19-2 record accumulated over more than a decade. Other players Sharapova occasionally faces some problems against are Flavia Pennetta, Caroline Wozniacki, Ana Ivanovic, Venus Williams and Angelique Kerber.
Against Pennetta, their head-to-head record is tied at 3-3, with their last meeting being Pennetta's last ever match of her career and the only straight sets match in their series of thrilling matches. Caroline Wozniacki, who is a fellow former world number one, leads their head-to-head record on the hard courts, where she triumphed in four different matches as compared to just three for Sharapova. Nevertheless, Sharapova dominated their clay court meetings as she won all their matches on clay, thus leading their overall head to head record.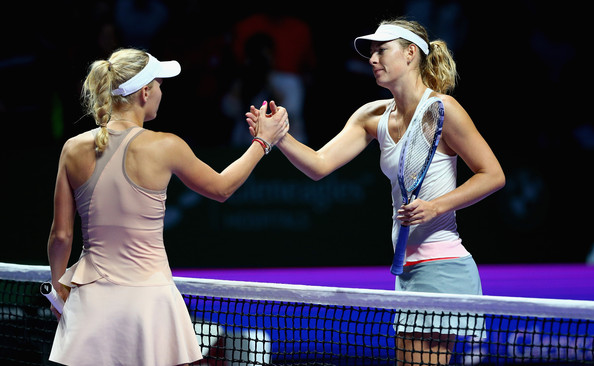 Ivanovic often causes problems against Sharapova on clay, beating her at the 2007 French Open and 2014 Italian Open. Against the elder of the Williams sisters, Sharapova mainly struggled against the seven-time grand slam champion on her best surface, grass. Other than that, current world number one Angelique Kerber consistently troubles Sharapova with her world-class defense and lefty advantage, beating her thrice in her career, with their most recent encounter coming at the 2015 Stuttgart Open when Kerber upset the top seed in three sets.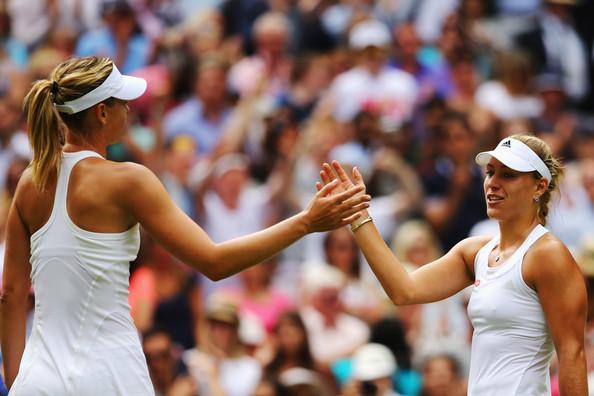 Her return back to the professional circuit would definitely be met with many obstacles along the way, which includes the tough draws she will most probably receive due to having no rankings and with the possibility of drawing the top seeds in the tournaments for the first year. It would be the perfect time for her to display her never say die attitude and start to make her way back to the top of the rankings.